Chenoweths In The 1860 Indiana Census
Details and Anomolies Listing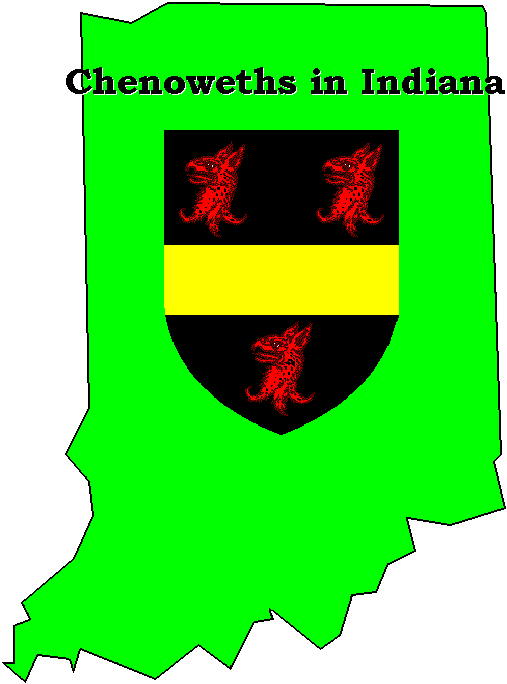 Quick Links
[Master Site Menu]
[Main Page]
[Overview]
[Census Alpha]
[Census Tree]
Selected Census Pages
[Allen - Greene]
[Harrison - Miami]
[Montgomery - Owen]
[Putnam - Sullivan]
[Tippecanoe - Wabash]
[Warren - White]
With the inclusion of entire family names with the 1850 Census, the value of Census data increased immeasurable. Still like all human records, nothing is etched in stone. If the information is there and matches other research it is a strong corroboration. Moreover it can add new data (we found about 80 new names) and give new leads to research. But mistakes exist and as this is a transcription of the actual Census, some more have been added. The quality of Census data varies from censustaker to censustaker. But this is not a complaint, only an acknowledgement accompanied with an appreciation that the Census was set by our nation's founders as a Constitutional requirement. The Census is a snapshot in time, the people therein forever frozen in that instant. Coupled with other Censuses and marriage information, they are perhaps one of the most powerful genealogy markers available. Indexing of Census material has greatly facilitated finding a family when you don't know their exact location to start.
NOTE: This section is an attempt to explain some of the information found. Most names in BOLD, other than headings, are linked both to the family tree and the actual Census by the [t] and [c] markers following the name.

lines:
[John] [Richard] [Hannah] [Arthur] [William] [Thomas] [Unknown]
The lines of John(2)
The lines of Richard(2)
None of the lines of Richard are known to have settled in Indiana by 1860.
The lines of Hannah(2)
James Carter(3) Ruth Carter(4) Sinah Burson(5):. The only known line of Hannah and James Carter in Indiana is the family of Sinah Burson[t][c] and Thaddeus Horn. Hannah and James probably married in Frederick Co., VA. After their deaths, most of their children, including James Carter(3) moved to Washington Co., PA. This is probably where Sinah and Thaddeus married, as their oldest child is reputed to have been born there. But by at least 1853, they had moved to Indiana, where they are found with 5 children in Cass County. It should be noted that the Census shows all of their children born in Indiana.
The lines of Arthur(2)
Arthur, Jr.(3):

Sarah(4), the daughter of Arthur Chenoweth, Jr. and Ann Beasman, married Samuel Baxter. The Baxters and the Chenoweths were neighbors in Baltimore Co., MD and indeed the families became intertwined. Sarah and Samuel left Maryland first to Brook Co., VA then Muskingum Co., OH. Their daughter, Ann, married in Brook Co., Samuel Gist, and both of them moved on to Ohio with Sarah's family. Ann died in 1816 and the following month Samuel Gist married Ann's sister, Sarah Baxter[t][c], in Muskingum Co. There in Muskingum County in 1826, their daughter, Jemima Gist[t][c], was born. In 1849, a year after Samuel Gist died, in Wisconsin, Jemima married John S. Ferguson in Clinton Co., IN. It would be interesting to find how she happened to come to Indiana and why. In the 1860 Census, she, her husband, John, their children and Jemima's mother, Sarah Gist, are found in the County of Tippecanoe. There are two unrelated young men living with them. One, John Farnall, had been part of a family that lived next door to the newly wed Fergusons in the earlier 1850 Census, in Jefferson Township of Clinton County.
William(4) : William had married Sarah Baxter in Baltimore County in 1793. The Baxters and the Chenoweths were neighbors and William's sister, Sarah, and some of her Baxter relatives, including some that had married Chenoweth daughters, in the line of Richard(2), had gone to Ohio. But his son, William Thomas(4), would travel to Randolph Co., IN as well as several of the children of William's oldest son, John Baxter Chenoweth. Both these families would meet and marry with the Bowen Family of Squire Bowen and Elizabeth Dwiggins, so that, five Bowen siblings would marry five Chenoweth children. This is also the branch of Cora Hiatt, the daughter of John Murray Chenoweth and Lydia Adaline Bowen, who wrote the 'History of the Chenoweth Family' in the 1920s. Cora would not be born for another eight years, but here she would live, gather and write her book, published in 1925, and die in 1933. All of the descendants of William(3) in Indiana at this time are to be found in Green Fork's Township of Randolph County.

Three children of John Baxter Chenoweth(4) would join their uncle and cousins in Randolph County. Each was born in Carroll County, Maryland. Caroline Chenoweth[t][c] met and married her husband, James Kelley, there. By 1843, they had moved to Indiana and are found there, in Randolph County, with 4 children in the 1860 Census. In that same township of Green Fork's, Caroline's half sister, Mary Etta[t][c] is living with her husband, James Dwiggins Bowen, and their two children. James, a native of Indiana, had traveled to Maryland to wed Mary Etta in 1855 and bring her back to Indiana. Another sister, Susan Rebecca Chenoweth[t][c], is living with the family of Lemuel and Mary Humphrey, along with a youth named E. H. Bowen. Ten years later, Rebecca would marry George Salisbury. Cora Hiatt's father is still in Maryland, but his future wife, Lydia Adaline Bowen, is living with her parents in this same township.
William Thomas Chenoweth(4)[t][c], his wife, Ketura Beasman 'Kitty' Murray, and four younger children are also found in Green Fork Township. William Thomas had come with his family from Carroll County in Maryland to Randolph County in 1840. Next door is a curious problem. It lists 3 Chenoweths[c], but they have not been identified. Two of the names are duplicated from the next house, with the surname changed. What the real data should be in this case is indeterminable. Three more of the sons of William Thomas are also in Green Fork township: John Thomas Chenoweth[t][c], his third wife, Emily Susan Lawrence, whom he had married the previous year, is there with two children from his previous marriages. His brother, William Columbus Chenoweth[t][c], is two houses from Squire Bowen's family. William had been married to Squire's daughter Hannah, but she had died and he had remarried a year later to Mary Jane Sater, whose family had also come from Maryland. They have 4 children with, two by Hannah and two by Mary. Christian Ebby Chenoweth[t][c], another son by Hannah, had only been two weeks old when his mother died. Hannah's parents, Squire and Elizabeth Bowen, took in the baby. Five years later, in the Census, he is still found with his Bowen grandparents two houses away. There is another Chenoweth, Emma, [c] in the house with Christian according to the Census. It is not known who she is. The third brother, Oliver Murray Chenoweth[t][c], and his wife of three years, Serepta Cadwallader, have one son and live between Oliver's cousin Mary Bowen and Caroline Kelly. Serepta was an Indiana native, the daughter of Abner Cadwallader and Mary Thomas, and had married Oliver in Randolph County.

Arthur, III(4) :

Robert (Page 627): Robert Chenoweth[t][c] founded a large family whose lines are well known to the present day. Today most of his descendants use the spelling of CHINWORTH. It is now believe that this Arthur was Arthur, III who first accoumpanied his sister Sarah Baxter to Brooke Co., VA (now WV). The family lived in Wayne County, OH where Robert married and started his family. By 1849, Robert had moved his family to Wabash Co., IN. In the 1860 Census of Wabash County, Robert is given to have been born in Vermont. This is believed to be a typo, as other Census data and accounts give Virginia. With him are his wife, Mary Ann Provines, who would die two years later, and five children. One son, William[c1][c2], is listed twice in the Census, as he as also found in Kosciusko County as a laborer for the Rolsten Family. The oldest son, Matthew[t][c], is found in Wabash County, living with his new bride, Annette Brundige, whom he married in that county, the previous fall. Four of Robert's sons would serve in the coming struggle between the states.

John.(3): John, another son of Arthur, moved this family to Darkesville, Berkeley Co., VA (now VW). This family was well-to-do. His son John, Jr. [t][c], who had married in Berkeley County, Mary V. Davenport, had a large family all born in Virginia. Eleanor, their oldest daughter had gone to Indiana in 1838. Their son, John Wesley, had left also Virginia for Indiana in 1845, traveling by wagon through Baltimore, to Ohio, and three years later to Indiana. In the late 1850s, tiring of the increasing strident arguments over slavery and fearing war, John, Jr. and Mary determined with their son, Alfred Glass, to join their other children in Indiana. John and Mary, both in their eighties, are found living with their daughter, Eleanor Davenport "Ellen" Daingerfield[t][c], and her son, Lawrence, in Putnam County in the 1860 Census. In the same county, but in Greencastle Township, the son, Alfred Griffith Chenoweth[t][c], is found with his wife, Catherine Ann Peel. With them are six children, all born in Virginia. In the same township, a nephew, Robert Batty Chenoweth[t][c], and a niece, Mary Ellen[t][c], the wife of Elijah G. Tennant, are living together. Elijah is there with Mary Ellen's and his two sons, and two older Tennant females, which may be Elijah's mother and aunt. Also there, is an unknown Samuel Emerson and a youth, James Nelson. The parents of Robert and Mary Ellen, John Wesley Chenoweth, III[t][c] and Sarah Matilda Batty, had been in Putnam County, but for the 1860 Census are found with their four younger children in Morgan Co., IN.
The lines of William(2)
Earlier Chenoweth genealogies have failed to develpment this Virginia branch and until recently very little of William's descendnats were know. This is changing. William, Jr. is now belived to the William who married Elizabeth Hutchinson and went to Warren Co., OH. Absolom is known to have gone to Clark Co., OH, Issace went first to Pennsylvania and then to Ohio. Very few of these people came into Indiana.
William, Jr(3):
John(4): Two sons of the cousin marriage of John and Elizabeth Chenoweth, Thomas Benjamin Chenoweth [t][c] and George Henry Chenoweth[t][c], came from Warren County to Indiana. Thomas lost his first wife in 1852. About 5 years later he remarried to Minerva Johnson. It is not known where this marriage occurred but their son David was born in Greene Co., OH, so perhaps it was there. Nor do we know who Minerva's parents were. Shortly after David's birth, and before the 1860 Census, the family moved to Huntington Co., IN. There were other Chenoweths in Huntington, but they were mainly from the line of William I/S. Here in the Census, Thomas is found living with his wife, Minerva, and his children. Minerva's name is given in the Census as Nimrod. All the known children of Thomas by this time are accounted for in the Census. Thomas would stay in Indiana, dying in Whitley Co., IN in 1880. George, his brother, went to Randolph Co., IN. Again there were many other Chenoweths here as well, these from the line of Richard(2). George had come to Indiana between 1852 and 1854. All of his family and his wife, Lettetica "Letia" Cox, are accounted for in the Census. Lettetica's parents are not known. George and Lettetica would die here some 3 years later. It is thought that their five children were placed in a guardianship or adopted out to other family members. No papers regarding this have been found. Thomas H., the oldest son, married in Randolph County, IN in 1871. Edwin, his brother, also married there four years later, but what happened after that, to he and his wife, Alice A. Huffman, is unknown. No children are known for this marriage. Two other children Mary Elizabeth and George William, married in Ohio, Mary Elizabeth in Warren County, so, perhaps, George or Minerva's relatives, who had remained in Ohio, took them in. What happened to the youngest, Rachael Ann, is not known, though it is believed that she also lived to adulthood.

The lines of Thomas(2)

Thomas, the youngest son of John And Mary Calvert Chenoweth, raised his family in Virginia, and is believed to have gone with his sons to Mason Co., KY. There, before the turn of the century, the sons of Thomas, crossed the Ohio River into the Sciotio Valley of Ohio, some of the earliest settlers of this state. They settled in what is now Pike County, but was then Ross County. As these families grew, some dispersed further west to Franklin County. Later parts of the family from sons: Thomas, John, Richard and Abraham moved on to Indiana.

John(3): John, a Revolutionary War Veteran, had married his first wife, Rachel Kerr, in Ohio. He returned to Kentucky with his children to marry again, after the death of Rachel, to Mary Van Buskirk. They went from there, before 1809 to Indiana, early pioneers to the state, settling in Vigo County. John died there in 1820, Mary, some time later, before the 1850 Census.

John(4): John, like his father, had married in Ohio. Listed in 1822 as one of the earliest property holders in Highland Township of Vermilion Co., IN, he died there in 1857. In the 1860 Census, his oldest living daughter, Sidney[t][c], who had married Absolum B. Carter in Vermillion County, was widowed, living there with two sons. In this same Township of Highland, were three siblings of Sidney: Lemuel or "Lemon", Hiram and Rebecca. Lemuel[t][c] and his wife, Susan English, an Indiana native, were living with James Gavin, Elizabeth and Sarah Hutsenpiller, and probably Susan's mother, Mary. Their only known child was an adopted daughter, Lilly Belle, not yet born. Lilly Belle would be the daughter of Lemuel's cousin, Franklin M. Chenoweth. Lemuel and Susan's relationship to these other youths in the home is not known. Next door to Lemuel was his brother, Hiram[t][c], and his wife, Sarah Jane Fennimore, who he married in Iowa, before returning to Indiana to raise a family. They are there with four children. Included is an adopted child, Sabrina Sanders, listed as Sabrina S. Chenoweth. She would die in May of this Census year. Curiously, Lilly Belle, who would live next door, would marry a boy named Frank E. Sanders. Whether Frank was related to Sabrina is not known. Hiram's sister, Rebecca[t][c], had married David Smith, Jr. in Vermillion County and was in the Census with two of their known sons. Rebecca's son David would live there for another 40 or 50 years.
Isaac(4): John's half brother, Isaac Chenoweth, and his wife, Isabella, had died in Vermillion County, four years before the Census. Isaac had served in the War of 1812, and like his brother John, moved from Vigo County to neighboring Vermilion, to become one of its earliest property owners. His farm covered 300 acres, a mile west of Perryville. Three of his children, William, Mary Ann and Franklin, are found in Highland Township of Vermillion County with their cousins from John. William Chenoweth[t][c] had married Ferbia M. Goodman, the former Mrs. Craig, in Vermillion County, some eleven years before the Census. William was born in Indiana, and this is stated correctly in the 1850 Census, but the 1860 Census mistakenly gives Ohio. William and Ferbia are living with three childrenchildren, some 60 dwellings away from William's sister, Mary Ann[t][c], who had married there, Thomas Henry Smith, even earlier in 1844. Thomas and Mary Ann are there with three children as well, but Mary Ann is expecting in August. Thomas was the brother of David Smith, Jr. who had married Mary Ann's cousin Rebecca above. Twelve houses away is William and Mary Ann's brother, Franklin M. Chenoweth[t][c], and his new bride, Mary, who is given to be an Indiana native. They are expecting their first child in December. Mary would die soon after the 1870 Census, and Franklin's cousin, Lemuel, above, would adopt their future and last daughter, Lilly Belle. A fourth sibling, Ferdinand C. Chenoweth, had married his wife, Frances E. "Fannie" Lyons, in Vermillion County in 1857. They had moved off to Illinois after their son Freddie's birth in 1858, but before the 1860 Census.

Thomas, Jr.(3): Thomas, Jr., the second son of Thomas, had settled in Franklin Co., OH with his brother Elijah. Both served in the American Revolution. Both had married Foster sisters. In fact there were many bonds between the Chenoweths and this Foster family of John Foster and Elizabeth Lewis. Cassandra, Tom's wife, ended up going to Indiana with some of her children after Tom died. She died in Vermillion County in 1850.

John(4): John C Chenoweth, son of Thomas and Cassandra, married Elizabeth Foster, a niece to John's mother, in Franklin County. The family then moved to Darke Co., OH. Sarah Chenoweth[t][c], a daughter, married there, Philip Rarick, Jr., the son of Philip Rarick and Susannah Mikesell. Both Sarah and Phillip had red hair. So did all their children, and all but one were born in Darke County. But by 1853, the family moved to Jay Co., IN where the last daughter, Catherine, was born. They are found there in the Census. Four of their sons would serve in the Civil War. Sarah's sister, Rebecca[t][c], also married in Darke County, but after the birth of her first son in 1848, she and her husband, Thomas Royal, moved to Indiana. They are found in Tippecanoe County with six children in the Census. Living with them is Rachel's nephew, Levi Edmund Chenoweth[t][c], who would soon be off to the war. Levi's brother, John Thomas[t][c], was married in Darke County and studied medicine in Cleveland. He began his practice in Randolph Co., IN in 1860 and is found there, in the Census, with his wife, Hannah V. Miller, and their first son, Forrest. Both Levi and John Thomas were sons of Thomas Foster Chenoweth, who had stayed in Darke Co., OH.
Rachel(4): Rachel[t][c], daughter of Thomas and Cassandra, had married Elijah Lowe in Ohio. Before 1827, she and Elijah moved to Vermillion Co., IN where Elijah died in 1857. But Rachel is found there, at age 66, in the Census, her grandson, Elijah Lowe[t][c], at age 18. On one side of her is Hiram Chenoweth, mentioned above, the son of her deceased first cousin, John. On the other side is her sister-in-law, Rachel Chenoweth, nee Perrin. Elijah's father, Benjamin Lowe[t][c], is in the same township, with his second wife, Rachel, and four children. With them are three unknown Talbert children. One could imagine them as somehow related to Rachel (her maiden name is unknown) either as siblings or children from a previous marriage. Another Lowe son, Joseph C. Lowe[t][c], brother to Benjamin, is also found in this township, with his wife, Matilda, and three children.
Thomas, III (4): Thomas Chenoweth, III, son of Thomas and Cassandra, had also come to Vermillion County, but died there the year before the Census. Having come to Indiana before 1830, he served in between 1850 and 1851 as a member of the convention that amended the new state's constitution. As said, his widow, Rachel Perrin Chenoweth[t][c], is found living in Vermillion County with four children next door to Tom's sister, Rachel Lowe. Their daughter, Mary, had married in 1857, but had already gone to Iowa. A second daughter, Ruth[t][c], had married the previous fall to David G. Henderson and moved to Warren Co., IN, where they are found in the Census. A third daughter, Anna[t][c], had also married in Vermillion County, the previous year, and is found there with her new husband, Lewis Amsey Morgan, and their newborn daughter.

Arthur.(3): For the most part the family of Arthur, the third son of Thomas, stayed in Pike Co., OH where the Thomas sons had first settled, crossing from Kentucky. But Arthur had a very large family and one daughter, Ada or 'Addie'[t][c], having married Charles Parnam Boswell in Pike County, is found with Charles and five children in Benton Co., IN in the 1860 Census. Next door is their son, Charles P. Boswell[t][c], and his wife, Elizabeth.
Richard(3): Richard, the fourth son of Thomas, is the third of three third generation Chenoweths known to have gone to Indiana. The other two were his cousin Arthur and his brother John. It is believed that Richard and his wife, Martha Smith, died in Tippecanoe County, as they are buried there. Richard, born in Virginia, had served in the Revolution. He and his wife, Martha, had started their family in Virginia, moved with the other families of Thomas to Mason Co., KY and then Ross Co., OH where their last daughter was born before the turn of the century. Two of his sons, Thomas and Uriah, as well as Richard's grandchildren from another son and daughter, are found living in neighboring White and Tippecanoe Counties, in the 1860 Indiana Census.
Elijah(3): Like his brother Thomas, Elijah and his Foster wife, Rachel, had settled in Franklin Co., OH. Just one descendant of his line, a great grandson, Caleb Asbury Chenoweth[t][c], is found in Indiana during the 1860 Census. Caleb's parents, Richard Foster Chenoweth and Lucy Jane Brendenburg, had died in Indiana in 1857. His siblings were living with relatives in Illinois. Caleb is working at a hotel in Tippecanoe County, in the Census of 1860. He would die at the battle of Kensaw Mountain in Georgia, serving the North, four years later.
Abraham(3): Abraham, the youngest son of Thomas(2), had stayed in Pike Co., OH, like his brother Arthur, after crossing the Ohio. None of his children are known to have gone to Indiana, but a number of grandchildren were there:

William(4): William married in Ross Co., OH and died in 1833 in Kentucky, on a trip. After his death, his widow, Nancy Johnston, asked their son, Thomas J. Chenoweth, to find a new family home site. Thomas bought a farm near Williamsport, in Warren Co., IN. Thomas, his sister, Rachel, his brother, Isaac, and probably Nancy, all went there. In the 1860 Census, Thomas[t][c] is found with his wife, Lavina Christman, whom he married there, and five children, living in Liberty Township of Warren County. Next door is his brother, Isaac[t][c], and his wife, Sally L. Brier, and three children. Later in life Isaac and his wife would move to Missouri. Isaac's sister, Rachel, who had married Spencer Wilson in Warren County, had since moved to Iowa and remarried after the death of her first husband.
Jacob (4): Jacob also married in Ross County and moved his family to Darke Co., OH. He died there in 1853. But his son, Thomas F. Chenoweth, went to Indiana, where he married in Tippecanoe County, Elizabeth Jane Foster[t][c]. Elizabeth was the daughter of Joseph Foster from Maryland. Thomas died three years before the Census, but in 1860, his wife and three daughters are found in Warren County. The brother of Thomas, John F. Chenoweth[t][c], also married another Foster, Clarissa, in Randolph Co., IN. Her relationship to Elizabeth is unknown. John, Clarissa, and five children are found in the 1860 Census in Madison County. Living with them is John's brother, Noah[t][c]. John would leave in three years, with his family, for Iowa. Noah would never marry, and would enlist in the Indiana Calvary, during the coming war. After the war, he returned to Indiana, and then, went to Kansas, where he hunted buffalo.
John (4): John, like Jacob, lived and died in Darke Co., OH. His son, Abraham John Chenoweth[t][c], married in Randolph Co., IN in 1847 to Olive Henrietta "Celia" Harris, who had come with her parents to Indiana from Virginia. When he married, Abraham received 80 acres of land in Randolph County from his father, just across the border from Dark County, OH. Thirteen years later in the Census, they are found in the same county, Randolph, with four children. During his life he would add to his land here, until he eventually held 576 acres. He died at the age of 52 of typhoid fever.

Unknown lines:

Amon (Page 592): Amon[t][c] (or Amos as given in the 1850 Census) was born in Pennsylvania in 1812. Genealogy of the several Chenoweth families that went to Pennsylvania is very sketchy, and Amon's link to them has never been found. He died in Warrick Co., IN in 1874. He was married twice, both times in Warrick County. His first wife, Anna B. Smith, the mother of their six children, died in 1852, ten days after the birth of their last child. Amon remarried the next year to Maria Meeks, the widow of Athe Meeks. They had no additional children, and in the fall of 1859, before the Census, she divorced him. In the 1860 Census, he is found in Anderson Township of Warrick County with three daughters; the other three children had all died young.
Grace Chenoweth: A Grace Chenoweth [c] is found in Madison Township of Montgomery Co., IN. She is living with John Marker and family, as a domestic. Who she was is a mystery. There are no known relationships between the Markers and the Chenoweths. There are no other Chenoweth families found in Montgomery County. The only possible match in the database is Gracy Canpelan Chenoweth. Her father was Elijah Chenoweth(4) in the line of John(3) Thomas(2). Elijah, born in Ross Co., OH, died in 1834. What happened to his daughter Gracy is unknown. Of course, Grace Chenoweth, could be a widowed spouse of a Chenoweth, but again there are no matches in the database.

Comments and Cousins appreciated - Jon Egge

You can reach me by e-mail at: jegge@chenowethsite.com
Copyright c 1998-2002 by Jon D. Egge. All Rights Reserved. Any republication of this page material for personal use requires inclusion of this copyright. Any other republication of this page material requires the express consent of the author.

to return to Census Overview...

Last Revision Monday, January 14, 2002 Return to Start