Kissing Cousins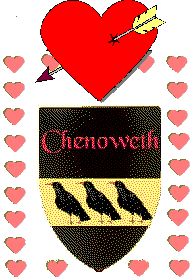 Quick Links
[Master Site Menu]
[Main Page]
Cousin marriages, just for fun
Cousin marriages always seem to fascinate people. Certainly my own family experience in this was my Aunt Norma, who married her 1st cousin, who had come from Norway to visit. I am told that my grandfather was not happy over this event, but it is very hard to stop two young people in love. This is a genealogy study, I am not a resource for cousin marriage information. Generally they are permitted by about half the states in the US, mostly in the south and East Coast. A resources for cousin marriages can be found at: cuddleinternational.org . (Thank you Tray for this link and good luck). There is a good explanation of consequences of cousin marriages at to be found at Wikipedia.
I have identified over 320 cousin marriages in the Chenoweth database. This list in not inclusive and I welcome any additions. In early times, because of the limited communities people lived in, marriages were commonly formed among neighboring friends or relatives.
The first cousin marriages in the Chenoweth Family occurred when 2 Ashbrook descendants of Mary(3) and Levi Ashbrook married two Chenoweth daughters of John(3) and Mary Smith. Mary was John's younger sister. Shortly there after three Chenoweth sons of William(3) William(2) married three Chenoweth daughters of William(4) John(3) John(2). The lines of John(4) William(3) John(2) in Randolph County, West Virginia teem with such cousin marriages.
Sometimes these cousin marriages cascade. In the case of the Chenoweth-Ashbrook marriages above, John Ashbrook and his cousin-wife, Mary Chenoweth, had a son William C. Ashbrook. William married his third cousin, Mary Chenoweth, the daughter of Absolom and Eleanor Duvall. Thus William had a wife, a mother, and a grandmother, all named Mary Chenoweths, each a generation apart.
But my favorites are the long reaches. Both are 6th cousin marriages. Opal B. Carter married her 6th cousin, Earl Henry Chenoweth, reuniting Hannah's line with her brother William(2). Then Ann Chenoweth Karraker married William Clements Chenoweth. I remember the ping in the program signaling this match when I dropped it in. Both are John(2) lines from Kentucky. Ann is line of Absolom(3). Her husband William Clements Chenoweth was from Arthur(3). Nancy Forsythe, her 1st cousin, told me the story. Bill was in the service in WW2 and stationed somewhere on the East Coast before the war. He looked up some Chenoweths in town and met Ann and, well they fell in love. What more can I say. I learned of 5th cousin marriage in Feb 2007, when calling Dorothy Morgan in Indiana. She told me that both herself and her husband had Chenoweth great grandmothers. When I put the information in, I found they were from two different lines of Thomas, joining the oldest son, John, to his brother Thomas, Jr.
Recently I found 3 other remote cousin relations. Unlike that of Opal and Earl, or William and Ann, the surname changes in these two are so numerous they are not readily discernble. When Walter Wesley Applegate married Lillie Mae Lockridge in Red Cloud, Webster Co., NE, he was marrying his 5th cousin once removed. Both are descendants of John Chenoweth and Mary Smith. Walter comes from Rachel(3) with the surname line of CHENOWETH-SEATON-WHITAKER-APPLEGATE. Lillie comes from Rachel's oldest brother William(3) and goes CHENOWETH-SIMMONS-LOCKRIDGE. A union between John(2) and Thomas(2) occured when William A. Stockwell married Pearl Leone Morrison in Oklahoma. This was a 6th cousin once removed marraige, the cousin relationship going back to the original family, and the common ancestor that of John Chenoweth and Mary Calvert. William's Surname line goes STOCKWELL>HOLLOWELL>CHENOWETH back to the Washington Co., IN lines of John IV. Pearl's Surname line goes MORRISON>DOWNING>CHENOWETH and the Pike Co., OH family of Mary Chenoweth and Timothy Downing. And even longer reach occurred when John Elvin Boyer, Jr. married his 7th cousin once removed, Lora Jean Lofgreen. Again he is from John(2), and she from Thomas(2). His surname line goes: CHENOWETH-ADAMS-REISINGER-SIMMONS-BOYER and hers: CHENOWETH-VAN CLEAVE-LOFGREEN. Like the Applegate-Lockridge marriage, this too occurred in Nebraska.
The two longest reaches for a cousin marriage to date are between 1) James Howard Larue and Shelly May Carter (They were married but briefly, and remain friends. They didn't know at the time that they were 8th cousins once removed) and 2) Joy Dorene Bonham and Phil Hirl who both descend from the Mayflower passenger Frances Cooke, making them 10th cousins once removed!
Another story in tracking cousin marriages is the case of John L. Ashbrook of Grany Co., KY. He married his 1st cousin Sarah Ann Readnour. But John's parents had also been first cousins: William Thomas Ashbrook m: Sarah E. Ferguson. There is one more combination in this as the grandparents of William Thomas Ashbrook, were John Ashbrook and Mary Chenoweth, probably the first known cousin marriage in the family. Three such unions in 4 generations is really "keeping it in the family." In The list of the 32 fifth-great grandparents of John L. Ashbrook, John Cheneoweth and Mary Calevrt show up 6 times.
For those confused about cousin terminology: First cousins have common grandparents, 2nd cousins common great grandparents, etc. Removed means a generational difference. The child of your first cousin is your first cousin one removed as there is a generation between you and the child. That child's child, your first cousin's grandchild, would be your 1st cousin twice removed.

---
1st cousin marriage
Rachel Chenoweth married Absolum Ashbrook, in Frederick Co., VA
Mary W. Chenoweth married John Ashbrook, in Frederick Co., VA
Mary Chenoweth married William C. Ashbrook, January 26, 1819 in Jefferson Co., KY
Esther Chenoweth married Joseph Gordon, February 25, 1837 in Muskingum Co., OH
Elizabeth Chenoweth married William Rogers, July 01, 1844 in Vigo Co., IN
Isaac N. Chenoweth married Elizabeth Chenoweth, October 03, 1862 in Henry Co., IN
Birdie Alice Chenoweth married Clayton Walton Ward, September 25, 1894 in Elkins, Randolph Co., WV
Mary E. Carson married Merrick W. Gantz
Mary Emma Westrope married Hiram Vroman
Cynthia Ann Seaton married William S. Rose, 1826 probably in Kentucky
Ison Chenoweth married Sarah Wilson, 22 Jul 1826 in Guernsey Co., OH
Lucy (Louise) Simmons married Joshua Carman Casebier, September 08, 1830 in Morgan Co., MO.
Ausburn Simmons married Elizabeth S. Casebier, September 29, 1829 in Morgan, Co. IL.
Joseph R. Wilson married Tamar Lent in Ohio
Abner Lane married Sarah Butler On October 13, 1850 in Muskingum Co., OH
Cynthia Jane Wilson married William Lent on January 14, 1858 in Guernsey Co., OH
William Thomas Ashbrook married Sarah E. Ferguson, October 10, 1852 in Grant Co., KY
John Carter Rutherford married Susan Estelle Rutherford, March 09, 1868 in Clarke Co., VA
Absalom Burdine Casebier married Barbara Pamelia Casebier, 1870 in Platte Co. MO
Henry Clay Herring married Hattie Ella 'Bettie' Jones, April 30, 1876 in St. Joseph, Buchanan Co., MO (half cousins)
John L. Ashbrook married Sarah Ann Readnour, January 23, 1878 in Grant Co., KY
Burlington C. Hanway married Laura Margaret Elizabeth Hanway, April 24, 1882 in Harford Co., MD
Jesse Lee Cecil married Mellie Hanks Buckingham, Virginia
Kitty Wilson married Samuel Winfield Adams, January 09, 1894
Herbert S. Downing married Maude Hubbard, November 20, 1897 in Vernon Co., WI
Charles Ross McClain married Lenora Bell, Pennsylvania Abt. 1899
Henry Clay Channell married Leota Ella 'Oda' Daniels, November 02, 1900 in Randolph Co., WV
Roy Earl Duncan married Mary Esther Miller, September 09, 1905 in Washington or Oregon
Charles Western Scott married Blanche Jackson, June 30, 1909
John B. Montgomery married Cynthia Pollock, in Pennsylvania
John B.H. Goddin married Laura V. Goddin, December 03, 1918
George Thomas Harris married Pauline Elizabeth Toombs on 14 Feb 1937 in Danville City, VA
Joseph Buckingham Switzer married Emma S. Switzer
Rosella Kathleen 'Katy' Chenoweth married Okey Lee McQuain in 1949 in Virginia
John Alvin Parnell m: Nellie Tomlinson
Mikel C. Petro m: Emma Briggs
Dulsena Chenoweth married Howard Arnold Crawford
Fenton K. Stalnaker married Opal Chenoweth Riddell
Richard Schroeder married Opal Starla Wiles (half cousins)
Nancy Carter married John McFarland, Aft. 1840 in Washington Co., PA (McFarland cousins)
Elizabeth Chenoweth married Thomas Hale (Haile cousins & 2nd Chenoweth cousins)
John C. Chenoweth married Elizabeth "Betsy" Foster, September 06, 1807 in Pleasant Twp., Franklin Co., OH (Foster cousins)
Eva Butler married Albert Gist, (Gist cousins)
Lydia Rebecca Chenoweth married Wilson Lamb Harris, February 10, 1876 in Randolph Co., IN (Harris cousins)
Jacob Van Meter Chenoweth married Mary "Polly" Haycraft, January 07, 1808 in Hardin Co., KY (Van Meter cousins)
Lucinda Chenoweth married Joseph Vertrees, November 19, 1833 in Perry, Pike Co., IL (Haycraft cousins) ... see 2nd cousins as well
Ruth Chenoweth married Absolem Kelley, October 28, 1828 in Elkins, Randolph Co., VA (now WV)(Kittle cousins)
Ethel M. VanScoy married Harry Gordon VanScoy, aft 1905 (Vanscoy cousins)
Mahala Simmons married Henry Childs Simmons, February 24, 1839 in Henry Co., IA (Simmons cousins)
Kizzie E. Ford married Benjamin W. Ford, abt 1889 in Kentucky (Ford cousins)
John Chenoweth Gibson married Martha Lucinda 'Loulu' Gault, August 17, 1884 in Springfield, Greene Co., MO (Gibson cousins)
Annie E. Rennix married Harry Ott Steever, (Phares cousins)
Edmond Alfred Agan married Ada Oletha Trinkle, (Agan cousins)
Daisy Merle Quick married Frankie Eugene Ransom, (Quick cousins)
1st cousin once removed marriage
Ruth Ann Hart married William Harrison Coberly, May 05, 1847 in Randolph Co, WV
Chenoweth Bunn Hart married Phoebe Ann Weese, January 10, 1867 in Randolph Co, WV
James Othanial T. Chenoweth married Alice A. Lance, September 07, 1876 in West Virginia
Benjamin Franklin Forman married Mary Christian 'Molllie' Crume, April 08, 1880 in Plano, Collin Co., TX
Mahlon Ashbrook married Phoebe Snyder August 01, 1885 in Ohio
David Mordecai Stalnaker married E. Blanche Lance, September 27, 1890 in Roane Co., WV
Arthur Ripley Carter married Ella Virginia Carter, Abt. 1895
Mabel V. Caplinger married Lloyd Paugh, July 04, 1905 in Randolph Co, WV
Leo Dyer married Mary Ellen Clark
Opal Maxine Jennings married Irie Leslie Beets
Ralph Orlin Sutton married Marjorie Rebecca Barnhill
Raymond L. Chenowith married Linda Jane Morphis
Byron Eldon Tough married Lucy Eva Tuttle
Weems Moore Hoke married Velna Odell Walker in Texas in the 1930s
George Daniel Chenoweth married Daisy May Chenoweth in California in the 1930s
John Lowell Jacobs married Edna Strickland, February 20, 1933 in Kansas City, Wyandotte, KS
Maston Patrick Kelly married Joni Denise House 23 Nov 1984 in Texas
Nancy Heaton married James Sutton, Jr., June 21, 1812 in Warren Co., OH (Sutton cousins)
Edmonia Virginia Carter married Charles H. Carter, September 08, 1870 in Clarke Co., VA, (Carter cousins)
Isaac Calvert Chenoweth married Sarah Elizabeth "Sally" Fairleigh, June 08, 1809 in Hardin Co., KY, (Van Meter cousins)
Miles Hart Chenoweth married Rebecca Fairleigh, May 23, 1811 in Hardin Co., KY, (Van Meter cousins)
James Seaton Rose married Betsy Kenner Seaton, August 06, 1818 (Seaton cousins)
Mary Fox married Bonham Fox, February 12, 1834 in Warren Co., OH (Fox cousins)
Joanna Fox married Jonathan Fox, February 10, 1848 in Warren Co., OH (Fox cousins)
Charles Fox, Jr. married Rebecca Nell Fox, February 15, 1849 in Warren Co., OH (Fox cousins)
Hardin Thomas Chenoweth married Nancy Hart, January 29, 1823 in Hardin Co., KY, (Van Meter cousins)
Earl Stark Rowan married Mary Arlene Kelley, February 07, 1941 in Akron, Summit Co., OH, (Kittle cousins)
Columbia Chenoweth married John Benton Holden, February 03, 1869 in Barbour Co., VW, (Kittle cousins)
Henry Clay Fuller married Ada M. Fuller, October 08, 1879 (Fuller cousins)
Grace McCormick married Frank Eugene Van Doren, July 03, 1894 in Ford Co., IL (Van Doren cousins)
1st cousin twice removed marriage
Omar Otis Applegate married Gale Glen Dunigan, Abt. 1936
Lona B. Applegate married Othel Elmer Shuler
Nancy Louise Reed married Shamel Leonard Painter 21 Jun 1997 (Painter cousins)
2nd cousin marriage
Elizabeth Chenoweth married Thomas Hale (& 1st Haile cousins)
William Chenoweth married Ruth Calvert, Bef 1755 in Hopewell MM, Clearbrook, Frederick Co., VA (Calvert cousins)
John K. Chenoweth married Catherine Peters, February 11, 1820 in Fairfield Co., OH
Emma Francis "Fannie" Chenoweth married Thomas J. Chenoweth, in Scott Co., IA
Ivah Petro married Oliver Stell, February 06, 1840 in Lebanon, Warren Co., OH
Eliza Petro married Jeptha Still, January 26, 1847 in Fayette Co., IN
Isaac Newton Noe married Mary Jane Lemmons, ca 1866, Lawrence Co., IL
Absolum Cromwell Miller married Nancy Elizabeth (Eleanor?) Chenoweth, March 20, 1855 in Virginia
Mary Chenoweth married William Robison "Rob" Bales, October 28, 1908 in Ohio
Isaac D. Stalnaker married Mary E. Taylor, May 10, 1870
Walter N. Carter married Susan Virginia 'Jennie' Rutherford, March 12, 1873 in Frederick Co., VA
William Edward Hanway married Permanda Ellen Ashton, November 04, 1873 in Maryland
John Chenoweth Hart married Margarette Caplinger, June 14, 1876 in Georgetown, Randolph Co, WV
John E. Chenoweth married Mary Helen Murray, October 01, 1882 in Warren Co., OH
Nathaniel Dowdy Arnold married Annie Susan Callaway, February 22, 1886 in Callaway Plantation, Wilkes Co., GA
Eli P. Ashbrook married Iva Ann Williams
Laura A. Hale married John A. Hale
Benjamin Lewis Chenoweth married Jane Chenoweth, August 19, 1855 in Vermillion Co., IN
Thomas Mitchell Lilley married Ida Collom, March 17, 1880 in Edgar Co., IL
Jonas G. Morgan married Mary John Albert, January 19, 1882 in Hardin Co., KY
Grace Dimple Harlin married Clifton Alexander "Pete" Brandon
India Minerva Chenoweth married Silas Slater Horn, November 27, 1919
Maude E. Detrich married Ralph Downing, March 25, 1911
Okey Jonathan Frame married Laverna Ann Stump 1915-1920 in West Virginia
Samma Jane Weese married Webster B. Helmick
Briscoe Compton Kelley married Naoma May Roberts, 1913
Eli C. Whitaker married Alice Wilson, 1891, probably in Indiana
James Henry Callaway married Annie Frances Callaway, May 07, 1950
Rebecca Ann Hibben married David H. Downing, 1860, probably in Ohio
Margaret C. 'Maggie' Chenoweth married Eli Howard Brooks, April 02, 1919, Randolph Co., WV
Paul Lee Mikesell married Eleanor Gray Johnson, June 1954 in Indiana
Lou Bettie Young married Charles Taylor Kennedy, in Kentucky
Cordelia M. Seaman married William W. 'Willie' Stalnaker, September 28, 1907 in West Virginia
Beulah Evans Carter married Frank Hardesty December 27, 1911
Alvy Webber Nininger married Mattie Hazel Austin about 1932
Ray McClung married Marjory Lyons
Geraldine Copeland married Harold Edgar Mott
Blance Carter married Otho Hardesty
Roger Lamar Smith married Carolyn Marie Hines
Judith Ada Weese married Albia L. Helmick (both Hart and Chenoweth cousins)
George Camden "Cam" Corley married Harriet "Hattie" Rowan, October 06, 1907 in Randolph Co., WV (both Hart and Chenoweth cousins)
Clair Chenoweth married Jolene Kaye Ryder, July 25, 1953 (both Stalnaker and Chenoweth cousins)
William Chenoweth married Sarah Banes, April 13, 1813 in Champaign Co., OH (Hayes cousins)
John Baxter Chenoweth married Ketura Beasman 'Kitty' Murray, March 31, 1831 in Baltimore Co., MD (Beasman cousins)
William Thoams Chenoweth married Sara Beasman Murray, March 31, 1831 in Baltimore Co., MD (Beasman cousins)
Merl Edwin Chenoweth married Altha C. Wise in 1896 in Indiana (Bowen cousins)
Ivy Millicent Chenoweth married Harrison James 'Harry' Wise in December 1899 in Darke Co., OH (Bowen cousins)
John Bowen Chenoweth married Bertha May (HAILSEY) Jackson on August 02, 1902 in Randolph Co., IN (Bowen cousins)
Lucy Ann Carter married John K. Louthan, Abt. 1852 (Carter cousins)
Emeline 'Emma' Carter married Joseph T. Cook, June 13, 1848 in Henderson Co., IL (Cook(e) cousins)
David Downing married Maretta Dorsey Downing, February 18, 1838 in Pike Co., OH (Downing cousins)
Drusilla M. Beekman married Geo. C. Beekman, Pike Co., OH (Beekman cousins)
Clark B. Chenoweth married Blanche May Felts, April 07, 1909 in Darlington, Gentry Co., MO (Felts cousins)
Jeremiah Browning Chenoweth married Elizabeth "Eliza" Foster, September 23, 1840 in Madison Co., OH (Foster cousins)
Joseph Heath Chenoweth married Mary Morgan, October 16, 1850 in Madison Co., OH (Foster cousins)
Lewis Foster Chenoweth married Martha Morgan, April 17, 1851 in Madison Co., OH (Foster cousins)
Francis Delbert Frame married Ruey Agnes Stump, September 13, 1924 (Frame cousins)
Luverna Frame married Minter Owen Frame, May 27, 1914 (Frame cousins)
Ruth Ann Chinouth married George W. Gray, February 06, 1840 (Haile cousins)
Wade Hampton Hart married Mabel Melvina Isner, April 21, 1916 (Kittle cousins)
Isaac Newton Chenoweth married Prudence Kittle, February 28, 1846 in Randolph Co., VA (now WV)(Kittle cousins)
Delia Weese married Benjamin Franklin Triplett, June 05, 1875 in Randolph Co., WV (Kittle cousins)
Frances Willard Chenoweth married Charles Clyde Lynch, December 28, 1919(Knotts cousins)
Flora Guyer married Arthur Wallace Ward, November 02, 1879 in Wabash Co., IN (Martindale cousins)
Eliza W. Caplinger married Edmund S. Skidmore, October 25, 1880 in Randolph Co., WV (Skidmore cousins)
Florence Almeda Annie Rowan married John Addison Corley, July 15, 1875 in Randolph Co., WV (Skidmore cousins)
Rachel Stalnaker married Asbury Stalnaker, August 04, 1830 in Randolph Co., VA (now WV) (Stalnaker cousins)
Levi Ward Stalnaker married Amanda Stalnaker (Stalnaker cousins)
William Daniels, Jr. married Mary Chenoweth, October 28, 1829 in Randolph Co., VA (now WV) (Stalnaker cousins)
Lucinda Chenoweth married Joseph Vertrees, November 19, 1833 in Perry, Pike Co., IL (Van Meter cousins)... see 1st cousins as well
Cleo Warthen married Lloyd Warthen (Warthen cousins)
Bertha Warthen married Orval Warthen (Warthen cousins)
Luceba Rennix married Marteney Wilmoth, August 28, 1881 in Randolph Co., WV (Wilmoth cousins)
Victoria Coe married John Thomas Isennock (Coe cousins)
Ernest Reason Burnside married Lela Blanch Green, 07 Jun 1899 in Licking Co., OH (Green cousins)
2nd cousin once removed marriage
Elizabeth S. Chenoweth married John Chenoweth, Abt 1809 in Ohio
Eleanor Chenoweth married Absolom Chenoweth, November 04, 1810 in Ohio
Rachael Chenoweth married Abraham Chenoweth, March 25, 1812 in Jefferson Co., Kentucky
Catherine Chenoweth married William Chenoweth, December 17, 1814 in Warren Co., OH
Elijah Chenoweth, Jr. married Nancy Chenoweth, April 16, 1827 in Clark Co., OH
John Henton Chenoweth married Emarine English Frame, October 19, 1841 in Lewis Co., MO (Common great grandmother: Mary Van Meter)
Henrietta Chenoweth married Rev John P. Chenowith, November 20, 1850 in Knox Co., TN
Cynthia A. Miller m: Absalom C. Williamson 27 Oct 1861 in Floyd Co., IN
Jacob Downing married Emma Rillis Lewis, December 24, 1874 in Vernon Co., WI
Lemuel David Stalnaker married Prudence Edith Chenoweth, January 20, 1877 in Calhoun Co., WV
George W. Gordon married Matilda Jane. Linn, 21 Mar 1877 in Ohio
Lafayette D. Chenoweth married Lucy A. Goddin, November 18, 1877 in Elkins, Randolph Co., WV
David Hobbard Daniels married Martha Ellen Stalnaker, September 21, 1879 in Beverly, Randolph Co., WV
William Anderson Stalnaker married Laverna Chenoweth, August 22, 1880 in Calhoun Co., WV
Anna A. McNaghten married Robert Scott Kellerman, about 1882 in Ohio.
David Norman Baker married Mary Baxter Shannon, October 04, 1883 in Dayton, Yamhill Co., OR
William H. 'Sandy' Downing married Rosalea Downing, June 24, 1887 in Benton Co, MO
Perry Weese Chenoweth married Zantippe "Tippie" Chenoweth, April 30, 1891 in Elkins, Randolph Co., WV
Lillian Caplinger married Lee D. Chenoweth, October 02, 1893 in West Virginia
Margaret Jane 'Magie' Sigman married William C. McKim, October 14, 1896 in Guernsey Co., OH
Thomas Jefferson Collett married Dollie Schoonover, July 07, 1910 in West Virginia
Harrison Bert Downing married Olive Owens about 1914 in Wisonsin
Thomas Chenoweth Baker married Myrtle Annett Ewing abt 1926
Annie Marie Ingram married Zac Oce Hanna, January 28, 1926 in Lockhart, Caldwell Co., TX
Adrienne Elaine Ingram married Howard Oran Gould, in Texas
Deborah Kay Bristor married Charles Richard Hildreth, July 12, 1975 in Pennsylvania
Arlene Deulley married Elihu Sutton Stalnaker, in West Virginia
William A Washburn married Laura E Hughes
Artie Jeanette Casebier married Ira William Loughlin
Benjamin Wheeler Meredith married Viola Shaw In Ohio
Bruce Chenoweth Ridgway married Ada Ruth Gantz
Finis Simmons married Elizabeth Jane Caulfield
Howard Stone married Eleanor Lorraine Michael
Gary Owen Chenoweth married Marsha Kay Chenoweth
Russell Gail Onstott married Doris Marie Morgan, 31 Jan 1947 in Lamar, Barton Co., MO
Nicholas Chenoweth married Ruth Haile, Abt. 1795 (Haile cousins)
James Kenner 'Big Jim' Whitaker married Sarah Reisinger, August 04, 1842 in Morgan Co., IN (Haile cousins)
Parkinson Stalnaker married Mary Blaine Daniels (Stalnaker cousins)
Catherine Chenoweth married Job Ward, May 01, 1866 in Elkins, Randolph Co., WV (Stalnaker cousins)
Mary Bernadine 'Bunnie' Ramsburg married Charles Hunter Ramsburg, December 06, 1892 in Hagerstown, Washington Co., MD (Ramsburg cousins)
George Valoria Chenoweth married Cora M. Hill, December 24, 1891 in Randolph Co., IN (Bowen cousins)
Charles Benjamin Steward married Carrie Solt, May 05, 1895 in Pickaway Co., OH (Peters cousins)
Hattie Beekman married Gabriel Decker, Abt. 1898 (Beekman cousins)
Nellie B. Daniels married Palmer R. Yokum (Daniels & Stalnaker cousins)
Arthur Daniels married Della Yokum (Daniels & Stalnaker cousins)
James Wesley Isennock married Minnie Marie Francies (Coe cousins)
Gladys Jeanette Williamson married James Leroy Burns, September 24, 1956 (Freeze cousins)
Dessie Mae Williamson married Donald Forrest Burns, August 12, 1960 (Freeze cousins)
Eileen Ratts married Cleo Warthen (Warthen cousins)
2nd cousin twice removed marriage
Debra Rose Frederiksen married Norman Louis Stalnaker in Idaho
3rd cousin marriage
Johnathan P. Ashbrook married Sarah Rees, before 1819
William S. Chenoweth married Cassandra Passmore, September 05, 1836 in Mercer Co., KY
Thomas Hanna Chenoweth married Mary 'Nancy' Trapnall Passmore, October 23, 1834 in Kentucky
Jane Chenoweth married Newton J. Whitaker, January 04, 1855
Delilah Ann Chenoweth married Robert Gregory, October 06, 1870 in Pike Co., IL
Mary E. White married Omer E. Stelle, February 21, 1871 in Fayette Co., IN
Elizabeth Ann Chenoweth married William Zebanoff Chenoweth, June 23, 1875 in Warren Co., OH
Leann Daniels married James Asbury "Doc" Stalnaker, September 03, 1883 in Randolph Co., WV
Carrie Alice Allison married Melvin Atlas 'Meck' Johnson on December 01, 1889
Ella Findley married William L. "Willie" Holden, October 21, 1894 in Barbour Co., WV
William E. Orr married Libby Shaw, November 19, 1891
Emmaline "Emma" Rowan married Francis Hayes Wilmoth, December 25, 1898 in Randolph Co., WV
Mary Vanjalean 'Vangie' Seaton married Bernie C. Whitaker, January 30, 1898 probably in Morgan Co., IN
Delphia Chenoweth married Wade Hampton Wright, March 02, 1896 in Randolph Co., WV
Thomas Jefferson Goddin married Alice Chenoweth, Bef 1899
Thomas Jefferson Goddin married Albina Hattie Stalnaker, September 18, 1899
Mahala Jane 'May' Chenoweth married Emory C. Frame, August 30, 1899
John Tulley 'Tulla' Chenoweth married Martha 'May' Frame, November 06, 1901 in Calhoun Co., WV
Gertrude Estelle Rutherford married Holmes Jannery Hardesty, January 07, 1904
Belva Chenoweth married Holtie Archibald Chenoweth, April 13, 1904 in Randolph Co., WV
Josephine Aline Chenoweth married Finley M. Borders, April 09, 1909 in DeWitt Co., IL
Odbert Haymond Taylor married Mary Ruth Earle, March 22, 1910 in Elkins, Randolph Co, WV
Roxie Lily Daniels married Omer Truman Cox, ca 1914
Julia Irena Betz married George Allen Betz, January 04, 1915 in Washington
Henry Eugene Purcell married Beulah Henry 'Pug' Ingram, about 1920 in Texas
Nina Link Daniels married Herman Esker Cox, 5 Feb 11936 in Randolph Co., WV
Mary Louise Raver married Carl Henry Laufer Abt. 1937
Warner Dean Ashbrook married Velma E. Hoover, October 11, 1938
Richard Chenoweth married Emma Lou Stalnaker, January 03, 1954
Albert Jacob Chenoweth married Eleanor Denton, Randolph Co., WV
Minnie Frances Spencer married Columbus Ward LaRue, December 03, 1903 Van Buren, Crawford Co., AR
Martha Jean Dyer married Lawrence Sylvester 'Buss' Ford
Agnes Chenoweth married Robert Gray, May 11, 1826 in Washington Co., TN (Haile cousins)
Elizabeth K. Carter married Joseph Kerfoot Carter, November 06, 1816 in Frederick Co., VA (Carter cousins)
Creed Kittle married Mary Elizabeth Skidmore, May 02, 1872 in Randolph Co., WV (Kittle cousins)
Hazel M. Daniels married Okey Blaine Phares, April 18, 1925 in Elkins, Randolph Co., WV (Phares cousins)
Alba Chenoweth Weese married Mary Marietta 'Moll' Stalnaker, November 21, 1880 in Randolph Co., WV (Hart cousins)
Lucinda Hobbs 'Lula' Jean married George S. Mills , November 23, 1881 in Kentucky (Seaton cousins)
Ella Landrum married Thomas S. Landrum, October 05, 1966 (Landrum cousins)
3rd cousin once removed marriage
Rebecca Melvina Goddin married Shirley Lee Marstiller, January 18, 1921 in Randolph Co., WV
Jessie Gum married Rolandus Bailey Kerr
John David Chenoweth married Grace Weese
Vera Hazel Denton married Fred Vanscoy, May 16, 1925
Marjorie Gay Chenoweth married Jan Clark
Russell Allen Whitaker married Rosie Elizabeth Dunigan
Charles Homer Chenoweth married Aileen Schoonover
Rosa Ellen Moore married Leslie Howard Day
Dee E. Rowan married Cleo Stalnaker, November 26, 1919
Logan Dee Hart married Ella Lee Weese, October 14, 1950
Lucretia Jane McCullough married Hoy Gould Talbott (Hart cousins)
Spurgeon Ermine Smith married Dolly Snodgrass, July 25, 1927 in Salem, Dent Co., MO (Reip cousins)
Orien Whitaker married Goldie Mae Whitaker August 13, 1940
Dale Harper Daniels married Phyllis Elaine Yokum, July 25, 1954 in Beverley, Randolph Co., WV (Daniels cousins)
Dee Talbot Daniels married Ada Margaret Stalnaker (Stalnaker cousins)
Pauline Maridon Durbin married Paul Franklin Mills (also a 6th cousin marraige)
3rd cousin twice removed marriage
Zanna Luzanna Stalnaker married Armineous W. 'Min' Stalnaker, Abt. 1900 in Braxton Co., WV (Stalnaker cousins)
4th cousin marriage
Hazel Virginia Hart married Virgil Crawford Hanger, October 16, 1939
Mary Ann Chenoweth married Thomas Chenoweth, Abt 1865
Elmer Dewitt Goddin married Winnie May Stalnaker, May 25, 1923
Sarah Ella Chenoweth married James Odbert Coffman, October 11, 1924
Glenn Benjamin Helmick married Clarice Mae Wilmoth, September 15, 1935 in West Virginia
Delphia Eleanor Helmick married Cecil Gerald Wright
Mary Triplett married Baron William Chenoweth, December 05, 1953
Daisy Hanger married Paul Harper Barnard
Wilbur Lee "Dick" Stalnaker married Ota Verna Harper, January 05, 1898 in Lick, WV (Stalnaker cousins)
Lewis Earl Scott married Geraldine Ruth Phares, May 31, 1985 (Phares cousins)
4th cousin once removed
Windle Turner married Wilma Denison
Durwood Ernest Kelley married Betty Louise Findley, 1939
Lemuel Perry Triplett married Vivian Elizabeth Wing, 05 Nov 1876 in Adams Co., IL
Mary Ann Akin married Betty Harvey D. Davis, October 07, 1883 in Pittsfield, Pike Co., IL
John M. Akin married Betty Rachel D. Reiter, December 24, 1884 in Perry, Pike Co., IL
James Earl Holcomb, Jr. married Rhonda Michelle Maurer
Betty June Kittle married Wilson Jacob Phares
William Walter Carter married Ann Elizabeth Hoffman, February 25, 1897 in Berkeley Co., WV
Frank Wilson Miller married Edna Virginia Cushwa, February 06, 1930 in Berkeley Co., WV
Brownie M. Hoffman married Paul Clayton Mong
Elizabeth Bell Isenhart married Homer Ervin Schoonover, 14 Feb 1957 in Elkins, Randolph Co., WV
Aretha Jane Rennix married Harvey Gay Kittle, February 08, 1896 Randolph Co., WV (Kittle cousins)
Ruth Chenoweth married Squire Russell H. Ward (Stalnaker cousins)
Icy Chenoweth married Calvin Hartley Daniels, January 13, 1895 in Randolph Co., WV (Stalnaker cousins)
Daisy Kittle married Edward Marteney, November 10, 1895 in Randolph Co., WV (Phares cousins)
Mary Flo Dinkle married Walter L. Phares, June 01, 1905 in Randolph Co., WV (Phares cousins)
4th cousin twice removed
Charles Samuel Hibben married Margaret Kathryn Guth qbout 1925 in Ohio
Lois Boxell married Strader Wynn Phares (Phares cousins - also Stalnaker)
5th cousin marriage
Robert Lewis Phares married Bonnie K. Piercy, October 17, 1968
Joseph Bert Swartz married Anna Corrine Shuck, June 28, 1910 in Findlay, Hancock Co., OH
Virginia Louise Rennix married Michael L. Gear
Charles H. Thornhill, Jr. married Willa Jean Moyers, May 29, 1950
Donald Keith 'Tommy' Wilmoth married Marlene Himes Wilmoth
Gerald Armour Morgan married Dorothy Lusader
Adin Levi Colborn married Grace Downey Tucker
Joseph Daniel Thornhill married Shannon Tallman
Sharon Elaine Weese married Kenneth Lee Collett (Collett cousins)
Harley Franklin Stalnaker married Stella Mae Salisbury, October 15, 1960 (Stalnaker cousins)
5th cousin once removed
Russell Lowell Shrontz Jr. married Florella Jean Andrew, 07 Nov 1940 in Covington, Kenton Co., KY
Wilma Louise Canfield married Carol Jack Biller, June 05, 1954
Walter Wesley Applegate married Lillie Mae Lockridge, September 04, 1900 Red Cloud, Webster Co., NE
Benjamin Michael Pritt married Annette Marie Wamsley, October 17, 1981 in Beverly, Randolph Co., WV
Linda Marie Hollenbeck m: Ronald Owen Milks on 25 Jun 1966
James Allen Collett m: Kathy Lane Daniels on 21 Oct 1972 in Summit Co., OH
Cynthia S. Ward m: Darroll L. Talbott, Jr
Clara Louise Chenoweth m: Paul Durbin
Cecil Willard Martin m: Margaret Eleanor Daigh
Dorsey Lee Scott married Marjorie Ruth Phares (Phares cousins)
Henry Ernest Hale married Nancy Ann Crump, November 30, 1913 in Dallas, Dallas Co., TX (Haile cousins)
Hubert Charles Skidmore married Hallie Ruth Phares, May 14, 1923 in Valley Bend, Randolph Co., WV (Phares cousins)
Austin Job Ward married Edra Lucille Stalnaker, 1927 (Stalnaker cousins)
6th cousin marriage
Opal B. Carter married Earl Henry Chenoweth, June 19, 1913 in Vermillion Co., IL
Mervin C. Dorsey m: Grace Lillian Gregory, 1924
William Clements Chenoweth married Ann Chenoweth Karraker, March 06, 1939
Fred Benjamin Coonrod married Myrtle Nabia Tucker, May 22, 1937
Byron Hal Heaton married Gretchen Lucille Hubbard, 06 May 1947
Pauline Maridon Durbin married Paul Franklin Mills (also a 3rd cousin once removed marraige)
6th cousin once removed marriage
Betty Rae Stimson m: Ralph Kendall Hines
William A. Stockwell m: Pearl Leone 'Jennie' Morrison
7th cousin marriage
Jack Bundy Chenoweth married Marjorie Maurine Triplett, 29 Apr 1953 on Couer d'Alene, Kootenai Co., ID
7th cousin once removed marriage
Steven Dwayne Durbin married Nina Lee Wendling
Lora Jean Lofgreen married John Elvin Boyer, Jr., December 29, 1969
Richard Duwane Copeland married Leorah Perl Dickson, July 16, 1966
8th cousin once removed marriage
Shelly May Carter married James Howard Larue , January 05, 1974
10th cousin once removed marriage
Joy Dorene Bonham married Phil Hirl, (Cook(e) cousins from Francis Cooke b: 1578, a Mayflower passenger)
Comments and additions appreciated - Jon Egge

You can reach me by e-mail at: jegge@chenowethsite.com
Copyright c 1999-2021 by Jon D. Egge. All Rights Reserved. Any republication of this page material for personal use requires inclusion of this copyright. Any other republication of this page material requires the express consent of the author.

to return to Chenoweth Main...


Last Revision Tuesday, March 26, 2023

Return to Start