<!
Chenoweth History - Arthur L. Keith Paper
Presented Sept 1922, Elkins, WV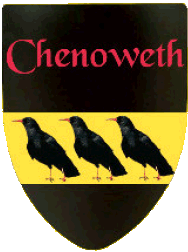 Quick Links
[Master Site Menu]
[Main Page]
[Background Page]
---
In 1922, A study done by Arthur L. Keith was presented at the 8th Chenoweth Reunion in Elkins, WV. This study of Keith's research of early Chenoweth wills and records formed for the first time, the true genesis and basis for the Chenoweth family in America. Mr. Keith's research and analysis was well done and fairly accurate. I present it here with annotated comments. Cora Hiatt used this framework with some exceptions for her 1925 book.
THE CHENOWETH FAMILY
(By Arthur L. Keith, Northfield, Minnesota.)
Presented September 1922, Elkins, WV, 8th Chenoweth Reunion, (after an address by William H. Cobb)
Anotation format [JE: Italics]
The founder of this family appears to have been John Chinoweth who died in Frederick County, Virginia, in 1746. He probably lived for a time in Baltimore County, Maryland, and in that county part of his children continued to live after John Chinoweth had moved on to Virginia. A descendant of John Chinoweth, Jr., eldest son of John Chenoweth, Sr., gives me the information that John Jr., was born in 1706.
This agrees well with the following items taken from the records of St. George's Parish [JE: should be St. John's ], Baltimore County. John Chennerworth (sic) and Mary Smith were married Nov. 26, 1730, William Cheinerworth, son of the above, was born Jan. 8, 1731, John Watson and Mary Chennerworth, spinster, were married May 24, 1733. A comparison with the will of John Chinoweth, 1746, Frederick Co., VA, given below, shows that these persons belong to his family. These are the earliest records I have found relating to the family of the blacksmith John Chinoweth. Probably he came to this country shortly before 1730 and before 1746 with a part of his family moved to Frederick Co., VA. [JE: It is now believed that John Chenoweth came to America prior to 1703 and moved into Baltimore Co., MD before 1730 when his son married there. An actual record of John Chenoweth, the progenitor, does not appear in Baltimore Co., MD until the 1737 tax rolls. It is likely that he moved to Virginia between 1738 and 1742]
Arthur Chenworth and Richard Chenworth were landowners in Baltimore County in 1750. In Frederick Co., VA, on April 11, 1746, John Chinoweth, blacksmith, made his will, probated May 6, 1746. Witnesses were Joseph Stanley, Mary Stanley and William Joliffe. He mentions wife (not by, name,) children John (eldest) Richard, Arthur, William, Thomas, Mary Watson, Hannah Carter, and Ruth Petitt; grandson John Watson, Jr.; son-in-law John Petit. Son Thomas Chinoweth and James Carter [JE: son-in-law and husband to Hannah] were appointed executors.
Another John Chenowith (sic) made will in Frederick Co., VA, on Nov. 3, 1770, probated March 5, 1771. Witnesses were John Salsberry, William Salsberry, and M. Morgan. He mentions wife Mary, who is appointed executrix; eldest sons William and John, who receive land in Hampshire County on the Cacapon; sons Absalom, Thomas, and Richard, who receive land on which the testator lives; son Abraham (probably in error for Absalom as he is not heard of again) ; son Arthur; daughters Elizabeth, Mary, and Rachel; son-in-law James Stuart [JE: note Elizabeth was married to James Stuart before Nov, 1770]; granddaughter Mary Chenoweth, daughter of eldest son, William, whose legacy is conditioned on her remaining with her grandmother until she becomes of age. Son Richard is to receive Testator's smith's tools. This John of 1771 is undoubtedly the son of the John of 1746.
William Chenowith whose will was probated in Frederick County, VA, in 1772 was the son of the John who died in 1771 and identical with the William born in Baltimore County, Jan. 8, 1732. He mentions wife Jane; sons John, Jonathan, and William; and daughter Mary. He refers to Mary's deceased mother, so Jane was not his first wife. From other sources it is known that this William Chenoweth married 1. Ruth Calvert [JE: Keith's source for this name, Calvert, is unknown] and had John Chenoweth, born 1755; Jonathan Chenoweth, born 1757; Mary Chenoweth, born 1759 (mentioned in the will of John, 1771, see above;) and William Chenoweth, born June 18, 1760. This last named William will be given below.
The will of Absalum Chenowith was probated in Berkeley County, VA, April 12, 1773. (Berkeley was formed from Frederick in 1772.) This Absalum was born 1745 and was the son of John who died in 1771. The will was witnessed by James Seaton [JE: it is unclear whether this James is the father or the brother to Kenner Seaton who married Rachel Chenoweth, Absolom's sister. It is probably the source for the erroneous listing in Chenoweth histories of Kenner Seaton as James Kenner Seaton.], William Chenoweth, and John Hanna. Wife Ruth and Morgan Morgan [JE: this side by side listing of Ruth and Morgan Morgan caused Ruth to be known as Ruth Morgan in the Chenoweth histories. No evidence has been found that Morgan Morgan had a daughter Ruth. Some believe that Ruth was Ruth Carter, Absolom's first cousin.] are named as executors. Testator mentions brother William's son William [JE: this is the William who went to Kentucky and married the widow Mary Van Meter Henton] who had been bound to him to learn the blacksmith's trade. His children were James (born Dec. 21, 1767, died May 12, 1815;) Absalum Chenoweth (who in 1821 was living in Jefferson County, Kentucky, with wife Lydia, and children Stephen, John, Ephraim, Ross [JE: James Ross], Mary, and Angelina; [JE: The Ephraim here, is the Ephraim who went to Morgan Co., IN, misplaced in the Harris book]) and Ann Chenoweth (who married James Boggs.)
In Berkeley Co., VA, on March 15, 1773, Mary Chenowith, widow of John Chenowith, Absalum Chenowith and Ruth, his wife, Arthur Chenowith and Margaret his wife [JE: I believe this is a source of some continuing errors. As stated above, this land was left to sons: Absolom, Thomas and Richard. Richard's wife was Margaret. This may have resulted in the confusion over the Arthur in Kentucky whose wife was Elspa], all of Berkeley Co., VA, and Thomas Cbenowith and Rachel his wife of Baltimore Co., MD [JE: this is the proving link that the son Thomas went back to Maryland and married Rachel Moore], sell to George Scott land on the drains of Mill Creek and branch of Opeckon, granted by patent to the aforesaid John Chenowith, on Oct. 6, 1764. The Absalum, Arthur [JE: though the document says Arthur, the land was left in part to Richard], and Thomas of the above deed are undoubtedly sons of the John who died in 1771.
Joseph Chenoweth of Berkeley Co., VA, made will Sept. 23, 1785, probated Oct. 18, 1785. Witnesses were William Chenoweth, Gabriel Hays, and John Hays [JE: John Hayes was the father-in-law of Joseph]. Wife Sarah [JE: also known as Sinah] is mentioned and daughter Newly (?). Brother Absolum Chenoweth is appointed executor. This Joseph was the son of the following William Chenowith [JE: William(2)].
William Chenowith of Berkeley County, VA, made will Oct. 10, 1785, probated Dec. 20, 1785. He mentions wife Anne; sons of Absolum and William, and heirs of son Joseph, deceased; daughters Mary, Ann, and Hannah. [JE: A 4th son Isaac is listed in the will, but omitted by Keith. Cora Hiatt, used Keith's work and also omitted Isaac]. Son William and wife Anne are appointed executors. This William could be no other than the son of the blacksmith John Chinoweth of 1746. He is to be identified with William Chinoweth of Frederick Co., VA, who on Feb. 12, 1743-4 bought land on Mill Creek a branch of the Opeckon, from John Mills, Sr., of Prince George Co., MD. William Chenoweth of Frederick Co., VA, in 1752 received grant for 171 acres. In Berkeley County on Oct. 6, 1788, Absolum Chenowith and Anne Chenowith sold to Adam Smith land conveyed by John Mills to William Chenowith. [JE: Absolom'swife was Anne Hayes. Absolom and his brother William, Jr. shared their father William's property. Absolom and his wife did sell their half to Adam Smith, but it was not until Oct 6, 1808]
We turn now to Hampshire County, VA. In 1753 John Chenoth (sic) [JE: John(2)] received grant for 248 acres on the (Great Cacapehon. On Nov. 26, 1771, William Chenoweth of Frederick Co., VA, and wife Jane sold to John Chenoweth of Hampshire County 124 acres on Great Cape Capon, which had been bequeathed him by his father John Chenoweth and granted to said John Chenoweth, deed by Rt. Hon. Thomas Lord Fairfax, March 3, 1753. [JE: By will William(3) and his brother John(3) received this property from their father. William sold his half the following year to his brother John]
The following heads of households were living in Hampshire County in 1784; John Chenoweth, Sr., (probably son of John who died in Frederick County in 1771,) John Chenoworth, Jr., (probably son of the preceding [JE: More likely this is John the son of William and brother to Jonathan described next.]), Jonathan Chenoworth (probably son of William who died in Frederick County in 1772,) and Arthur Chenoworth. (Probably son of the John who died in 1771.) In Hampshire County in April 1791, John Chenoweth and Mary, his wife, [JE: This is John(4) before he moved to Randolph Co.] sold land to John Copsey. On April 19, 1811, John Chenoweth of Hampshire County made will, probated Sept. 14, 1812 [JE: This is John(3)]. Witnesses were Abraham Cresswell [JE: Abraham had married Mary Chenoweth, d/o William S.(4), so Mary was a granddaughter of John(3)], George Cole, William Nixon, Joseph Nixon, and Thomas Mcgrow. He mentions wife Eleanor [JE: John(3)'s 2nd wife]; sons William, Absolum, John, James, and Elias Chenoweth; daughters Elizabeth Monroe, Eleanor Ashbrooke, Rachel Ashbrooke and Mary Ashbrooke. He refers to land on south side of Cacapon Mountain. Executors are son William [JE: William S.] and John Monroe. This John Chenoweth is probably the son of the John who died in Frederick County in 1771.
The following did military service in the Revolution from VA.: Jonathan Chenoweth, John Chineworth, Thomas Chinworth [JE: Which Thomas is uncertain, Thomas the son of John was in Maryland. So was Thomas(2) and his families near Old Towne, MD in present day Allegany Co.)], Richard Chinoweth (captain), and William Chinoweth, the last two names being found in the Illinois papers indicating that they probably served in Kentucky. On June 28, 1827, Mary Chenoweth, aged 75, widow of John [JE: this is John(4)], applied for a pension from Randolph Co., VA. Her maiden name is given as Pugh.
We now take up the records of Baltimore County, MD. Notwithstanding published statements to the contrary [JE: Keith here is referring to early family traditions found first in the genealogy work of Joel Chenoweth which stated that the Chenoweth family came from two brothers, Arthur and Richard, who settled in Berkeley Co., VA. This myth was common in the family in the 1800s and used by both the Thomas(2) group, of which Joel was a 4th generation member, and by the Chenoweth-Cromwell group of John and Samuel, sons of Arthur(2) who settled in Berkeley Co. in the 1790s. This myth may have arisen from the separation of Arthur and Richard in Maryland from the Virginia settlers. Keith correctly sets it straight.], I regard Arthur Chenworth and Richard Chenworth, landholders in this county in 1750, as certainly the sons of John Chinoweth, blacksmith, who died in Frederick Co., VA, in 1746. We shall note their wills below. Thomas Chinworth and Rachel Moore were married Sept. 14, 1766 in St. George's Parish, Baltimore Co., MD. He was undoubtedly the son of the second John of Frederick Co., VA, as shown by the deed of March 15, 1773, given above. Thomas and Rachel Chenoweth had the following children: Elizabeth, born April 8, 1768; Ruxton, born Dec. 12, 1769; and Mary, born Sept. 8, 1772. [JE: Note, Keith omits the son James Francis]
In 1766 Nicholas Ruxton Gay of Baltimore Co., MD., made deed of gift to Thomas Chenoweth, Jr. [JE: Not Jr., but the son of John(2), as Keith correctly points out], and wife Rachel, "she being my niece." From what Sr. this Jr. after Thomas's name is to distinguish him, I do not know unless it may be the son of Richard or Arthur, both of whom had son named Thomas living at this time in Baltimore County. The Thomas who married Rachel Moore seems to have died before Nov. 27, 1783 [JE: He died May 08, 1780 in Botetourt Co. VA], for on that date his inventory is presented to the Baltimore court by James Moore, his admr. and next of kin. Arthur Thomas Chinworth and Rachel Morris [JE: should be Norris. This Thomas is now believed to be the son of Richard(2), why Keith gives his name as Arthur Thomas is unknown] were married Jan. 1, 1788, apparently, both of Harford Co., MD.
The following took oath of fidelity in Baltimore County in 1788 [JE: 1778]: Arthur Chinworth, Sr., Arthur Chenoweth, son of Richard, Thomas Chinworth, Thomas Chenoweth (twice), Samuel Chinworth, Richard Chenoweth, and William Chenoweth. In 1778 in Montgomery Co., MD, we find Richard Chinoth, Thomas Chinoth, and Thomas Chinorsath (sic.) [JE: This is Thomas(2) and his two sons, Richard and Thomas, Jr. Both of the latter served in the war. Thomas had moved from Frederick Co., VA in the last 1760s or early 1770s north and west into Maryland ending up near Old Towne in present day Allegany Co. Allegany Co. was then part of Washington Co. and both Washington Co. and Montgomery Co. were newly formed in 1776 from Frederick Co., MD.]:
Richard Chenoweth, blacksmith, of Baltimore Co., MD, made will Oct. 1, 1781, probated Dec. 4, 1781 (1785?) He mentions wife Kezia; sons Richard, Arthur, Thomas, Joseph, William, grandson Richard, son of John, dec'd.; and daughters Susanna Price, Hannah Ashton, and Kezia Chenoweth, Jr [JE: This would indicate that Kezia, the daughter was not yet married. Cora Hiatt gives her as Kezia Murray. A Kezia Chenoweth married John Christ Kempff, Oct 9, 1783]. Executors are wife Kezia and son Joseph. This Richard Chenoweth, I regard as certainly the son of John of Frederick Co., VA, 1746.
Arthur Chenoweth of Baltimore County made will Dec. 4, 1800, probated April 7, 1802. He mentions sons Richard, Samuel, Thomas; daughter Ruth Butler; granddaughter, Elizabeth, daughter of Richard Chenoweth. Son Richard is appointed executor. I regard this Arthur Chenoweth as identical with the Arthur Chenoweth, Sr. of Baltimore Co., who in 1761 made a deed of gift to his son Arthur Chenoweth, Jr. Likewise in 1768 he made gift of land to his son John Chenoweth. Sons Arthur and John are not mentioned in the will of Arthur, given above, probably because they had received their portions by gifts. The date of birth of this Arthur Chenoweth is given as 1716 in a chart of the family prepared in 1893 by Nimrod H. Chenoweth of Dayton, Ohio. It agrees well with the known facts of his life, his death in 1802 and the birth of his son John which is given as 1739. [JE: I don't know where this 1739 date is obtained. John, the son of Arthur was born July 01, 1745.] However, the chart above referred to and some published accounts make this Arthur, born in 1716, the son of another Arthur [JE: Again citing the erroneous early family genealogy based on two brothers.] of whom so far as I can ascertain not one contemporary record survives.
Draper [JE: The Draper papers were a voluminous study of early Kentucky and contains many letters of correspondence with 19th century Chenoweths. Much of their recollections are confused.] in his manuscripts now located at the state historical library at Madison, Wisconsin, had accepted this tradition but offers no records as proof. In my notes on this family published in the William and Mary Quarterly, XX, 113, I offer no objection to this tradition but I now regard it as practically certain that the Arthur Chenoweth, born 1716 died 1802. was the son of John Chinoweth, the blacksmith, of Frederick Co., VA, 1746. John Chenoweth and Samuel Chenoweth, sons of Arthur who died in Baltimore County in 1802, moved to Berkeley County, VA, where John died in 1820, leaving a large progeny. [JE: Again, Keith sets the record straight.]
Draper in the manuscripts above referred to gives data on the large family of one Thomas Chenoweth, whom I regard now is the son of the John of 1746. The exactness of the dates indicates that their ultimate source was the family bible. The names and dates are as follows: Martha, born Dec. 25, 1744; Sarah, born May 12, 1747 Mary, born July 23, 1749; John, born May 15, 1751; Thomas, born Sept. - 10, 1753; Arthur, born Dec. 6, 1755; Richard, born April 1, 1758; William, born May 3, 1760; Elija, born June 12, 1.762; Ann, born May 6, 1765; Hannah, born Aug. 18, 1767; and Abraham, born Jan. 25, 1770. From the above mentioned children Sarah married T. Downing [JE: This is the probable source of the error contained in Hiatt, that Sarah married Timothy Downing. It was Mary. Joel's work correctly states this relationship. Sarah and Mary were his aunts.]. Thomas Chenoweth (born 1753) married Cassandra Foster and had John, Benjamin, Thomas, Joseph, Richard and Ruth. Arthur (born 1755) married Elizabeth Carter [JE: Arthur had two wives, Elizabeth Williams and Susannah Carter, this is a erroneous combination] and had Absolum, Joseph, George, Hiram, Luke, Thomas, Martha, Amelia, Mary, Elizabeth, Rachel, Ruth, Addie, Harriet, and Mildred [JE: Arthur's will gives 14, some accounts as many as 18. By the will 14 were living at Arthur's death, Amelia is not mentioned and may be confused with Ada, missing is Ruth]. Richard (born 1758) married and had Arthur, 1786, Thomas, 1787; Hannah, 1788; Richard 1790; Sarah, 1791; Ruth, 1793; Uriah, 1795; Rebecca and Nathan, 1779; and Martha 1799. Elijah (1762) married Rachel Foster, and had Thomas, John, Joseph, Elijah, Elizabeth, Richard, and Ruth. Abraham (born 1770) married Rebecca Kerr and had Martha, 1791, William, 1792; Jacob, 1794; Anna, 1796; John 1797; Susan, 1799; Mary, 1801, Noah 1803; Sarah, 1805; Hannah, 1806; Abraham, 1808; Rebecca 1809; Joel, 1811, and Gideon 1813.
The following records are from the family Bible of James Chenoweth, son of Absolum who died in Berkeley Co., VA, in 1773. (see above.) James Chenoweth, born Dec. 21, 1767. Rebecca Bruce, born June 6, 1770. They were married Sept. 21, 1790. They had Rachel B. Chenoweth, born June 21, 1791. Ruth Ann Chenoweth, born Dec. 3, 1792. George L. Chenoweth, born March 17, 1797. James B. Chenoweth, born June 27, 1800. Edwin G. Chenoweth, born May 5, 1803. Alfred W. Chenoweth, born Sept. 13, 1811.
We now follow the Chenoweths to Kentucky, Richard Chenoweth (later called captain) appeared in KY, as early as 1776. He was almost certainly the son of John Chenoweth of Frederick Co., VA, who died in 1771. Arthur Chenoweth who, like Richard Chenoweth, settled in Jefferson County, KY, was undoubtedly the son of John of 1771, which gives an added reason for ascribing Richard to the same John [JE: Keith has it right. Arthur in Kentucky was the son of John(2). Cora Hiatt's book changed this to Arthur, Jr. and the same error is perpetuated in the Harris book.]. Capt. Richard Chenoweth married Peggy McCarty, probably daughter of Thomas McCarty of Hampshire Co., VA. [JE: More probably, Nicholas McCarty, whose family claims this Margaret and has close associations with the Kentucky Chenoweths. A Thomas McCarty was her brother.] While living in the eastern part of Jefferson County, KY., about 1782 his family was involved in the famous Chenoweth massacre at the hands of the Shawnee Indians. His son Gideon Chenoweth was killed [JE: Gideon was not killed at the 'massacre', but at St. Clair's defeat.], his wife was scalped but survived and others not of the family were killed. In 1784 Isaac Cox and Richard Chenoweth were justices in Jefferson Co., KY. In June 1803, in same county the death of Richard Chenoweth was entered on the records and the suit of John Williamson vs. Richard Chenoweth in regard to disputed land claims was continued against' his heirs, namely, Thomas Chenoweth, James Chenoweth, Mildred Nash, Jane Miller, Naomi Chenoweth, Tabitha Chenoweth, and Ann Chenoweth. Thomas Chenoweth was appointed to defend Naomi, Tabitha, and Ann, being minors. Margaret Chenoweth, widow of Richard, was still living on the disputed land in 1806. In Jefferson Co., KY, on Aug. 24, 1811, license was granted to Benjamin Irwin to marry Margaret Chenoweth, possibly the widow of Richard [JE: This Margaret was the d/o Arthur(3) and not the widow of Richard.] . According to the same records license was granted April 9, 1702, to Harnan (?) Nash [JE: Harmon Nash] to marry Mildred Chenoweth and on April 22, 1793, to William Miller to marry Jane Chenoweth. Arthur Chenoweth was a grand juror in Jefferson Co., KY, in 1795. In 1821 he was still living there with wife and children Absolum, John and Sarah [JE: This is confused. Arthur(3) went to Bartholomew Co., IN, his son Absolom to Lawrence Co., IL (ca 1818), his son John, in Clarke Co., IL (ca 1818). He had no daughter Sarah. Cora Hiatt has a similar statement about an Arthur on Mount Washington, Bullitt Co., KY with a John and 2 different children. This appears to be a confused recollection, of Absolom(4). Above Keith stated that Absolom, Jr. was with his wife, Lydia, in Kentucky in 1821. There was also Arthur, Jr. the son of Arthur(3). This Arthur married in 1809 and does not appear in Indiana until the 1830 Census. He has a daughter Sarah, but no Absolom or John].
One William Chenoweth appeared on Pottenger's Creek in KY, in Aug. or Sept., 1779. On March 5, 1782, in Jefferson Co., KY, he was appointed admr. of estate of David Henton. Later he married the widow Mary Henton, who was the daughter of Jacob Van Meter. This William Chenoweth was the son of the William who died in Frederick Co., VA, in 1772 [JE: Here Keith is again correct.], and was not the son of Thomas as I conjectured in the William and Mary Quarterly, XX, 113. He was born June 18, 1760, and died Aug. 16, 1828. his wife, Mary Van Meter (Henton) Chenoweth, was born Feb. 11, 1757, and died June 29, 1832. The are buried near Deatsville, Nelson County, KY
Their son Abraham Chenoweth was born Dec. 27, 1785, died March 31, 1861, at Perry, Illinois. He married Rachel Chenoweth who was the daughter of Arthur and Elspa, Chenoweth. This Arthur was probably identical with the Arthur, son of John of 1771 [JE: Again, correct.]. Rachel Chenoweth was born Jan 31, 1789 and died Dec 29, 1864. Miles Hart Chenoweth, son of William and Mary (Van Meter) Chenoweth, was born July 7, 1791, died I846 in Andrew Co., Missouri. He married Rebecca Fairleigh. A fairly complete account of about 1200 descendants of William Chenoweth and wife Mary (Van Meter) Chenoweth is ready for publication.
John Henton, son of above Mary, Van Meter by her first husband David Henton, married Katherine Keith, daughter of Alexander Keith, who lived until about 1773 in Hampshire Co., VA, and then until about 1780 in southwestern Pennsylvania and later in Nelson and Hardin Counties, KY
The La Follette Genealogy represents that the mother of this Alexander Keith was a Chenoweth but the present writer after examining the evidence is satisfied that this is an error. The name Chinotb occurs as a Christian name in an early generation of the Keith family. There was a close parallelism in the history of the two families. They both lived in Baltimore County, MD., Hampshire Co., VA, and Nelson County, KY, consecutively. [JE: This confusion with Chenoweths may have been the impetus for Keith's welcome research into the Chenoweth family.]
There are other coincidences, but in spite of them the present writer does not believe there was any relationship between the two families, at least until some later generation. Another erroneous statement in the claim appearing in some published accounts of the family, that one of the early Chenoweths, the original John or one of his descendants (the accounts do not agree on the particular Chenoweth) married a member of Lord Baltimore's family. The claim is supported by no contemporary record. [JE: Would that Cora Hiatt had listened to this studied opinion!]
---
Copyright c 2000-2003 by Jon D. Egge. All Rights Reserved. Any republication of this page material for personal use requires inclusion of this copyright. Any other republication of this page material requires the express consent of the author.