With this issue we are going to venture into an electronic newsletter. Response to a printed issue was not very good, so we will send this to individuals that have e-mail and post it to the Reunion website. If individuals may print a copy off the web or a printed copy it will be made available upon request.
It's never too soon to start planning for the next reunion that is the philosophy the our Board of Directors President, Bill Chinworth is using. To this end he is calling for a gathering of the Portland clan during the period November 15-17, 2002. The intention of this gathering is to meet, brainstorm and enjoy everyone's company. And that's just on Friday. On Saturday they intend to get serious and pick a chairperson and start organizing the reunion. The rest of the time will be used to visit various sites, look for caterers, transportation and entertainment possibilities. It looks like 2004 will be the best reunion yet, especially since the Lewis and Clark Centennial will be in full swing and all of Oregon will be involved.




A recently received e-mail indicates that Darrel Hawkins has hit a snag in getting the Chenoweth Family Association incorporated. The individual that he was planning on using to get the incorporation papers organized is no longer available and that he is looking for a new person to step up and assist with the project.

Elizabeth Chenoweth Stuart (Stewart) born 1750 died February 7, 1786 at age 36 in Jefferson Co., KY. Elizabeth, daughter of John and Mary M. Smith Chenoweth and wife of James Stuart.
Aaron Ashbrook born January 7, 1780, son of Mary W. Chenoweth, daughter of John and Mary M. Smith Chenoweth and Levi Ashbrook, son of Aaron Ashbrook died April 12, 1865 at age 85 in Fairfield Co., OH. He married Abigail Peters, daughter of Tunis and Francina Adams Peters on December 22, 1800 in Hampshire Co., VA. Abigail born June 7, 1782 died November 4, 1876 at age 94
Following are the children of Rachel Chenoweth and CPT James Kenner Seaton. They married about 1772. Rachel was the daughter of John and Mary M. Smith Chenoweth. Rachel born May 7, 1754 and died July 4, 1807 in Jefferson Co., KY at age 53.
Gideon Chenoweth born 1770, oldest son of CPT Richard and Margaret McCarty Chenoweth, was listed at home when the 16 Shawnee Indians attacked their home on July 17, 1789. Gideon was 19 at the time. At age 21, on November 3, 1791, he was killed by Indians at St Clair's Defeat at Ft Recovery in Ohio. On February 7, 1792, the Jefferson Co., KY court declared CPT Richard Chenoweth father and heir of Gideon Chenoweth.
Three children of CPT Richard and Margaret McCarty Chenoweth were killed at the massacre at their home. The children were Levi, and Mary "Polly" Chenoweth. The third child has never been correctly identified. Margaret McCarty Chenoweth was on the 1820 census but died before the 1830 census. Margaret died at the home of her daughter Amelia Mildred Nash, wife of Harmon Nash. Margaret never married the second time as has been incorrectly stated. That may have been her brother's daughter. CPT Richard was listed on the 1800 census but was dead by the 1810 census. It seems he died in 1803 from severe injuries received by a tree falling on him in 1796. Richard and Margaret and a number of their children and family are buried at the Richard Chenoweth Cemetery in Middletown, KY.
Hope you will be able to use it as all info is important to some branch of the Chenoweth Family.


(Website note: Betty's source for Rachel Seaton and her daughter being at Richard's home was found in what she describes as military papers she reviewed at the Filson Club in Louisville. Unfortunately she has never been able to locate this citation again to make a copy of it. The account is at odds with other published accounts including the research of Blaine Guthrie. Rachel's husbands name is correctly just Kenner Seaton, even though Chenoweth accounts list his first name as James Kenner. He did have a brother named James, named for their father. A full listing of Rachel's and Kenner's children can be found at the website. Some of the dates vary with those found at the website.)
August 15-18, 2002
A MOMENT WITH THE WEBMASTER
By Jon Egge
Cottage Lake, Woodinville, WA
Descendant of Dr Henry S. Chenoweth of Chillicothe, OH

Dear Cousins,
Several years ago, Shannon Graham of Missouri told me this was the proper address to use when addressing descendants of the family of John Chenoweth and Mary Calvert. Indeed we are all cousins and related to a family that is not only large but also diverse, spanning almost the entire 50 contiguous states as well as neighboring Canada and Mexico. One of my many highlights of the Elkins Reunion this summer was meeting Daniel Fred Chenoweth of Sonoma, MEXICO and his Uncle Gilberto Chenoweth of Arizona. They descended fromSommerville Chenoweth, a grandchild of Elijah Chenoweth of Franklin Co., OH. Elijah was of course 3rd generation of the THOMAS line.
Another highlight of the Reunion was meeting Virginia Bird Johnson who has so lovingly put together the genealogy of the families of Revolutionary John who settled there in Randolph Co. in 1790s. It was a gracious and warm welcome we cousins received from the families of Elkins on the occasion of their 88th annual picnic and reunion. Virginia Bird Johnson has attended every one of these. Her roll call of family members who had passed away since the last picnic was a deeply touching moment. It is a unique family rite. Some were surprised at the length of the list, but the families of John Chenoweth and Mary Pugh are great in number, some 10% of the website's present database.
Each year some 40 to 50 people named Chenoweth pass away and are published in the Social Security death index. This means that at least 10 times that number, in terms of family members by various surnames, pass away each year. With each of them a bit of family history is often lost. The website and database is dedicated to trying to preserve that knowledge. The task is daunting because of the sheer size and help is most assuredly welcome.
Prior to the reunion, I had the singular pleasure to meet Greg Wulker of Ohio in Winchester, VA. This area is one of the significant cradles of the family. The deeds found in courthouses of Frederick Co., VA and the neighboring West Virginia counties of Berkeley and Hampshire are both numerous and of great import. During the few days there, Greg and I found the deeds that prove the William who married Elizabeth Hutchison was indeed William, Jr., misplaced in both published Chenoweth books. For me it was a fulfilling moment. I feel it confirms and completes the many structural changes in the early family tree that had quite unexpectedly begun in the third year of my work on the family genealogy. There is a sense in me that things have been set right for the first time. The process has rearranged some 16 family lines in the 3rd and 4th generation. Cora Hiatt was correct that the names of the children of the 3rd generation were all known. She was incorrect in who they were.
Another milestone event is that Peter Chenoweth has finished sending me the details of his Census work from the 1850 to 1920 Census on the Chenoweth name. Together we have built a spreadsheet that identifies each male Chenoweth in the family and where they were in each census. We presently believe that there were some 1,650 Chenoweth named males in 1920 that are part of the family. We have identified where 77% of these were in the Census. The bulk of this identification are family listings and the majority of what is missing are single young men, aging bachelors and widowers. This Census work, from years of patient effort by Peter forms a body of documentation on the family that is the solid framework with which we have built the family database.
I would hope as many of you as possible would support, both in terms of funds and interest, Peter's effort to establish this newsletter as a family connection and genealogy voice. Only you can make it a success. This success in turn will help bind us together and perhaps help with the preservation of knowledge for future generations. Peter and I would welcome any help offered on any level.
---
THOUGHTS FROM THE TOP

(FAMILY CREST vs FAMILY CREST)

(FAMILY CREST vs FAMILY CREST)

Confused??? Well so are we. Over the past years it appears that there are 2 different version of the Family Crest. So which one is the correct one? In an attempt to gather enough data to determine which one is the correct one, I have sent the following correspondance: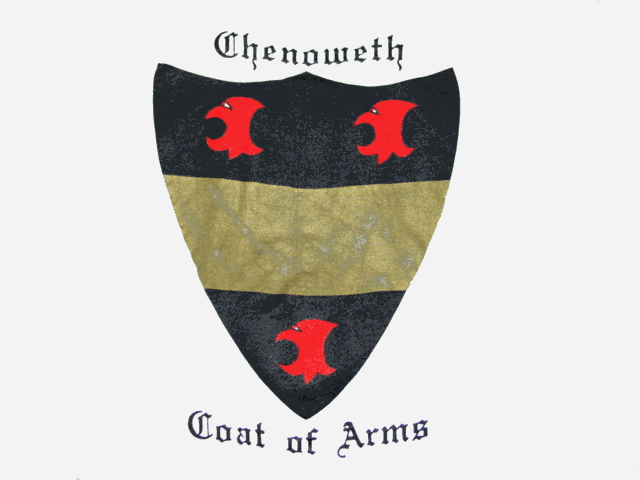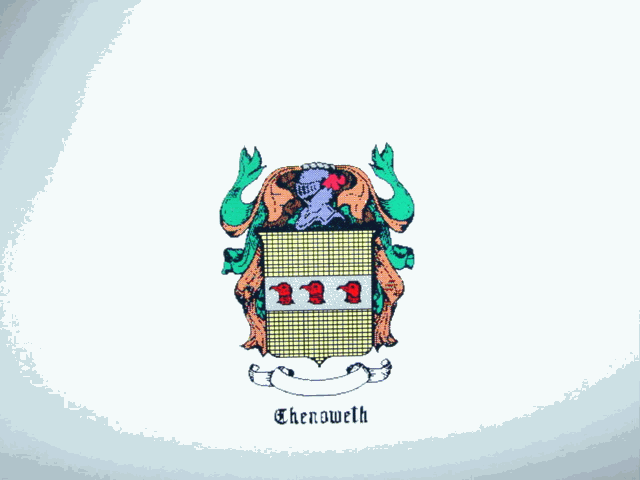 September 26, 2002
The College of Arms
ATTN: The Officer in Waiting
Queen Victoria Street
London, EC4N 4BT United Kingdom

Dear Sir,
On behalf of the Chenoweth family, I come to ask two or three questions concerning two recorded coats of arms that pertain to the person or persons named Chenoweth or Trevelisek.
In 1925, a Chenoweth cousin published a book on the generations of Chenoweths descending from a John Chenoweth who was born at St Martins in Meneage, Cornwall, and who at age eighteen, came to America in 1700 and was married by 1702. A large grouping of us are descended from this man. In 1820, other people with the same surname started arriving.
In the above mentioned book, the lady included her idea of how one of the two Chenoweth family crests or coats of arms looked. We know that the picture we are all fond of is not really correct and we're trying to go about getting better information.
Here's the official descriptions as we have them:
From Celtic or Welch origin under the name, Trevelisek:

SA. On a fess, OR. Three clough's heads. Motto: "Might makes Right."
From Cornwall, England, under the name Chenoweth:

SA. On a fess, OR. Three griffin's heads erased, GUELS. The two names mottos were "A Guardian of Treasures" and "Lose Honor rather than Betray a Trust."
We have samples of griffins heads from modern sources and this was the crest that the authoress had created for her book. What we don't have is an example of how a clough would be portrayed. I've also learned that there is also a bird name chough. I understand the former to be a raven sized black bird and the latter to be a crow sized black bird. We are trying to find a picture example of both.
The question:
Can you provide me with a picture of both of the above noted family coats of arms as they are recorded in your records?
Can you provide me with an appropriate picture of a clough and chough? Appropriate used here being how it would be used on a coat of arms. All the bird? Just the head? From the side?
You can communicate with me via electronic mail and electronic photography via the e-mail noted below. If there is a cost involved, we have the means to meet the expense.
Sincerely yours
Bill Chinworth, for the cousins
On October 23, 2002, the following response was received:
Dear Mr Chinworth,
Thank you for your letter of 26th September which I received as Officer in Waiting.
In order to answer your query it will be necessary to conduct a search amongst our Official Records to try and identify the two Arms of Trevelisek and Chenoweth, the blazons for which you provided in your letter.
My fee for this research will amount to US Dollars $200 and if you would like me to proceed I should be grateful if you could arrange to let me have a US Dollar cheque for this amount (made payable to the "College of Arms") and I will put the research in hand and send you a report in due course.
I look forward to hearing from you further.
Yours sincerely
Henry Bedingfeld
York Herald
The College of Arms
Queen Victoria Street
London EC4V 4BT

To which I have sent a check for $200.00 and am awaiting an official answer to the coats of arms for the titled member of our family whomever that was.
It is my hope that this matter can be resolved to the satisfaction of all.
Bill Chinworth
President, Board of Directors
Chenoweth Family Association

---
DO YOU KNOW THESE PEOPLE?

In the last issue we listed 101 individuals from the Social Security Death List that we were unable to identify. Since that issue we have been able to identify 6 of those individuals. This brings us to 78.3% of the Chenoweth's listed there that we have identified and leaves 384 individuals yet to go. We show you another 90 names & dates. Do you know any of these individuals? If so please let us know by contacting Jon Egge at

Jegge@chenowethsite.com or PO Box 1188, Woodinville, WA 98072.
Chenowith, Elizabeth 28 Oct 1896-1 Aug 1975 issued in NJ
Chenoweth, Elizabeth 23 Nov 1906-1 Mar 1974 issued in PA
Chenoweth, Elizabeth 1 Nov 1918-17 Aug 1992 issued in NY
Chenoweth, Ella May 19 Sep 1890-1 Aug 1979 issued in CA
Chenoweth, Ella 3 Jul 1912-21 Dec 1990 issued in IL
Chenoweth, Elsie 23 Nov 1924-19 Jan 1999 issued in IL
Chenoweth, Elvezia 26 May 1883-1 Mar 1985 issued in CA (maiden name Zaro)
Chenoweth, Elvira 5 Mar 1900-1 Mar 1978 issued in MA
Chenoweth, Emily V. 22 Dec 1906-31 Aug 2001 issued in NJ
Chinneth, Emma 20 Nov 1892-1 Jul 1985 issued in OK
Chenoweth, Emma 28 Aug 1898-5 Nov 1993 issued in OR
Chenoweth, Emma 3 Jan 1906-1 Apr 1985 issued in NJ
Chenoweth, Emma 15 Jan 1909-19 Apr 1999 issued in CA
Chenowith, Emma 25 Feb 1914-19 May 1989 issued in OH
Chenoweth, Ernest 9 Mar 1892-1 Dec 1970 issued in CA (husband of Bertha J.)
Chenoweth, Ernest 2 Jan 1906-1 Jan 1981 issued in OK
Chenoweth, Essie 21 Mar 1891-1 Jun 1981 issued in WA
Chenoweth, Estle 18 Apr 1929-1 Sep 1975 issued in OH
Chenowth, Ethel B. 6 Feb 1888-1 Aug 1975 issued in TX
Chenoweth, Ethel M. 4 May 1890-1 Feb 1973 issued in CA (born in NY)
Chenoweth, Ethel 14 Aug 1909-28 Mar 1996 issued in CO
Chenoweth, Etta 20 Sep 1910-1 Oct 1996 issued in OH
Chenoweth, Eula 3 Apr 1902-1 Aug 1988 issued in WV
Chenoweth, Eva 8 Nov 1895-1 Aug 1980 issued in OH
Chenoweth, Eva 26 Sep 1900-1 Apr 1974 issued in IN
Chenoweth, Evelyn 26 Mar 1899-1 Jun 1977 issued in IN
Chenoweth, Evelyn 17 Feb 1910-1 May 1993 issued in NE
Chenoweth, Evelyn 30 Aug 1912-28 Jan 1995 issued in IL
Chenoweth, Fannie 25 Dec 1916-27 Feb 2001 issued in WV (wife of Charles R.)
Chenoweth, Faye 22 Nov 1903-1 Apr 1982 issued in OH
Chenoweth, Florence 19 Aug 1923-15 Nov 1996 issued in OH
Chenoweth, Frances 2 Nov 1887-1 Jan 1968 issued in MD
Chenoweth, Frances 4 Sep 1899-1 Mar 1987 issued in IN
Chenoweth, Frances 12 Dec 1914-1 Jun 1981 issued in WI
Chenoweth, Freida J. 18 Jun 1901-19 Feb 1996 issued in MI
Chenoweth, G. 9 Aug 1923-14 Aug 1989 issued in NJ
Chenoweth, G. Virginia 19 Jul 1914-27 Nov 2001 issued in OH
Chenoweth, Gail 29 Aug 1923-1 Jan 1966 issued in OH (wife of George M.)
Chenoweth, Gale 1 Nov 1898-1 Feb 1968 issued in OH
Chenoweth, George 20 Dec 1935-12 Jul 1986 issued in PA
Chenoweth, Georgia B. 6 Jun 1886-1 Feb 1977 issued in IA
Chenoweth, Georgia 10 Jan 1936-26 Aug 1996 issued in OH
Chenoweth, Gertrude 16 Apr 1908-1 May 1992 issued in OH
Chenoweth, Gertrude N. 17 Sep 1911-1 Jul 1976 issued in CA
Chenoweth, Gladys 22 Feb 1922-10 Oct 1992 issued in MI
Chenoweth, Gladys 10 Jul 1924-25 Jan 1999 issued in OR
Chenoweth, Gloria 11 Sep 1932-5 Nov 1995 issued in IN (maiden name is Gloria Jones)
Chenoweth, Goldie 26 Sep 1895-1 Aug 1980 issued in KS
Chenoweth, Grace 16 Oct 1906-1 Dec 1977 issued in PA
Chenoweth, Grace 18 Jun 1912-1 May 1975 issued in MA
Chenoweth H. Virginia 12 Feb 1915-23 Mar 2001 issued in DE
Chenowith, Halford F. 30 Oct 1904-1 Apr 1971 issued in CA
Chenoweth, Harry T. 22 Oct 1891-1 Aug 1964 issued in CA
Chenoweth, Harry 15 May 1903-1 Jun 1986 issued in OH
Chenoweth, Hazel 7 Oct 1888-1 Jul 1977 issued in WA
Chenoweth Hazel 11 Feb 1911-1 Jan 1974 issued in MO
Chenoweth, Helen 2 Jul 1887-1 Aug 1977 issued in IA
Chenoweth, Helen 8 Aug 1911-11 Feb 1999 issued in OH
Chenoweth, Helen 12 Feb 1913-8 May 1989 issued in TN
Chenoweth, Helen 22 Aug 1914-1 May 1973 issued in OH
Chenoweth, Helen 28 Apr 1917-1 Apr 1992 issued in NY
Chenoweth, Helen 27 Sep 1917-1 Dec 1975 issued in OH
Chenoweth, Helen 21 Sep 1918-1 Nov 1976 issued in MT
Chenoweth, Helen 3 Oct 1954-1 Apr 1979 issued in OR
Chenoweth, Herbert 16 Sep 1901-1 Sep 1986 issued in AL
Chenoweth, Herbert 8 Jan 1921-1 Aug 1979 issued in MD
Chenoweth, Herbert, Jr 22 Jul 1930-11 Nov 1997 issued in AL
Chenoweth, Hester 13 Sep 1899-16 Mar 1992 issued in IA
Chenoweth, Hettie 5 Sep 1877-15 Jun 1966 issued in LA
Chenoweth, Howard 18 Nov 1891-1 Apr 1970 issued in CA
Chenoweth, Howard 1 Jan 1910-1 Mar 1978 issued in MO
Chenoweth, Howard 28 Oct 1919-1 Oct 1983 issued in MD (husband of Neta Ruth Robinette)
Chenowith, Howard 20 Mar 1934-1 Jun 1986 issued in MD
Chenoweth, Ida 16 Jan 1870-1 Jul 1969 issued in MI
Chenoweth, Irene 13 Jul 1899-1 Oct 1969 issued in IN
Cheneworth, Irene 8 Aug 1915-21 May 1988 issued in MO
Chenoweth, Irene 7 Mar 1929-3 May 2000 issued in KS
Chenoweth, Iris 15 May 1893-1 Aug 1974 issued in MO
Chinouth, Irma 19 Apr 1889-1 Dec 1967 issued in OR
Chenoweth, Isabelle 19 Nov 1916-27 Mar 1993 issued in MD
Chenoweth, Izora 8 Mar 1934-30 Nov 2000 issued in IN
Chenoweth, J. 7 Sep 1906-30 Sep 1996 issued in IL
Chenoweth, J. ?-1 Dec 1967 issued in MO
Chenoweth, J. Scott 14 Jul 1953-5 Nov 1992 issued in MO
Chenoweth, J.T. Miller 5 Jul 1917-1 Oct 1979 issued in VA
Chenoweth, Jack 12 May 1911-1 Jan 1963 issued in NJ (Jack Joseph)
Chenoweth, Jack 19 Mar 1919-1 Jul 1981 issued in WA
Chenoweth, James 2 Oct 1909-24 Nov 1996 issued in MD
Chenoweth, James 21 Oct 1923-17 Sep 1995 issued in IN
Chenoweth, Jane 29 Jun 1906-1 Apr 1983 issued in IN
Chenoweth, Janet 16 Apr 1913-1 Jul 1981 issued in NY
Chenoweth, Jaret 11 Apr 1929-1 Apr 1983 issued in AR
Chenoweth, Jean 18 Aug 1904-21 Apr 1991 issued in CA (maiden name Jean Stone)
---
Peter Chenoweth, editor, Roy, UT.... Comments and Contributions Email: p.chenoweth@comcast.net
Copyright c 2002 by Peter Chenoweth and Jon D. Egge. All Rights Reserved. Any republication of this page material for personal use requires inclusion of this copyright. Any other republication of this page material requires the express consent of the editor.