National Reunion a Go In Ft Wayne, IN

To paraphrase The Bard (Hamlet Act 1 Scene 3) "To be, or not to be: that WAS the question…". It came down to the eleventh hour as to whether or not there would even be a 5th National Reunion. With the 23rd of May fast approaching (the deadline for settling on the number of rooms that would stay reserved at Don's Guesthouse) it was questionable as to whether or not there would be enough individuals registered to allow the Association to break even, cost wise. After tabulating all the figures, 60 individuals would be needed to break even and as of the 23rd there were 58 registered.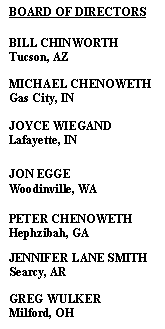 Whether due to the economy or other factors, it has noted that there has been a steady decline in attendance over the last 4 reunions. The first reunion, in 2000 at had more than 175 individuals in attendance, while the last one in Baltimore, MD had just over 80 individuals there. The initial concept to hold the reunion in different locations was to give all individuals an opportunity to attend one, without undue travel costs. If there is a 6th National Reunion in 2010 it is expected to be in the Midwest. But this reunion is a go. So, with the suspense out of the way, what is it that those individuals attending have to look forward to next month.

Allen County Public Library – has the second largest genealogical collection in the country. (Family History Library, Salt Lake City, UT has the largest) In existence since 1895 it contains more than 350,000 printed volumes and 513,000 microfilm and microfiche items in its genealogical collection, plus access to many online databases. Plenty of time is made available for researching your family line.

Shipshewana Day trip – this unique Indiana town is surrounded by both Mennonite and Amish communities. Named for Chief Shipshewana of the Potawatomi Indian tribe, the town is less than one mile square with a population of approximately 550. It hosts one of the nations largest flea markets and some 150 retail shops. Bringing this trip to a conclusion, there will be a late lunch at Das Dutchman Essenhaus – considered the largest family restaurant in Indiana, it is an Amish-style restaurant and bakery with both Amish and Mennonite cooks.

Guest speakers: always an enjoyable and informative part of every reunion is Jon Egge's presentation of Chenoweth family history of that area. Now that Ancestry.com has taken over Relative Genetics DNA program, Pete Chenoweth will give an updated presentation of where we stand with this ongoing project. Greg Wulker will be having a discussion on current Cavert research.

Photo – traditionally all family members in attendance don their lineage colored T-shirts and pose in front of one of the areas landmarks. This reunion will be no different with the photo being take at our lodging for the reunion: Don's Guesthouse.

On Friday evening there will be a reunion banquet. At this time any announcements, recognitions and awards will be made. On Saturday evening there will be our traditional coffee, cake and ice cream social. And on Sunday morning there will be the family brunch and general membership meeting.

Want to take part in this enjoyable event? It's never too late. Registration forms (courtesy of Bill Chinworth) can found at:

The Chenoweth Family The Chenoweth Family

---

ITEMS IN THIS ISSUE
---
"How Cold Is It?"

Ever wonder whether someone was being vulgar when they said that it was "cold enough to freeze the balls off a brass monkey?" As almost any Naval veteran would tell you the truth is:

It was necessary to keep a good supply of cannon balls near the cannon on old war ships. But how to prevent them from rolling about the deck was the problem.

The best storage method devised was to stack them as a square based pyramid with one ball on top, resting on four, resting on nine, which rested on sixteen. Thus a supply of 30 cannon balls could be stacked in a small area right next to the cannon.

There was only one problem – how to prevent the bottom layer from sliding/rolling from under the others. The solution was a metal plate with 16 round indentations called a Monkey. But if this plate were made of iron then the balls would quickly rust to it. The solution to the rusting problem was to make Brass Monkeys.

Few landlubbers realize that brass contracts much more and much faster than iron when chilled. Consequently when the temperature dropped too far the brass indentations would shrink so much that the iron cannon balls would come right off the monkey.

Thus it was quite literally cold enough to freeze the balls off a brass monkey.
---



TILL DEATH DO US PART - '05
A belated happy 50th Anniversary is sent to Mr & Mrs Richard Lee Chenoweth. Dick married Mildred Marie Jackson on 26 January 1958 in Cerro Gordo, Piatt Co., IL. An open reception was held for the couple on 12 Apr 2008 in the La Place Community Center. He is retired from Transport Service Co. and she is the retired owner of the Wheel Inn restaurant and a retired caregiver. They are the proud parents of two sons, six grandchildren and three great-grandchildren.
---
Editorial
By Peter Clinton Chenoweth, Editor
For years, while I was in the military, I had a poster that hung in my offices:
"Not My Job"
This is a story about four people named Everybody, Somebody, Anybody and Nobody. There was an important job to be done and Everybody was sure that Somebody would do it. Anybody could have done it, but Nobody did it. Somebody got upset about that, because it was Everybody's job. Everybody thought Anybody could do it, but Nobody realized that Everybody wouldn't do it. It ended up that Everybody blamed Somebody when Nobody did what Anybody could have
Someone Else
I know that all of you will be saddened to learn this week of the death of one of our most valuable acquaintances – Someone Else. Someone's passing creates a vacancy that will be difficult to fill.
Our friend had been with us for many years, and for every one of those years, Someone did more than the normal person's share of the work. Whenever leadership was called for, this wonderful individual was looked to for inspiration as well as results.
Whenever there was a job to do, a problem to tackle, a meeting to attend, one name was on everyone's lips. "Let Someone Else do it," everybody would say. It was common knowledge that whenever the need arose, Someone Else was one of the biggest contributors of time, spirit, self, and resources. Whatever the shortfall, everyone assumed that Someone Else would make up the difference. Someone Else was an extraordinary person, almost superhuman. But a person can only do so much.
Were the truth known, everyone expected too much of Someone Else. Someone set a wonderful example for us to follow. But now, Someone is gone.
Who is going to do all the things we expected Someone Else to do?. We can't depend on Someone Else anymore.
It should be noted that as of the date of this publication there have NO nominations or volunteers to serve on the Board of Directors. I guess Someone Else was expected to serve on the board.
---
'96 Summer Olympics Revisited
By Peter Chenoweth
I am happy to say that 2 more of the bricks have been identified:
Raymond M. of Apollo Beach is Raymond Murray Chenoweth. Ray passed away 8 May 2008.
Cody Waters '95 brick – There is a Marist High in Eugene, OR and this is what the Oregon Death index shows:
Name: Waters, Jon Cody
County: Lane (Eugene)
Death Date: 4 Dec 1995
Certificate: 95-25238
Age: 17
Birth Date: 16 Dec 1977

What is not known is the Chenoweth who purchased Cody's brick and their relationship to him.

---
COMMENTS FROM THE CLAN

(The following e-mails have been received from members of the family with regards to the newsletter. Comments, articles, questions and other items for this newsletter are always appreciated.-editor)

**********************

My compliments to Peter for a fine newsletter..

In "Comments from the Clan" Sue Solomon on 3/28/07 draws attention to the first auto license issued in Texas to W.B. Chenoweth for his bus. Your comment back was that this is really William Benjamin Wood is inaccurate. This is William Benjamin Chenoweth(6) from Joseph(5) Benjamin F.(4) Thomas Jr(3) Thomas(2) John(1) – my grandfather. The Dallas Morning News article you included was fairly accurate, except that he died April 1, 1946 in Terrill, TX.

7 March 2008
Ted Bird

I am copying this to Pete, but his email address is p.chenoweth@comcast.net. At some point there will be an article about the Downings, as last fall we accepted Dorcus Downing and William Downing as children of Mary Chenoweth and Timothy Downing. – Jon Egge

**********************

I just pulled up the newsletter and was briefly scanning it --- The Pike County, IL caught my eye --- You are mentioning Paul Durbin --- He is my sister, Nina's, ex father-in-law. His son, Steve is shown on our line. Also my son, Charles Sade, has a son now – Charles Henry Sade….

I know I am supposed to write down on the ancestors, but I don't have time right now to check it. Both my parents, Charles and Grace Wendling, have been moved to a nursing home and I am on my way there.

Thanks for the newsletter. I really enjoy it. I am in international Masonic organization for women and whenever I have time I check names against the Surname list.

7 Mar 2008
Linda Sade

My goodness….I missed this one. Your sister Nina married her 7th cousin once removed in the form of Steven Dwayne Durbin…Paul, as described in the article, goes back to the Ashbrooks of Mary Chenoweth and your line is from Jonathan's daughter Sally who married Seaborn Mayfield. This is news to me and I have now correctly merged Paul for I think the second time. So Paul married his cousin from the line of William of Nelson Co., then remarried and had a son, who married his cousin from the line of William's brother, Jonathan. That forms a sort of hybred family that encompasses all three early lines of John(2) that settled in Pike Co., IL. – Jon Egge

**********************

Cousin Pete, I read the most recent newsletter to the end when I noticed that you live in St Cloud, FL. I live down the road west of you (Hwy 192) in Celebration! Maybe we can get together some weekend; possibly a regional "mini" reunion CHENOWETH cousins living in the Orlando area. I am usually home on weekends, but not the next 2…floating on a drilling rig way off the coast of Louisiana (200+ miles) looking for oil.

I can appreciate all the work you do putting together the Chenoweth Family newsletter. I got burned out a few years ago doing the same for my Gibbs family line. There is evidence of that burnout in the story in this edition re: The CF board members.

7 Mar 2008
Tom Wilson

It so good to hear from cousins and though records indicate St Cloud as my home it should be noted that though I grew up there and married my high school sweetheart from "across the tracks"(Kissimmee) we are currently living in the Augusta, GA area. We do still have a son that lives in that area and the next time we go to visit I will be sure to give you a call. - editor

**********************

I submit the following information for the IN MEMORIAM HONOR ROLL. (Paul Stalnaker10 Burns deceased 29 Feb 2008) Also I have attached Paul's obituary (as a Word document) since it contains some information which may not yet be in the Chenoweth database.

7 Mar 2008
Darrell Stalnaker

Sorry to hear your cousin died. I will add him to the World War II listings. There has been a bunch of these vets lately in obits I have got. Anyone serving in the war would be into their 80's or beyond, so that is not surprising, but there are so many that people never mentioned their service when we first added them in.…. Last week I was at 599 and scratching around to get to 600, and now already we are at 604 listings (it should be noted that since the answer to this email we are now at 700) I had to look Raleigh Co., WV up. Even though the Chenoweth family is sprawled all over West Virginia, I had not remembered seeing Raleigh Co. before. I have a new simple method to finding counties. I just go to Google, put in the City and State and add the word County and it generally comes up in the description snippets – Jon Egge

**********************

My heart skipped a beat when I read the following: "I would be happy to have this discussion with you at the Fort Worth reunion." I live but a few miles from Fort Worth and how convenient it would be for me to attend a Chenoweth reunion.

Actually, I knew it was a typo. People get the 2 cities confused all the time (Ft Worth and Ft Wayne).

Here's hoping that one of these days I will be financially able to attend a Chenoweth reunion. Thanks for all of your hard work to keep the association viable.

7 Mar 2008
Ruth Roberts Coker

O dear, I suppose I will be hearing about this boo-boo. Yes I am getting dyslexic… It is Ft Wayne. Texas is a very Chenoweth place, I am sure all it would take would be a volunteer to lead it. They are talking about trying to stage one in Branson, MO, but have not lined up a volunteer… The 6th reunion at this point could be anywhere. – Jon Egge

**********************

I just wanted to say how much I enjoy reading your newsletter and would eventually like to get involved in some aspect of keeping the Website alive in the future. I have found my grandfather's family lineage on the site as well as my father and other family members I have actually met.

I currently live in Porterville, CA. There are some family members in the area that spell their names like mine in addition to a few that do not, in which I am not sure of the relationship if any. In the nearby city of Visalia, CA There is a street named Chinowth. On that street there used to be a place called the "Chinowth House", which used to be a well known restaurant. Not sure if the business exists any more. I never took the time to go in to do any research when I should have to find out if the owners were related.

Truthfully, until I started reading the newsletter I didn't give much thought to the possibility of so many descendants even existing. Anyway, just wanted to say hey and hope someday to be able to take my family to one of the family reunions as well as get involved in the development and continued upkeep of the family web site. I may not have many skills that would be beneficial to the Chenoweth Web site, but would like to get involved in someway in the next year or so.

I have recently remarried and in addition to my new beautiful wife I also have four new children which more than doubled my original count. (Currently stands at seven children) Not much time for extracurricular activities at this time if you know what I mean.

7 Mar 2008
David Chenowith

You are from the marrying man, John P. There are a couple of possibilities as to who his father, Thomas, was. I don't think we have a DNA sample yet from John P. lines. Recently Greg Wulker found that Mason Chenoweth had the same modus operandi as John P. Chinowth in a Tennessee line. That was a migration out of Baron Co., KY to Tulare Co. Sons of Joseph Nickolos Chinowth settled there: Rollie Ewing & Joseph Nevins.

I have this in my notes about Rollie (from: Everett Joe Chinowth, Jr: – He ran a country store and gas station called Chinowth Corners on Chinowth Road in Vasalia, CA. They closed the store and opened Chinowth House Restaurant a few years ago. My family ate there probably 15 years ago. To my knowledge Chinowth Road is till named that today.)

There is also another spelling – Chenowth in California from the Tennessee lines of John Augustus. The fore-mentioned Baron Co., KY lines were of Archibald S. He was an uncle of the Gus Chenowth that went out to Arizona and whose descendants have since spilled over into Southern California. There are also some Tennessee line Chenowiths who settled in Placer Co., CA. The Chenowith I have never figured out is Robert Chenowith, the father of Eric, the NBA basketball player. I suspect he might be a John P as I have gaps in that family. – Jon Egge

**********************

Thanks for the new pdf format Chenoweth newsletter. This is the first time I've been able to open and read it! I have an older computer that couldn't handle your other format.

7 Mar 2008
Mary Christiansen

You are the first to comment on the PDF format. I'll put you in the positive column J Previously I used RTF which is supposed to be universal, but I guess not in your case. I wish you had said something. But all the newsletters are posted at the website, so you shouldn't have missed anything. My only problem now is the PDF file tends to be largish and as I can't use Comcast with their spam rules, it takes about 2 1/2 ½rs to send the newsletter out. Groan L …. – Jon Egge

**********************

Here are two of your unknowns from the newsletter list. Ruth Chenoweth to James McCalb married 4 June 1812, Ross Co., OH – she is of Thos(2), daughter of Richard(3). Nellie E. Chenoweth to Wallace Clark married 22 Feb 1895 in Warren Co., OH – She is of Wm(2) Wm(3), daughter of John William and Hannah J. Starkey Chenoweth. Nellie was b 1875/76 and in 1943 she was living in Columbus Co., OH. I have ID'd one child listed: Nancy Maria Clark b: Mar 15, 1897.

8 Mar 2008
Greg Wulker

Thanks for the heads up on Nellie. I found her and Wallace Clark in the 1910 Census of Warren Co. with 3 children and it's a good fit.As to Ruth… I know that is what is in Harris, that Ruth married James McCalb, but Joyce (Weigrand) found that when Richard died, in his estate Ruth (deceased) had been married Samuel Findley with 3 children as her heirs. The oldest was born about 1815. Now maybe Ruth was married first to James, but he would have had to died quickly thereafter. – Jon Egge

**********************

Each time I receive a newsletter or scan back to read the volumes of literature you have provided regarding the Chenoweth clan, I am utterly amazed at what you have done. It is truly appreciated and I have my own "family reunion" each time I read it.

19 Mar 2008
Leonard Max Burris

I looked up the 1910 Census for you. Fleta was 21 or so born about 1888 in Ohio. Things have changed radically in the last 12 years to have complete Census indexes and pages available sitting at my laptop watching "Dancing with the Stars" with my wife. I just finished an interesting "find". As I told you I am trying to index Cora's book (now completed). When I see something that is incomplete, I try to complete it.

This evening on page 69 in Parry Co., OH line of Elias(4), [actually he was the Elias in the family] his son John had an older daughter Julia. She wasn't with the family in 1850 at age 15. Don't know why. I had no census infor for her, and Cora said she married a White. Ten years ago that was a goose chase. White is really ugly. I have two White ancestors in my own tree and they are DEAD ENDS. But Cora gave a location, Millersport, OH.

I googled it and found that Millersport was in Fairfield Co. Actually there was lot of the family in Fairfield, but not from Elias. So using Julia White born ca 1835 in Fairfield Co., OH I searched the 1860 Census and got a hit in Walnut twp. This Julia was married to Joseph White and had a son Thomas. She was born in Ohio. They were there again in 1870 and 1880, now with 4 children.

1880 is a break through year as they give the birth states of the parents. Sure enough both of Julia's parents were born in Virginia. I regoogled Millersport for a township and it is in Walnut. Eureka I had found them! A White family, 6th generation. Then I had to go back and add in the 1860 Census detail for the 3 posted pages. I like puzzles and this is one grand puzzle.

When I get done with the index I will write an article about and fit this in. There have been several of these. I am very curious as to how many people are in her book. My loose count of the Harris book is 12,865 excluding present unknowns. I think Cora will more like 5 to 6 thousand. I am up to 1,432 at this point. – Jon Egge

**********************

I'm a descendant of Jacob C. (Ohio) and have contributed to the site over the years. Could you please provide the name of the person (maybe Jon Egge?) to whom I should address corrections and additions relating to my lineage?

Thank you for such a professional newsletter and I'm so proud to be a teensy part of the C. heritage.

3 Apr 2008
Becky Dillon Steinmetz

Yes you are correct in that it is Jon Egge (jegge@chenowethsite.com) - editor
---
The Chenoweth's Enter Virginia
By Gregory George "Greg" Wulker
(Milford, OH)
(Margaret Mary8 Lacy, Charles Edgar7 Lacy, Martha Jane6 Chenoweth, Joseph5, Absolom4, William3, William2, John1)
A listing of other articles by Greg can be found on the newsletter menu

At the end of our winter here in Cincinnati, I was contemplating about the church in which my Chenoweth line had been members, and that church was called Middle Run. It is located just over the Warren County, Ohio border in Sugar Creek Township, Greene Co., Ohio. It was first organized in 1799, by members of the Mill Creek Baptist Church, Berkeley County, Virginia, now West Virginia. The current building is the third church on the site and it was built in 1855.
Mill Creek Baptist Church and the former site near Gerrardstown, West Virginia have been referred to over the years as the "mother of Middle Run". About ten years ago, I started a list of people who I knew had been members at Mill Creek, including a list of 57 members when the church was reconstituted in 1761.
I'll give you a history of the Mill Creek Baptist Church but first, because of it's relevance to our Chenoweth's, the reason they were able to cross over the Blue Ridge Mountains into Virginia in the first place.
By the 1720's to the 1730's, a small influx of brave pioneers went into the Valley of Virginia. It was still Indian Territory, forests, and the Valley was pretty much unpopulated. There had been larger groups of Indians there, but one account says an Indian war destroyed the tribe living in the Valley and afterwards was used mainly for a hunting ground for several tribes.
In September 1701, the Burgesses had passed an act, "For The Better Strengthening of the Frontiers and Discovering the Approaches of an Enemy." This law empowered the Governor to allot 10,000 to 30,000 acres of unclaimed frontier land to any suitable "society". Governor Spotswood was reluctant to populate the Valley, as to go against the wishes of England, but by 1727 when William Gooch became governor, he immediately began to promote the Valley as a place to live. He was acting on instructions from London where there was growing concern that the French in the Mississippi Valley might be planning some military move against England's Colonies. By the late 1720's, there were already families starting to enter the Valley. One such family was Abraham Hollingsworth, cousin to John Chenoweth, through his wife Mary Calvert. He had ventured into Virginia near present day Winchester in 1729 with his wife and four children from "New Ark" in Delaware. There had also been German families venture into the Shenandoah Valley in the late 1720's.
It was a decision that Governor Gooch would offer large tracts of land numbering thousands of acres to expedite the situation. That's why especially in northern Virginia, there were such large land grants. Many of these thousands of acres were originally purchased by Quakers including John Calvert, Mary Chenoweth's brother who entered the valley about 1730 to 1732. This was also part of Gooch's plan, as he wanted a sturdy, hard working people there who were committed to staying. And they did.
In actuality hundreds of acres of the northern neck were already claimed by an Englishman, Thomas Lord Fairfax, through an inheritance of his mother – all the lands between the Potomac and the Rappahannock Rivers. Robert "King" Carter was Fairfax' land agent and also senior member of Governor Gooch's Council. He objected to Gooch's plan to grant away the Valley but Gooch moved forward with his plan. So between 1728 and 1736, 15 large tracts of land were granted by Council.
In 1743 it was ordered for Frederick County to be formed from Orange County and a separate court house be built. James Wood, surveyor, laid out Winchester, Virginia the same year.
With the movement of so many Quakers in the northern neck, Opeckan Quaker meeting was formed in the early 1730's and by 1735 a meeting house was constructed that was later named Hopewell, after the town in New Jersey where many of the immigrants had their roots. The first 25 years of the Hopewell Meeting Records unfortunately were destroyed in 1759, at the home of William Jolliffe, Jr., who was acting clerk at the time.
As early as 1737, Quaker George Robinson, along with John Petitt (Poteet) probably a Quaker too, purchased a large tract of land southwest of present day Martinsburg and north of Winchester. The land was sold to Richard Beeson in 1738, the same year that Robinson died. Pettit must have decided to return to Maryland at that time, or shortly thereafter. That property was later to become the Providence Quaker Meeting house and graveyard. The graveyard is till visible today.
In researching further the history of Mill Creek Baptist Church, I found the church is recorded in Baptist Histories as the second of three movements which brought the Baptist Faith into Virginia. The first was in 1714, in southeastern Virginia. The third being about 1761 with the movement of Baptists from the areas of New England. And guess who was there on the forefront of this movement? Chenoweths!
We probably will never know all the details, but I know that the movement of John Chenoweth(1) into Virginia and his son William(2), who he was probably living with was part of this movement. In further research the moth of Mill Creek Baptist Church was called Sater's Church, located in no other than Lutherville, MD, not 3 miles from our last Chenoweth reunion.
Sater's church group was organized before 1740 by a man named Henry Sater (1690-1754), who came to America about 1709 and began to practice the Baptist faith. He became a prosperous farmer in the area of Chesnut Ridge, MD and later welcomed traveling ministers to preach on his land. By 1742, he had donated a 1 acre lot and built a church of bricks (actually he used slave labor) and thus began this congregation of General Baptists. The proximity of this church to where the Chenoweth's were living was very close. Unfortunately, the early church records of Saters' church did not survive or I believe we would find the Chenoweth name on them. It is possible that John Chenoweth's new wife, Jane Wood, or possibly William(2)'s wife, Ann, or all of them together had made a connection to Sater's church. Sometime around 1740-1743, they removed to Frederick County, Virginia.
It wasn't by chance that William(2) purchased his land right next door to John Hays in Frederick County. The land on which they settled and which was recorded in 1743, was purchased from John Mills, a Quaker. The land was part of Mills' 1,315 acre purchase some years earlier.
According to the Baptist Church histories, Sater's Church had a couple of evangelists who are credited with bringing a "Company" to Mill Creek and starting a congregation. The evangelists were Edmund Hays and Thomas Yates. Edmund Hays was John Hays' brother. Ruth Chenoweth, sister of William(2), had married John Pettit (Poteet). John Poteets' brother James and sister Susannah had married siblings Elizabeth and Thomas Crabtree, respectively. John Hays' wife was Grace Crabtree, another sibling. So these families had a somewhat connection by marriage.
The initial settlement of what would become Mill Creek Baptist Church had been set up by the earlier pioneers and the traveling evangelists, but then a minister was finally summoned. That minister was sent from Sater's Church. His name was Henry Loveall who was the first permanent minister at Sater's. Loveall it is written, had a colorful past. His real name was Desolute Baker who came into some trouble at his church in England and signed on as an indentured servant to America in order to leave his country. Later, he was ordained a minister in New Jersey and two of his sons had left and went south to near Baltimore, where they must have found their way to Sater's. Henry Loveall followed them shortly after, and in 1744 was sent from Sater's to Mill Creek to become their first permanent minister. Again something happened, and his "licentious" life style as it was called, caused him to be sent away from the Mill Creek church. Also, there had been trouble with the Indians, and so this early church was dissolved. The evangelists Hays and Yates and some of the congregation had removed into Louden County, Virginia. It wasn't long before the Mill Creek congregation requested from the Philadelphia Association a new minister, and in 1754 a Reverand Gerrard was sent. He was the minister at Mill Creek for 30 years, when a petition was gathered to lay out the town of Gerrardstown in 1784. It was constituted and approved in 1787, the same year John Hays passed away. The graveyard and historical marker mark the site of the Mill Creek Baptist Church, now in Berkeley County, West Virginia. There are only a few stones visible today and the church building has long been gone. This graveyard is probably the burial place for some of the earlier generations of Chenoweths. Reverend Gerrards family married into the Buckles and Seaman families from Berkeley County, and it was these families who eventually migrated to Warren and Greene Counties, Ohio to start Middle Run.
List of members of Mill Creek Baptist Church (begun 1743)
A list of members as found in historical documents, dates of membership not listed. The church was begun by a gathering of early settlers to Frederick County Virginia as early as 1740. It was the oldest Baptist church west of the Blue Ridge Mountains at the time, and organized by Edmund Hayes and Thomas Yates. The two were evangelists serving from the Sater's Baptist Church, at Chestnut Ridge, Maryland, near Lutherville. They arrived on Mill Creek in 1744. The land given to the church was on a land grant of John Mills , and the acreage for the church lot was given by Henry Switzer.
The church preceded the town of Gerrardstown, by about 40 years, which was laid out in 1784, and constituted in 1787. The church and graveyard later came to be in Berkeley County with it's formation from Frederick in 1772. After the Civil War, the area became Berkeley County, West Virginia. The church for a time was dissolved in the 1750's, due to the Indian wars, and was re-constituted 25 May 1761. I've added maiden names where known. An (*) denotes part of the names that were mentioned from a list of 57 members in 1762.
Jacob Van Metre - 1723-1798 to Uniontown, Pa., later to Hardin Co.,Ky. [father of Mary Van Meter]
Letitia (Stroud) Van Metre - 1725-1799 [mother of Mary Van Meter]
Edward Lucas - married prior to 1764, later of Shepherdstown, Va.
Elizabeth(Corn) Lucas
*Isaac Evans - died 1786. His nephew Gabriel Evans married Charity Hays
*Alice w/o Isaac - died after 1772
*Elizabeth Evans - prob. daughter of Isaac and Alice Evans
*Jane Evans " " " " "
*Mary Chenoweth
*Ann Chenoweth
*Ruth Chenoweth - widow of Absolom Chenoweth and George Cunningham. She died 26 July, 1815. Listed as "Alias Cunningham"
Hannah Chenoweth - "received by letter"
Isaac Chenoweth - 1752-1792
Sarah Chenoweth - "excommunicated" (wife of Isaac)
William Chenoweth
James Chenoweth - "May 1794 (probably indicates when he joined Mill Creek.
Nancy Chenoweth - "received by letter 1811, dismissed 1812( moved?)
Richard Chenoweth - "received by baptism 1821; dead"
Rachel Chenoweth - "received by baptism 1821.
Isabella Chenoweth - " received by baptism, 1823; excluded,"
*John Gerrard
*Elias Gerrard - b.c.1730, Long Island N.Y. mar'd c.1749, Cumberland, Alleghany Co.,Md. He died 31 Dec.1797 at Columbia, Hamilton Co.,Ohio (now called Cincinnati)
*Rachel Gerrard - wife of Elias, c1730-1784.
*Isom Bennett
*Elizabeth Bennett
*Isaac Sutton - b.1729, d.1799 at Uniontown, Fayette Co.,Pa.; mar'd.c1750 Son of Rev David Sutton
*Rachel (Doty) Sutton - wife of Isaac
*Ebenezer Osburn
*Mary Osburn - wife of Ebenezer
*David Ruble - 1736-1808, son of Ulrick Ruble. David had 272 acres on Back Creek, Frederick Co.,Va. in 1765
*Nathaniel Bell - died after 1774. His wife was Hannah. He sold 217 acres on Mill Creek that year toDavid Gerrard.
*John Keith
*John Corbly
*Jonathon Edwards
*Susanna Edwards
*David Booth - b.c.1714, d.c.1765. Mar'd c.1739 in Berkeley Co.,Va.
*Abigail Booth - wife of David Booth
*Peter Cornwell - b.c.1735, later went to Fauquier Co.,Va., and died before 2 June, 1776. He married c1758
*Sarah Cornwell - wife of Peter
*Joshua Dotson - b.25 May 1725, mar'd Ruth c1748. , he died c1793.
*Ruth Dotson - wife of Joshua
*Thomas Dotson - prob. Son of Joshua and Ruth
*John Hayes Sr. - b.c.1711, mar'd. 31 Oct. 1727, Baltimore Co.,Md.
*Grace (Crabtree) Hayes - wife of John Sr.
*John Hays Jr. - 1735-1787 not married by 1762. Wife was Jean/Jane.
*Edmond Hays - brother of John Sr., or son
*Elizabeth Hays - wife of Edmund
---
IN MEMORIAM HONOR ROLL
With thanks and appreciation to Dot Tucker-Houk of Maryland who makes much of this list possible each newsletter. So far in 2008 there have been 21 Chenoweths entered in toe SSA listings. All have been identified. Three remain unidentified from 2007 Any help in placing these individuals would be appreciated:
Richard J. Chenowith b: Sep 09, 1949 d: Oct 26, 2007 issued MD (Westminster, Carroll, MD)
Shirley Terry Chenoweth b: Aug 05, 1919 d: Dec 09, 2007 issued IN (Billings, Yellowstone, MT)
Susan J. Chenoweth b: Jan 01, 1942 d: Dec 18, 2007 issued MI (Detroit, Wayne, MI)
age 61 - DONALD LEE10 CHENOWETH (CHARLES BERNARD9, GENERAL ROBERT E. LEE8, MARSHALL7, JOHN KITTLE6, WILLIAM PUGH5, JOHN4, WILLIAM3, JOHN2, JOHN1) was born February 19, 1947 in Beverly, Randolph Co., WV, and died March 14, 2008 in Elkhart, Elkhart Co., IN. He married JO ANN SMITH October 15, 1966.
age 57 - ROBERT NEWTON10 CHENOWETH, III (ROBERT NEWTON9, ROBERT NEWTON8, JOHN DOTHERDY7, ISAAC NEWTON6, WILLIAM PUGH5, JOHN4, WILLIAM3, JOHN2, JOHN1) was born September 22, 1950, and died January 18, 2008.
age 81 - PAUL STALNAKER10 BURNS (VERA MAY9 STALNAKER, JAMES JASPER8, SULLIVAN ISAAC7, ELI CHENOWETH6, MARY M.5 CHENOWETH, JOHN4, WILLIAM3, JOHN2, JOHN1) was born May 22, 1926 in Todd, Huntingdon Co., PA, and died February 29, 2008 in Beckley, Raleigh Co., WV. He married ALICE PEARL JOHNSON June 10, 1950 in Trout, Greenbriar Co., WA, daughter of WILLIAM JOHNSON and LOTTIE SIZEMORE.
age 92 - EVA LOUISE9 PARRISH (MATTIE BILLIE8 CHENOWETH, GEORGE WASHINGTON7, JAMES6, JEHU5, JOHN4, WILLIAM3, JOHN2, JOHN1) was born October 16, 1904 in Elkins, Randolph Co., WV, and died August 04, 2007 in Randolph Co., WV.
age 71 - BETTY CHENOWETH nee WOLFORD was born May 10, 1936 in Harman, Randolph Co., WV, and died May 03, 2008 in Clarksburg, Harrison Co., WV. She married January 18, 1964 CLAIR10 CHENOWETH (OKEY EVERETT9, ULYSSES THOMAS8, LLOYD HYRE7, EVERETT6, JEHU5, JOHN4, WILLIAM3, JOHN2, JOHN1)
age 32 - HILLERY A. MAYO, JR was born October 06, 1974, and died June 09, 2007. She married TIFFANY MICHELE12 THORNE (CHERYL JEAN11 CHENOWETH, HERBERT10, OKEY EVERETT9, ULYSSES THOMAS8, LLOYD HYRE7, EVERETT6, JEHU5, JOHN4, WILLIAM3, JOHN2, JOHN1)
age 80 - MILDRED CHENOWETH nee HEERE, daughter of HOWARD and CORAL HEERE. She was born August 31, 1927 in Kansas, and died April 07, 2008 in Kansas. She married 1946 in Topeka, Shawnee Co., KS ALVIN BENTON10 CHENOWETH (ALFRED BENTON9, THOMAS ADISON8, JOHN BENTLY7, WILLIAM HAYCRAFT6, JACOB VAN METER5, WILLIAM4, WILLIAM3, JOHN2, JOHN1). He was born December 18, 1925 in Lyon Co., KS, and died January 15, 1991 in Mississippi.
age 48 - JANINE ROBERTA ARUNDEL was born October 18, 1959 in Sacramento Co., CA, and died March 14, 2008 in California. She married July 09, 1983 in Sonoma Co., CA, STEVEN HUGH10 CHENOWETH (DONALD ROY 'BUD'9, LELAND ADELBERT8, CHARLES JASPER7, JOHN HENTON6, JACOB VAN METER5, WILLIAM4, WILLIAM3, JOHN2, JOHN1)
age 83 - JAMES HAROLD10 WEISEMILLER (BERTHA9 PERCEFULL, JAMES ATKINSON8, JAMES CHENOWETH7, MARIAH JANE6 CHENOWETH, ISAAC CALVERT5, WILLIAM4, WILLIAM3, JOHN2, JOHN1) was born May 19, 1924 in Hardin Co., KY, and died August 06, 2007 in Louisianna.
age 91 - VETA GENEVA10 BAIRD nee ALLEN (IDA9 LARUE, ALFRED THOMAS 'TOM'8, SARAH MARIA7 BURDINE, REBECCA 'SARAH ANN'6 CHENOWETH, ISAAC CALVERT5, WILLIAM4, WILLIAM3, JOHN2, JOHN1) was born February 21, 1917 in Warner, Muskogee Co., OK, and died February 23, 2008 in Ozark, Christian Co., MO. She married HURLEY WILLIAM BAIRD July 27, 1936 in Beggs, Okmulgee Co., OK, son of OSCAR BAIRD and MABEL BURKS. He was born December 18, 1916 in Weatherford, Custer Co., OK, and died December 13, 2001 in Springfield, Green Co., MO.
age 92 - NEALY IRENE CHENOWETH nee HUMPFREY was born Abt. 1916 in Fulton, Hanson Co., SD, and died March 31, 2008 in Scottsdale, Maricopa Co., AZ. She married (2) CHESTER ALVA8 CHENOWETH (HARRY JESSE7, WILLIAM THOMAS6, CASPER5, WILLIAM S.4, JOHN3, JOHN2, JOHN1). He was born June 10, 1907 in Eugene, Lane Co., OR, and died October 22, 1983 in Phoenix, Maricopa Co., AZ.
age 37 - MINDY LOU10 SLOAT nee SINNETT (ROBERTA ANN9 CHENOWETH, HERMAN ADOLPH8, JAMES HENRY7, ELIAS BIRDINE6, WILLIAM5, JOHN4, JOHN3, JOHN2, JOHN1) was born December 26, 1970 in McComb, McDonough Co., IL, and died May 04, 2008 in Burlington, Des Moines Co., IA. She married (2) SAM SLOAT June 04, 2005.
age 79 - RAYMOND MURRAY10 CHENOWETH (RAYMOND ALPHUS9, JAMES MILTON8, WILLIAM7, JAMES FRANCIS6, JAMES FRANCIS5, NICHOLAS RUXTON4, THOMAS3, JOHN2, JOHN1) was born June 11, 1928 in Massachusetts, and died May 08, 2008 in Apollo Beach, Hillsborough Co., FL. He married JACQUELIN PRISCILLA DUNNAM Abt. 1951. She was born April 17, 1931, and died December 18, 2000 in Apollo Beach, Hillsborough Co., FL. - Ray was a big help to me in filling out the family of James Milton.
age 89 - SAMUEL HARRISON9 POWER (GOLDIE8 SCIRCLE, RUTH7 GREGG, ELIZA6 THURMAN, MARY5 CHENOWETH, ABSOLUM4, ABSOLUM3, JOHN2, JOHN1) was born February 18, 1918 in Clinton Co., IN, and died September 03, 2007 in Frankfort, Clinton Co., IN. He married (1) RITA MILNER. He married (2) MARY M. BAJINOFF January 25, 1941. She was born October 29, 1916, and died March 1995 in Frankfort, Clinton Co., IN.
age 85 - CLIFTON ALEXANDER 'PETE'9 BRANDON (ALICE8 HALE, ALEXANDER A.7, THOMAS LOGAN6, JOHN B. 'JACKSON'5, ELIZABETH4 CHENOWETH, JOHN3, RICHARD2, JOHN1) was born January 23, 1922, and died March 14, 2007 in Davidson Co., TN. He married GRACE DIMPLE HARLIN, daughter of NORMAN HARLIN and MARY FORD.
age 60 - DONNA LOUISE9 COVER nee CHINOUTH (EVERETT RUSSELL8, GEORGE ARTHUR7, JOHN ALBERT6, EZEKIAL R.5, ARCHIBALD4, JOHN3, RICHARD2, JOHN1) was born February 18, 1947 in Dixon, Lee Co., IL, and died August 01, 2007 in Illinois. She married (2) ROGER COVER 1981.
age 59 - PATRICIA JEAN9 MEHRENS nee CHINOUTH (EVERETT RUSSELL8, GEORGE ARTHUR7, JOHN ALBERT6, EZEKIAL R.5, ARCHIBALD4, JOHN3, RICHARD2, JOHN1) was born February 06, 1948 in Polo, Ogle Co., IL, and died January 18, 2008 in Rockford, Winnebago Co., IL. She married (1) ? KILDAY. She married (2) JERRY D. MEHRENS October 12, 1987 in Dixon, Lee Co., IL.
age 83 - CLIDE MAXINE9 MARTIN nee CHENOWETH (JEFF WILLIAM8, JOHN KING7, NELSON H.6, JOSEPH5, NICHOLAS4, JOHN3, RICHARD2, JOHN1) was born July 05, 1924 in Healing Springs, Benton Co., AR, and died July 14, 2007 in Bentonville, Benton Co., AR. She married (1) BEECHER CHARLES OWENS. He was born March 27, 1926, and died August 1976. She married (2) CHARLES MARTIN
age 83 - ISABELL HAYCOCK, was born March 23, 1925 in Escalante, Garfield Co., UT, and died March 31, 2008 in Salt Lake City, Salt Lake Co., UT. She married HARRY WINFIELD9 CHENOWETH (HARRY JOSEPH8, WILLIAM JOSEPH7, JOHN6, RICHARD5, NICHOLAS4, JOHN3, RICHARD2, JOHN1). He was born March 12, 1919 in Illinois, and died February 1980 in Utah.
age 81 - ELDON LEWIS, son of RENICK LEWIS and RUBY SMITH, was born October 08, 1926 in Warren Co., KY, and died May 07, 2008 in Glasgow, Barren Co., KY. He married ELFREDA LORAINE9 CHENOWETH (JOHN THOMAS 'TOM'8, WILLIAM OTIS7, ISAAC NEWTON6, ARCHIBALD S.5, NICHOLAS4, JOHN3, RICHARD2, JOHN1)
age 76 - RICHARD JOHN DAHLGREN, son of FRANK DAHLGREN and ELLA FREDERIC, was born May 26, 1930 in St. Louis, MO, and died April 14, 2007 in Maryland. He married March 20, 1954 in Baltimore City, MD MARCIA LEE9 ARRINGTON (MAE CLARA8 BROOKS, FLORENCE MABEL IRENE7 CHENOWETH, ANDREW JAMES6, WILLIAM ROBINSON5, BENJAMIN NORRIS4, THOMAS3, RICHARD2, JOHN1). She was born July 14, 1932 in Baltimore City, MD, and died August 21, 2003.
age 59 - STEPHEN ANDREW9 CHENOWETH (WILLIAM ANDREW8, JAMES WILLIAM7, WILLIAM ANDREW6, RICHARD5, RICHARD B.4, JOHN3, ARTHUR2, JOHN1) was born April 07, 1948 in Tennessee, and died August 28, 2007 in New York. He married (1) BRENDA GAYLE McCLURE February 15, 1969 in Henry Co., TN. He married (2) BRENDA DARLENE WYATT June 09, 1975 in Henry Co., TN.
age 86 - BETTY LOUISE8 HOKE nee CHENOWETH (ARTHUR TRIMMER7, GEORGE F.6, RIXTON5, WILLIAM4, RICHARD3, ARTHUR2, JOHN1) was born September 09, 1921 in Harrisburg, Dauphin Co., PA, and died March 29, 2008 in Linglestown, Dauphin Co., PA. She married HARRY HOKE. He was born August 19, 1920, and died August 15, 1990.
age 68 - BERTHA JANET EASTON, daughter of EVERETT EASTON and MINNNIE CHANDLER, was born January 17, 1940, and died March 14, 2008 in Wisconsin. She married KENNETH ALBERT8 CHENOWETH (CARL HENRY7, THOMAS HENRY6, GEORGE HENRY5, JOHN4, WILLIAM3, WILLIAM2, JOHN1). He was born September 22, 1933 in Bedford, Lawrence Co., IN, and died October 18, 2005 in Bedford, Lawrence Co., IN.
age 95 - EDNA LAVINA CHENOWETH nee GROFF, daughter of ALBERT GROFF and GENEVIEVE ?, was born December 09, 1912, and died April 02, 2008. She married DARRELL LEROY8 CHENOWETH (OLIVER H. 'OLLIE'7, THOMAS HENRY6, GEORGE HENRY5, JOHN4, WILLIAM3, WILLIAM2, JOHN1). He was born September 28, 1907 in Ohio, and died February 05, 1990 in Ohio.
age 96 - HENRY CLINTON BARNETT was born Abt. 1911 in Missouri, and died May 12, 2008 in Washington, DC. He married Abt. 1934. RUTH HELEN8 CHENOWETH (ELMER THOMAS7, JEFFERSON HAMILTON6, ISAAC NEWTON5, ISAAC4, JOHN3, THOMAS2, JOHN1). She was born February 07, 1913 in Iowa, and died April 21, 1989 in Johnson Co., KS
age 51 - ROBERT WAYNE9 CHENOWETH (ROBERT CHARLES8, JW7, JAMES WILLIAM6, THOMAS LEWIS5, BENJAMIN FRANKLIN4, THOMAS3, THOMAS2, JOHN1) was born September 13, 1956 in Tarrant Co., TX, and died March 14, 2008.
age 54 - MICHAEL WILLIAM8 CHENOWETH (JAMES IRVIN 'IRV'7, CHARLES MILTON6, CHARLES EDWIN 'EDWARD'5, LUKE4, ARTHUR3, THOMAS2, JOHN1) was born June 23, 1953 in Sloam Springs, Benton Co., AR, and died April 10, 2008 in Fort Smith, Sebastian Co., AR.
age 84 - THERESA E. CHENOWETH nee HECKNER was born March 27, 1924, and died April 04, 2008 in Maryland. She married September 28, 1940 GEORGE BARTON8 CHENOWETH (GEORGE THOMAS7, GEORGE THOMAS6, GEORGE5, WILLIAM4, RICHARD3, ARTHUR2, JOHN1)
age 71 - JOAN LEE8 SHOEMAKER nee CHENOWETH (CLIFTON EARL7, REASON COLONY 'REESE'6, ARTHUR5, JOSEPH4, ARTHUR3, THOMAS2, JOHN1) was born July 22, 1936 in Ohio, and died February 17, 2008 in Portsmouth, Scioto Co., OH. She married PAUL SHOEMAKER.
age 96 - ROY MORRIS7 CHENOWETH (GEORGE EDGAR6, BENJAMIN FRANKLIN5, LUKE4, ARTHUR3, THOMAS2, JOHN1) was born February 06, 1912 in Hinton, Caddo Co., OK, and died March 09, 2008 in Carnegie, Caddo Co., OK. He married MILDRED ALICE LIVENGOOD April 26, 1935 in Clinton, Custer Co., OK. She was born February 27, 1918 in Indianapolis, Custer Co., OK, and died June 26, 2006 in Oklahoma.
age 66 - CHRISTINA L. SCOWDEN nee DARLING, daughter of JOHN DARLING and MARIANNA BAUM, was born December 30, 1941 in Lafayette, Tippecanoe Co., IN, and died April 08, 2008 in Lafayette, Tippecanoe Co., IN. She married February 08, 1960 in Illinois JESSE J.9 SCOWDEN (JAMES EARL8, JAMES EVERETT7, SAMUEL PARKER6, DORCAS5 CHENOWETH, ARTHUR4, RICHARD3, THOMAS2, JOHN1) was born July 23, 1942 in Tippecanoe Co., IN, and died February 04, 2007 in Lafayette, Tippecanoe Co., IN.
age 94 - FRANCES PATRICIA8 KRAMER nee CHENOWETH (CHARLES S.7, GILBERT ALLISON6, PETER H.S.B.5, THOMAS T.4, RICHARD3, THOMAS2, JOHN1) was born September 17, 1913 in Sterling, Logan Co., CO, and died May 13, 2008 in Sunnyvale, Santa Clara Co., CA . She married MERLYN J. "SKIP" KRAMER 1943. He was born June 01, 1917, and died May 17, 2001 in California.
age 84 - ROBERT EMMETT8 LEE (SYLVIA B.7 CHENOWETH, FOSTER6, HEZIKIAH5, JOHN FOSTER4, ELIJAH3, THOMAS2, JOHN1) was born April 09, 1924 in Aurora, Kane Co., IL, and died May 06, 2008 in Batavia, Kane Co., IL. He married GERALDINE MATTHEWS July 07, 1945.
age 79 - THELMA RUTH CHENOWETH nee TYLER was born April 22, 1928, and died March 16, 2008 in California. She married August 12, 1950 ROLAND EUGENE8 CHENOWETH (ANDREW GLENN7, ANDREW CARSON6, JOHN JOHNSTON5, WILLIAM4, ABRAHAM3, THOMAS2, JOHN1)
Unknown lines:
age 87 - HELEN M.4 BUELL (ROSINA 'ROSE'3 CHENOWETH, WILLIAM EDWARD2, THOMAS J.1 married Telitha Brown) was born June 04, 1920 in Baltimore City MD, and died April 17, 2008 in Taneytown, Carroll Co., MD. She married CHARLES G.R. ARNOLD. He was born August 06, 1918, and died April 06, 2007.
age 83 - ESTHER MARIE4 CHENOWETH (LAWRENCE GEORGE3, WILLIAM EDWARD2, THOMAS J.1 married Telitha Brown) was born October 26, 1924 in Baynesville, Baltimore Co., MD, and died April 20, 2008 in Williston, Chittenden Co., VT. She married WILLIAM PAUL "TED" BERES Abt. 1942. He was born December 07, 1918, and died April 1987 in Maryland.
age 55 - MARK KEEN5 CHENOWETH (RALPH KEEN4, HARRY KEEN3, ASBURY INDEPENDANCE2, JOHN1 married Ann Perinne) was born September 13, 1952, and died March 17, 2008 in Maryland. He married SUSAN M. ?. She was born October 20, 1951.
age 99 - EDNA CHENOWETH nee MENKE She was born October 04, 1908, and died March 15, 2008 in Maryland. She married HARRY JOHN CARLTON4 CHENOWETH (HARRY KEEN3, ASBURY INDEPENDANCE2, JOHN1 married Ann Perinne). He was born October 11, 1908 in Maryland, and died August 15, 1965 in Maryland.
Other lines:
age 47 - FRANCES JEANNETTE CHENOWETH nee ARNOLD , daughter of BILLY ARNOLD and LUCINDA STARNS, was born January 24, 1961, and died March 29, 2008 in Brainerd, Crow Wing Co., MN. She married MICHAEL FRANKLIN9 CHENOWETH (EDWARD MURRAY8, EDWARD KNEREM7, EDWARD FURZE6, FRANCIS "FRANK"5, THOMAS4, RICHARD3, JOHN2, THOMAS1 married Joan Phillips)
---
DON'T MISS THE FUN AND COMRADERIE
OF THE 5th NATIONAL FAMILY REUNION
FT WAYNE, INDIANA 23-27 JULY 2008
---
GRANDSONS OF JOHN1
By Jon Egge, WA
(16th Installment of a series - This is the 8th installment on the grandchildren.)
Menu of previous series articles


The 5 Williams
William is the only name in the family that was used in the family of all 5 male sons. It was also used by 2 of the 3 daughters. Early records tell us that John Chenoweth, the progenitor named his first known son William, and it appears that this William died young. So William is a very important name within the family. Perhaps John's father was William, it would follow traditional naming practices. Today there have been as many Williams within the family as any other name, rivaling the other most popular name of John. There were 13 or 14 Williams in the first 4 generations making the name hard to sort out and it is not surprising that a few William's got mixed up in Cora's tangle. Yet despite the fact that there were 5 Williams in the 3rd generation, only 2 come down to today as founders of large strong branches. These were Virginia Williams and the possibility of a third William line is also Virginia based. The use of William in Baltimore was a 3rd generation failure that was compensated for by a very prolific 4th generation Williams in Baltimore.
Today we know little of Arthur's William. His name was duly recorded with Arthur's early born at St Thomas Parish, but Arthur never deeded him land, nor mentioned him in his will. Cora Hiatt tells us he married twice, first to Elizabeth Richardson and 2nd to Harriet Norris. Nothing more is really known. It is possible that at least one of these records is for William's Richard. The lack of legacy between Arthur and William would indicate that William died with no heirs. Also puzzling is this record: Susanna Chenoweth b. July 9, 1791 daughter of William and Elizabeth (St. James parish register -Lothian, MD). Lothian is nowhere near where any of Arthur's family lived. Logically this record could be associated with the William and Elizabeth Richard record. Susanah was a name first used in Richard's family. This remains a puzzle.
WILLIAM3 CHENOWETH (ARTHUR2, JOHN1) was born July 29, 1750, and died Unknown. He married (1) ELIZABETH RICHARDSON April 08, 1789 in Baltimore Co., MD. He married (2) HARRIET NORRIS.
Child of WILLIAM CHENOWETH and ELIZABETH RICHARDSON is:
SUSANNA4 CHENOWETH, b. July 09, 1791; m. JOHN BOND CARROLL, April 04, 1812; b. Bet. 1776 - 1794.
In the Chenoweth histories, the William of Richard has a prominent place as the William who lived in Hampstead and the founding of the well documented lines of Cora Hiatt's Randolph Co., IN Chenoweths. My research with the help of Jane Ryan and Elmer Haile, Jr. indicates that this is probably incorrect. This William married Sarah Baxter. Sarah's brother John married Sarah Chenoweth, a daughter to Arthur, Jr., who also had a son William.
Sarah's sister, Elizabeth, married Arthur, III. There is a land transaction between Arthur, Jr. and his son William that tells us this William's wife was a Sarah. Cora's own book, duplicates the marriages of Sarah Baxter to William, telling us that Arthur, Jr.'s son William married Sarah Baxter, but then she ignores this fact and places a second marriage of Sarah Baxter onto Richard's son. By location, we would suspect that William of Hampstead would be an Arthur line as this was the Arthur side of early Baltimore and Richard's line gravitated from Towson east to Harford Co. Then there are court records that tell us that Richard's son was often with his brother Thomas in the 1780s and having some financial difficulties, while Cora's William appears to have been somewhat prosperous securing property at Hampstead, hardly what one would picture of someone being pursued as a debtor. The weight of evidence is that it is almost certain that the William of Hampstead was the son of Arthur, Jr. and as to Richard's son William, like many of Richard's other sons, we know little of him passed the 1780s and are uncertain if he ever marriage. In passing I might add that the other big William line in Baltimore was 4th generation as well in the form of William who married Amy Davis. This WIlliam was the son of a Richard, but this Richard was the son of Arthur. It is interesting that the two biggest 4th generation lines of Baltimore Chenoweths stem from a William, both of them being in the line of Arthur.
WILLIAM3 CHENOWETH (RICHARD2, JOHN1) was born Abt. 1753.
So today, the lines that trace back to 3rd generation Williams trace to the Virginia Chenoweths. The big dog in this is William of Frederick Co., VA, the son of John. Today a full one-quarter of the whole known male line comes from this William. His was the oldest, earliest blood and it was strong. The first grandson in the family, this William only had 4 children, one daughter Mary who is only mentioned in his will, and 3 sons, John, Jonathan and William, who went to different places and who each founded very large distinctive families. Each served in the American Revolution. The oldest John settled in Randolph Co., VA (now WV) with his wife Mary Pugh, the parents of today's large population of West Virginia Chenoweths. This was in the Tygart River Valley, tucked away in the hills of the Appalachians, outside of the westward movement followed by other Virginia Chenoweths. Jonathan and William went to Kentucky like so many others of John's line. William was only in his late teens when he followed his Uncle Richard to the Louisville area. Perhaps he went with the Vertrees of his stepmother Jane. Once in Louisville he married well to Mary Van Meter, the widow of David Henton who had died on the trip down the Ohio River. This William settled in Nelson Co., KY and his children today are well known, spreading out to Illinois and Texas, as well as maintaining a large daughter line presence in present day Kentucky. Jonathan married Chloe Atchison and settled in Hardy Co., VA (now WV), but just before 1800, Jonathon took his family to Kentucky. In 1800 he is found in Nelson Co., KY as is his brother William. He then moved to the south and west to the Logan Co. area. His descendants went to Illinois and Missouri and later Iowa and Oregon. Though there is much we don't know of Jonathan today, the lines of his son Samuel (misplaced by Cora) and his daughter Elizabeth who married David Casebier are large indeed. More so than his two brothers, Jonathan's lines are distinguished by a large body of daughter lines. These three remarkable sons, lost their father while teen-agers. William the oldest of John's sons was the first to die, still in his young 40s, a year and a few months after his father. His first wife, the mother of his 4 children was Ruth, thought to be Ruth Calvert. By his will we know that Ruth had passed away and William had remarried to a Jane. This Jane would later marry Jacob Vertrees. Marie Eberle suspects that this Jane may have been Jane Carter, Hannah's daughter, but that is far from proven. A puzzle today of William is that we have no record of what land he owned. He was left land in Hampshire Co. jointly with his brother John by the will of John, his father, but he quickly sold his half to his brother. He sold land to Henry Switzer earlier, but where did he get it. Perhaps it was through his wife Ruth. Cora Hiatt did create some confusion about William's line, placing a Samuel under his 2nd marriage with Jane as well as another daughter Jane. This error is repeated in the Harris book. It is far more likely however that Samuel was his grandson and Jonathon's son, and the Jane who married Jacob Vertrees was the widow Jane and not a daughter. William did not mention either of them in a very careful will, written long after either would have been born. The antidotal evidence today seems to corroborate these corrected placements
WILLIAM3 CHENOWETH (JOHN2, JOHN1) was born January 08, 1731/32 in St John's Parish, Baltimore Co., MD, and died Bef. September 01, 1772 in Frederick Co., VA. He married (1) RUTH CALVERT Bef. 1755 in Hopewell MM, Clearbrook, Frederick Co., VA, daughter of ISAIAH CALVERT. She was born Abt. 1730, and died Bef. 1772. He married (2) JANE ? Aft. 1760.
Children of WILLIAM CHENOWETH and RUTH CALVERT are:
JOHN4 CHENOWETH, b. November 16, 1755, Frederick Co., VA; d. June 16, 1831, Randolph Co., VA (now WV); m. MARY PUGH, January 07, 1779, Hampshire Co., VA (now WV); b. January 29, 1762, Hampshire Co., VA (now WV); d. February 01, 1849, Randolph Co., VA (now WV).
JONATHAN CHENOWETH, b. 1757, Frederick Co., VA; d. Muhlenberg Co., KY; m. CHLOE ATCHISON, March 1779, Patterson Creek, Hampshire Co., VA (now WV); b. Abt. 1760; d. Aft. 1822.
MARY CHENOWETH, b. 1759; d. Unknown
WILLIAM CHENOWETH, b. June 10, 1760, Frederick Co., VA; d. August 16, 1828, near Deatsville, Nelson Co., KY; m. MARY M. "POLLY" VAN METER, October 04, 1781, Nelson Co., KY (then Jefferson Co.); b. February 11, 1757, Berkeley Co., VA (now WV); d. June 29, 1832, Nelson Co., KY.
The second William line of the Virginia Chenoweths is that of William, Jr. This William was absolutely butchered by Cora Hiatt. He is actually found misplaced in Cora Hiatt as a 4th generation son of John of Hampshire Co. As proven in a field trip with Greg Wulker to Winchester, the William who married Elizabeth Hutchinson, was William, Jr. and lived in Berkeley Co., VA (now WV) on lands divided from his father's will on Mill Creek between him and his brother Absolom. William and Elizabeth evidently sold and left Virginia for Warren Co., OH. Here three of his four sons, each of whom married a cousin, daughters of William Chenoweth and Catherine Rinker, would receive the legacy of William, Jr.'s will by trisecting in lands. These lines continue a strong presence in this area of Ohio down to today. The other son, Thomas, was the oldest. He too is in Cora's book misplaced as the son of the Baltimore Richard, Jr. This connection was proven and discussed in the December 2004 newsletter. William, Jr. had many daughters, but these lines are not well developed at all, not one exceeding a single outline page, where the 4 sons divide 80 pages and the least of these is Absolom with 4 pages, more than all his sisters combined.
WILLIAM3 CHENOWETH, JR. (WILLIAM2, JOHN1) was born Bet. 1750 - 1754 in Frederick Co., VA, and died November 21, 1820 in Warren Co., OH. He married ELIZABETH HUTCHINSON in Virginia. died Aft. 1820 in Warren Co., OH. Children of WILLIAM CHENOWETH and ELIZABETH HUTCHINSON are:
ANNE4 CHENOWETH, b. May 04, 1772, Berkeley Co., VA (now WV); d. November 18, 1808; m. DANIEL WILSON, Abt. 1795; b. February 14, 1765, prob Berkeley Co., VA (now WV); d. March 23, 1852.
HANNAH CHENOWETH, b. February 12, 1774, Berkeley Co., VA (now WV); m. (1) ? FULLERTON, Abt. 1792, Virginia; m. (2) SAMUEL DUNHAM, JR., Abt. 1812; b. 1774, Berkeley Co., VA (now WV); d: Highland Co., OH.
ELIZABETH JANE CHENOWETH, b. December 25, 1775, Berkeley Co., VA (now WV).
THOMAS CHENOWETH, b. May 10, 1777, Berkeley Co., VA (now WV); d. February 25, 1856, Clark Co., OH; m. ELIZABETH WATSON, April 02, 1801, Berkeley Co., VA (now WV); b. July 26, 1779, Maryland; d. March 07, 1856, Clark Co., OH.
MARY CHENOWETH, b. September 20, 1779, Berkeley Co., VA (now WV); d. Aft. 1860.
NANCY CHENOWETH, d. 1836, Warren Co., OH; m. JAMES MILLER; b. March 07, 1768, Virginia; d. 1848.
WILLIAM CHENOWETH, b. April 13, 1781, Berkeley Co., VA (now WV); d. Aft. 1850, Warren Co., OH; m. CATHERINE CHENOWETH, December 17, 1814, Warren Co., OH; b. December 17, 1794, Racoon Run, Back Creek area, Frederick Co., VA; d. April 20, 1844, Warren Co., OH.
SARAH CHENOWETH, b. September 02, 1783, Berkeley Co., VA (now WV); d. August 25, 1872, Warren Co., OH; m. WILLIAM LAWRENCE, October 23, 1825, Warren Co., OH; b. 1786; d. January 16, 1848, Warren Co., OH.
ABSOLOM CHENOWETH, b. September 16, 1785, Berkley Co., VA; d. February 05, 1872, Wayne Twp., Warren Co., OH; m. ELEANOR CHENOWETH, November 04, 1810, Virginia; b. January 20, 1790, Frederick Co., VA; d. February 14, 1868, Wayne Twp., Warren Co., OH.
JOSINAH "LIND" CHENOWETH, b. February 26, 1788, Berkeley Co., VA (now WV); d. April 19, 1843, Warren Co., OH; m. JAMES HARVEY RICE, October 13, 1813, Warren Co., OH; b. September 01, 1793, Botetourt Co., VA; d. November 09, 1866, Warren Co., OH.
JOHN CHENOWETH, b. September 30, 1789, Berkeley Co., VA (now WV); d. January 22, 1862, Warren Co., OH; m. ELIZABETH S. CHENOWETH, Abt. 1809, Virginia; b. January 23, 1792, Frederick Co., VA; d. December 05, 1855, Warren Co., OH.
The enigma is William the son of Thomas. Cora said nothing about him and Harris mistakenly claimed he was the William who married Catherine Rinker, who turns out to be the 4th generation son of John of Hampshire Co. by John's first wife Mary Smith. It is possible to assemble a family for this William however by location records, and though we can't prove it, it is most likely that we know at least some of his family. The best clue to William comes from the writings of his grand nephew, Abraham J. Chenoweth of Kansas in a letter dated July 12 1887 as found in the Draper Papers. "Several years ago I undertook to gather information concerning my ancestors so as to make a family tree. I have corresponded with persons, mostly Chenoweths, in KY, OH, IN, IL, IA, WI, NE, KS, CO, MO, TX, MD, and DC and have been unable to learn anything concerning my grandfather's brother William, son of Thomas. …. I don't know at what date, but possibly the same, that William located on the big Miami where Dayton is. He returned to Kentucky in a few years and all trace of him and his family was lost as far as I have been able to learn…"
The 1790 Tax rolls of Mason Co., KY show William present there with his brothers. He is gone in 1800, but he is not with his brothers who are to be found in Ross Co and Franklin Co. OH. The details of the route described by Abraham are mistakenly included in the Harris narrative on William, Jr. who married Elizabeth Hutchison on page 140. There is a tax record of a William Chenoweth in Warren Co., OH in 1800, but the two Williams we know who did settle there later did not leave Virginia until after 1810, and there is no other William to account for this presence. We know that these travels could not be William, Jr. as he was at the time still on his land in Berkeley Co. and would not sell and move until 1810. By that time a William re-appears in Mason Co. where he is listed in 1810 and 1820. By this time he was the only Chenoweth in Mason Co. which would naturally indicate that the Chenoweth records found there in this time frame are most like those of his family. And there are records. In 1791 we have this record of a lease: Thomas Marshall of Woodford Co.,Ky, by Thomas Marshall Jr. his attorney; and William Chenoweth ,aged 31 yrs., Mary his wife, aged 20 years, and Michael, his son aged 2yrs. This can only be the son of Thomas and matched the bible birth date of May 03, 1760 we have for William and we know that in 1790 the only Chenoweths in Mason Co., KY were the children of Thomas(2).
There are subsequent marriages of a Thomas, Anne and Massey in Mason Co. which seem to fit children of William and have no other possibility. Mary Dix, the bride of the marriage to Thomas, later remarries and takes her daughter Amanda to Putnam Co., IN where she married Elijah Garrett. Family records have that Mary was born in Mason Co. There is a record of the unknown William, Jr. who is born in Ohio and married in Adams Co., OH. He has not fit in with other Ohio Chenoweths. Adams Co. is just across the river from Mason Co. and William was born in the period that William the son of Thomas was making his Ohio loop before returning to Mason Co. DNA testing on this William, clearly shows him to be part of the larger Chenoweth family. These are good fits and make a strong case for the William of Thomas.
WILLIAM B.3 CHENOWETH (THOMAS2, JOHN1) was born May 03, 1760 in Frederick Co., VA, and died Aft. 1830. He married MARY ? Bef. 1789. She was born Abt. 1771, and died Aft. 1830.
Children of WILLIAM CHENOWETH and MARY ? are:
MICHAEL4 CHENOWETH, b. Abt. 1789, Mason Co., KY.
ANNE CHENOWETH, b. Bet. 1782 - 1794; m. CHARLES FITZPATRICK, August 27, 1811, Mason Co., KY
THOMAS CHENOWETH, b. Bet. 1794 - 1800, Kentucky; d. Bef. 1838; m. MARY "POLLY" DIX, January 01, 1820, Mason Co., KY; b. 1796, Kentucky.
MERCY "MASSEY" CHENOWETH, b. April 20, 1796, Kentucky; d. September 08, 1878, Kentucky; m. THORNTON ELLIS, March 12, 1819, Mason Co., KY; b. 1791, Faquier Co. VA; d. 1874.
In the 1850 Census there were 120 families, 608 people from William of John, living in WV, KY, IL, MO, IA and TX. There were 30 families and 142 people from William, Jr, mostly living in OH, with some in IN and IL. There were 6 possible families of William the son of Thomas in KY, IN and IA.
---