TEXAS REUNION IS A HAPPENIN'. . .


Welcome to the 6th Biennial National Chenoweth Family Reunion. Though a small circle of hardy "Chenies" are descending on the Dallas area this last weekend in July, the group is quite diverse with many "newbies" to the event.
Lawra Duy and her committee have done a stellar job of putting together an exciting program and fun and family will reign supreme.
As always, John's descendants hold the majority, but the Thomas line has given the "Johns" a good run for their money. Actually there are descendants coming from John, Hannah, Arthur, William and Thomas as well as Pete Chenoweth, Justin Chenoweth and Lawra Duy representing other immigrations. It is remarkable when you look at the list how many long daughter lines there are in attendance. It speaks to the remarkable genealogy of the family that 2nd and 3rd generation daughter lines still identify with this vast colonial tree.
It also speaks to good genealogy work by many in the family. Like the Elkins reunion, there are a large group of local Texans in attendance as well as a large group of the Oklahoma families of Benjamin Franklin, s/o Luke.
Don't confuse them with the other Texan Benjamin Franklins of the s/o Thomas, Jr who are also represented.
Both are Thomas2 lines, so there is lots of "wearing of the green", so to speak, but this is Cornish Green not Irish.
It is a fascination that some 210 years of American Chenoweths results in over 100,000 living descendants. From New York to Florida, from Washington to Georgia, from Illinois to Tennessee, from Wyoming to Ohio and all states in between, all can call each other cousin.
Yee-Haw!
It's time to do the Reunion . . . .

---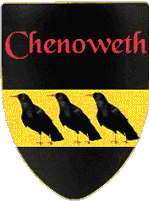 ITEMS IN THIS ISSUE


---
REUNION REGISTERED LINES



Main: John Chenoweth & Mary Calvert

KAREN MALINA DUFF nee SHAW wife of MICHAEL11 DUFF (LORN CHARLES10, ANNA VIRGINIA9 STALNAKER, ANDREW JACKSON 'JOHN'8, GEORGE MILTON7, SUSANNAH6 CHENOWETH, ROBERT T.5, JOHN4, WILLIAM3, JOHN2, JOHN1) & VIOLOT DUFF lives Richardson, TX


HELEN FLORINE10 BOLLEN nee BROWN (MYRTLE FAYE9 MCPHERSON, CHARLOTTE VIOLA 'LOTTIE'8 ALEXANDER, MARTHA JANE7 CHENOWETH, DANIEL6, SAMUEL5, JONATHAN4, WILLIAM3, JOHN2, JOHN1) lives Delta, UT


SUE ANNETTE11 SPARKMAN nee EAGLE (LESLEY ARLENE10 SCOLES, WINNIFRED ELIZABETH "WINNIE"9 MCPHERSON, CHARLOTTE VIOLA 'LOTTIE'8 ALEXANDER, MARTHA JANE7 CHENOWETH, DANIEL6, SAMUEL5,JONATHAN4, WILLIAM3, JOHN2, JOHN1) lives Mansfield, TX


VESTA9 JENSON nee CHENOWETH (STEPHEN DEAN8, BENJAMIN MATTHEWS7, ROBERT ATKINSON6, JAMES HACKLEY5, WILLIAM4, WILLIAM3, JOHN2, JOHN1) widow of NEALE OPHEIM JENSON


ROBERT DEAN9 CHENOWETH (STEPHEN DEAN8, BENJAMIN MATTHEWS7, ROBERT ATKINSON6, JAMES HACKLEY5, WILLIAM4, WILLIAM3, JOHN2, JOHN1) wife ELIZABETH AURORA CHENOWETH nee YANCY, lives College Station, TX


BEVERLY JOANN9 BUCHANAN nee BREHM (BIRD MARIE8 ALGER, MARY JANE7 DOWNEY, AMANDA ELLEN6 MARTINDALE, BARBARA 'BIRZELLA'5 CHENOWETH, WILLIAM S.4, JOHN3, JOHN2, JOHN1) husband RICHARD HODGSON BUCHANAN lives Arlington Heights, IL


MYRA LOU10 CRUSIE nee DAVIS (MARLOWE READ9, MILES VICTOR8, REBECCA ELLA 'ELLEN'7 CHENOWETH, ELIAS6, WILLIAM E.5, ELIAS4, JOHN3, JOHN2, JOHN1) husband B.E. 'BUTCH' CRUSIE, lives Elkhart, IN


JON DEXTER9 EGGE (EDNA LOUISE8 CHENOWETH, HENRY EDWARD 'HARRY'7, ALBERT WHITE6, HENRY S.5, JAMES FRANCIS4, THOMAS3, JOHN2, JOHN1) lives Woodinville, WA


MITCHELL MAURICE 'BUTCH'9 INGRAM, JR. (MITCHELL MAURICE8, MACK MITCHELL7, WILLIAM HOUSTON6, AMELIA5 TUCKER, PHOEBE4 ASHBROOK, MARY3 CHENOWETH, JOHN2, JOHN1) lives Irving, TX


JO ANN 'JODI'10 RATICA nee BROWNING (ELEANOR MARGARET9 HAVICK, SARA BERNADINE8 HASKINS, ALMIRA M.7 WESTROPE, THOMAS RICHARD6, SARAH 'SALLIE'5 ASHBROOK, JOHN4, MARY3 CHENOWETH, JOHN2, JOHN1) lives Ft Worth, TX


KATHERINE G.9 WEBER-WOLF (GEORGE8, HIRAM MAURICE 'HY' ENSMINGER7, SARAH ELIZABETH6 SEATON, KENNER5, RICHARD4, RACHEL3 CHENOWETH, JOHN2, JOHN1) lives Brooklyn, NY


ANITA LOUISE10 BIRD nee MOLE (BARBARA GENE9 BRANNAN, HELEN MYRTLE8 DONNELLY, HATTIE MAEBELLE7 CARTER, HARVEY6, HARVEY5, JOHN4, JAMES3, HANNAH2 CHENOWETH, JOHN1) husband BILLIE LYNN BIRD, lives Midlothian, TX


BEVERLY JEAN10 THOMPSON nee GARBER (HENRY MEREDITH9, BLANCHE M.8 BOREN, LILLIE REBECCA7 BOWEN, MARY ETTA6 CHENOWETH, JOHN BAXTER5, WILLIAM4, ARTHUR3, ARTHUR2, JOHN1) lives Orvilla, TX


VIRGINIA MARIE10 PARTCH nee STEELE (ALICE MARIE9 BLAKE, LOLA MAE8 THARP, MARY ALICE7 SEARLES, CATHERINE6 CHENOWETH, HARVEY R.5, JOHN4, WILLIAM3, WILLIAM2, JOHN1) husband GENE ALDEN PARTCH lives Cheyenne, WY


ANNE ELIZABETH9 SCHATZ nee LARSON (MARY MAGDALENE8 BLAKE, LUCINDA ELIZABETH7 SEARLES, CATHERINE6 CHENOWETH, HARVEY R.5, JOHN4, WILLIAM3, WILLIAM2, JOHN1) lives Austin, TX


GREGORY GEORGE9 WULKER (MARGARET MARY8 LACY, CHARLES EDGAR7, MARTHA JANE6 CHENOWETH, JOSEPH5, ABSOLOM4, WILLIAM3, WILLIAM2, JOHN1) lives Milford, OH and Aunt Margaret Wulker


ROBERT JAMES9 CHENOWETH (CLARENCE WILLIAM8, ORIEN STEELE7, GEORGE WILLIAM6, GEORGE HENRY5, JOHN4, WILLIAM3, WILLIAM2, JOHN1) wife JANET CHENOWETH nee KNOTTS lives Livingston, TN


CAROLYN LOUISE9 NEWBY nee CHENOWETH (JOHN HENRY8, ORIEN STEELE7, GEORGE WILLIAM6, GEORGE HENRY5, JOHN4, WILLIAM3, WILLIAM2, JOHN1) husband HAROLD DEAN NEWBY, lives Melbourne, FL


JOSEPH THOMAS8 CHENOWETH (THOMAS SCURRY7, WILLIAM BENJAMIN6, JOSEPH5, BENJAMIN FRANKLIN4, THOMAS3, THOMAS2, JOHN1) wife KATHLEEN CHENOWETH nee ROMINES lives Allen, TX


RITA MARIE9 SCHIMPFF nee ROZELLE (FRANCIS MCQUEEN8, ERMA CAMILLE MOTLEY7 SMITH, SAMUEL DAVID6, MISSOURI INDEPENDENCE 'AUNT PUSS'5 CHENOWETH, BENJAMIN FRANKLIN4, THOMAS3, THOMAS2, JOHN1) lives Austin, TX


SUE ELLEN9 PEGLOW nee BLESSING (CHARLES E.8, ARTHUR MARCUS7, JENNIE N.6 CHENOWETH, ARTHUR5, HIRAM4, ARTHUR3, THOMAS2, JOHN1) lives Sherwood, AR


PATRICIA ANN8 CRUME nee CHENOWETH (CECIL CLARE7, JOHN WILLIAM6, BENJAMIN FRANKLIN5, LUKE4, ARTHUR3, THOMAS2, JOHN1) lives Claremore, OK


CARL LEE8 CHENOWETH (EDGAR RAYMOND7, GEORGE EDGAR6, BENJAMIN FRANKLIN5, LUKE4, ARTHUR3, THOMAS2, JOHN1) wife ARLENE MARIE CHENOWETH nee BRINDLE lives Littleton, CO


JOYCE 'LEON'8 HAYS (VIDA VIOLA7 CHENOWETH, JOHN WILLIAM6, BENJAMIN FRANKLIN5, LUKE4, ARTHUR3, THOMAS2, JOHN1) lives Oklahoma City, OK


EVELYN VIVAN7 FELIX nee CHENOWETH (GEORGE EDGAR6, BENJAMIN FRANKLIN5, LUKE4, ARTHUR3, THOMAS2, JOHN1) lives Bixby, OK


EVELYN MARIE CHENOWETH nee DAVIS, widow of BILLY GEORGE8 CHENOWETH (GEORGE ELLIS7, GEORGE EDGAR6, BENJAMIN FRANKLIN5, LUKE4, ARTHUR3, THOMAS2, JOHN1) lives Oklahoma City, OK


JOYCE AILEEN9 WIEGAND nee CORNS (ANNA MARGARUITE8 CHENOWETH, CHARLES LEWIS 'TOT'7, THOMAS DANIEL6, IRA M.5, THOMAS T.4, RICHARD3, THOMAS2, JOHN1) husband RICHARD DALE WIEGAND, lives Lafayette, IN


VIDA SUE8 CHENOWETH (LOUIS ALEXANDER7, LINCOLN MORGAN6, LEWIS FOSTER5, JOHN FOSTER4, ELIJAH3, THOMAS2, JOHN1) and niece Lee Anne Lawson nee Chenoweth, lives Arlington, OK


THERESA ELLEN8 'TERRY' CHENOWETH (EMIL ANDREW7, ROBERT P.6, JOHN JOHNSTON5, WILLIAM4, ABRAHAM3, THOMAS2, JOHN1) lives Fort Worth, TX


DENISE CAMPION8 CHENOWETH (LEVERT VOLTAIR7, RICHARD W.6, ABRAHAM J.5, JACOB4, ABRAHAM3, THOMAS2, JOHN1) lives Skidmore, TX

Other Lines:




PETER CLINTON13 CHENOWETH (HAROLD RICHARD12, FRANK LARKIN11, WILLIAM CLAWSON10, WILLIAM E.9, JOHN8, EDWARD7, JOHN6, EDWARD5, WILLIAM4, WILLIAM3, JOHN2, EDWARD1) wife JANET LEE CHENOWETH nee HEARNDON lives Hephzibah, GA


JUSTIN ALEX7 CHENOWETH (EDWARD FREDERICK, JR6, EDWARD FREDERICK5, PERCY HUDSON4, EDWIN3, FREDERICK2, JOHN1) lives Rock Hill, SC


LAWRA6 ROSE DUY nee JOSEPH (EDITH PEARL5 CHENOWETH, PERCY HUDSON4, EDWIN3, FREDERICK2, JOHN1) husband Franz DUY lives Dallas, TX
---



JOHN M CHENOWETH (1801-1850s)
From the Handbook of Texas Online, Thomas W. Cutrerl:
John Chenoweth, soldier and legislator of the Republic of Texas, arrived in Texas in 1835, apparently with Capt. John W. Peacock's company, the United States Invincibles. He is said to have paid his own way from Louisiana, where he left his wife and family. Chenoweth and his company joined the revolutionary army at Bexar on November 26, 1835. When Peacock was killed at the siege of Bexar, December 5–10, 1835, Chenoweth was elected to the command of the company, which officially enlisted for the duration of the war on December 27. On December 25 Chenoweth requested that the General Council allow him to recruit a new company of volunteers to garrison Copano. His Invincibles were officially mustered into service in February 1836, and Chenoweth still commanded them as late as that month, when they were stationed at Refugio under Col. James W. Fannin, Jr. He was, however, detached from Fannin's command and given command of the garrison at Copano as he had requested. Soon thereafter Fannin's men, including most of the Invincibles, were captured and executed in the notorious Goliad Massacre. Chenoweth thereupon joined Sam Houston's army at Gonzales as a private and served in Capt. William H. Patton's Columbia Company of Col. Sidney Sherman's Second Regiment at the battle of San Jacinto. Houston commended him to James Collinsworth, chairman of the military committee, as "very active."
After San Jacinto, Chenoweth was elected captain of the Zavala Volunteers, on August 20, 1836. The company was assigned to the First Regiment of Gen. Thomas J. Green's brigade and stationed at Camp Johnston. From there Chenoweth ranged the coast gathering supplies and horses for the brigade. He paid for much of this material with his own money. Nevertheless, he reported to Gen. Mirabeau B. Lamar that his requisitioning of supplies resulted in many citizens' leaving the area and taking their livestock with them. Before July 6 he was promoted to major. The death of his wife in Louisiana necessitated his return there for several months in 1836. While still commanding his company, Chenoweth was furloughed to attend the First Congress of the Republic of Texas, to which he had been elected from Goliad County on October 3. During the spring term of the Harrisburg (now Harris) County district court, Chenoweth served on the grand jury.
On October 8, 1842, Houston denied Chenoweth's application for a commission to raise a company of rangers for the defense of the upper Colorado River frontier but instead appointed him to take charge of those Indians captured by Texans and return them to their homes in compliance with a recent treaty. On December 3, 1847, Chenoweth married E. H. Reed. He lived in Harrisburg County and then in Burleson County, where he was residing on September 12, 1850. He was awarded a 690-acre bounty certificate for his participation in the battle of San Jacinto, which he sold for sixty dollars. Later he received an additional 1,280-acre warrant, which he also sold.

---
We hold these truths to be self evident…
The woodpecker might have to go!
Everything I need to know about life, I learned from Noah 's Ark .
One : Don't miss the boat.
Two : Remember that we are all in the same boat.
Three : Plan ahead.. It wasn't raining when Noah built the Ark.
Four : Stay fit. When you're 600 years old, someone may ask you to do something really big.
Five : Don't listen to critics; just get on with the job that needs to be done.
Six : Build your future on high ground.
Seven : For safety sake, travel in pairs.
Eight : Speed isn't always an advantage. The snails were on board with the cheetahs.
Nine : When you're stressed, float a while.
Ten : Remember, the Ark was built by amateurs; the Titanic by professionals.
---
SCHEDULE OF EVENTS



Wednesday (21 Jul 2010):

5-9pm - Early Registration (Hospitality Suite) – Joyce Wiegand
Dinner on own
Texas Chenoweth Artifacts Showcase
7pm - Fellowship gathering

Thursday (22 Jul 2010):

8-5pm - Registration (Hospitality Suite) – Joyce Wiegand Texas Chenoweth Artifacts Showcase
9-11am – Fellowship gathering
Lunch on own
2:30pm - Family Q/A roundtables - Jon Egge & Pete Chenoweth
4-5pm - Welcome social – Lawra Duy
Dinner on own
6:30pm – Warm-up & Welcome Ceremonies (Western wear encouraged) - Pete Chenoweth & Lawra Duy
7:45pm - Speaker Introduction - Malina Duff
8:00pm - Lecturer: Tami Glatz (Social Networking)

Friday (23 Jul 2010):

8-5pm - Registration (Hospitality Suite) – Joyce Wiegand Texas Chenoweth Artifacts Showcase
9:30 – Warm up
10:00am – Genealogy 101 – Dick Buchanan (moderator)
Lunch on own
1:30-3pm – Family Update – Jon Egge (web master)
3:30-4:30 – DNA Update – Pete Chenoweth
Dinner on own
6-10pm – Family Event: Mesquite Rodeo with dinner (optional with fee)

Saturday (24 Jul 2010):

8-9am registration (Hospitality Suite) – Joyce Wiegand Texas Chenoweth Artifacts Showcase
9:30-10:30am – family photo – Terry Chenoweth
11:00am – Warm-up & General Membership Meeting – Pete Chenoweth (Chairman)
Lunch on own
1:00-1:45pm – Fellowship Gathering
2-3:30pm - Focus group "Reunions: what are they and how to make ours better" – Dick Buchanan
3:45 – Preview of 2012 Reunion – Greg Wulker
6:30pm: Warm-up, Family Banquet with Reunion Cake

Eulogy – Jon Egge
Awards – Pete Chenoweth
The Chenoweth Texas Legacy – Joe & Terry Chenoweth

Sunday (25 Jul 2010):

8am – Worship service,
9-11am - family brunch,
adjournment.
---
Contributors: Margaret Skyles and The Oklahoma Carters
(26th Installment of a series)
by Jon Egge
One of my earliest collaborators was Margaret Skyles of Broken Arrow, OK. Marg is #6 on my list of cousins that extends to almost 3,000 contacts over 14 years. She was a descendant of Hannah Chenoweth Carter, in particular from their son James Carter III who married Nancy Ann Bowen in Frederick Co., VA. After the death of Hannah, in the 1780s, James had moved to Washington Co., PA, the eastern part of the frontier. John Carter, a son of James and Nancy, married Rebecca McFarland in Washington Co. The line then goes to a Harvey Carter who died at age 37 after being struck by a falling tree. In the 1850s his widow, Charlotte Clark Carter, moved the family to Vermilion Co., IL. At the time I knew nothing about the Carter line. This was in February of 1996. Marg sent me a gedcom, and the race was on. She told me how she and her husband ordered microfilm from the LDS family centers to do Census work. I had no real understanding of how that worked. Marg and I exchanged gedcoms for well over a year. The files grew as did the Carters. A few years later I obtained a copy of the book, Our James Carter and his Descendants, by Harold Gene Carter, 1981. This was the basis for Margs' work. A few years later I found Marie Eberle and the Carters exploded. Marg also introduced me to her cousin in this Carter effort, Barbara Gene Mole. Barbara showed me that the marriage of Earl Henry Chenoweth to Opal B. Carter was actually a 6th cousin marriage between the Carter and Chenoweth lines. The Harris book had this marriage, but not the cousin relationship. This was one of the sparks to my interest in finding cousin marriages. Unfortunately Barbara died in 2006.
Harvey Carter, Jr. born in Washington Co., PA married Matilda Hunt in Edgar Co., IL. After the birth of their last child, Hattie Maebelle Carter, on January 04, 1877 in Vermilion Co., IL, Harvey and Matilda moved to Kansas, enumerated in Labette Co., KS in 1880. Their daughter, Nancy Jane Carter would marry William Wesley Cary on November 18, 1884 in Labette Co. Their son William Abraham Cary was Marg's grandfather. As a young man he went to Oklahoma and married in Tulsa, Grace Virginia Atkins. Marg's work on this family was helpful and her introduction to me of the Carter family was the beginning of a myriad of Carter genealogy that would follow. It was a great beginning.
HARVEY5 CARTER (JOHN4, JAMES3, HANNAH2 CHENOWETH, JOHN1) was born 1803 in Amwell twp., Washington Co., PA, and died September 1840 in Washington Co., PA. He married CHARLOTTE CLARK March 21, 1825 in Greene Co., PA, daughter of SILAS CLARK. She was born July 19, 1805 in Greene Co., PA, and died November 27, 1878 in Fairmount, Vermilion Co., IL.
Children of HARVEY CARTER and CHARLOTTE CLARK are:
EZEKIEL6 CARTER, b. January 26, 1826, Amwell twp., Washington Co., PA; d. December 28, 1891, Vermilion Co., IL; m. CECILIE HUNT, Bet. 1850 - 1852, Knox Co., OH?; b. 1835, Knox Co., OH; d. Aft. 1880, Vermilion Co., IL.
DEBORAH CARTER, b. April 09, 1828, Washington Co., PA; d. November 22, 1895, near Hoopeston, IL; m. LUTHER A. RIGGS, August 25, 1860, Edgar Co., IL; b. October 29, 1830, Washington Co., PA; d. April 06, 1902, near Hoopeston, IL.
JOHN A. CARTER, b. March 21, 1829, Washington Co., PA; d. January 15, 1907, near Jamaica, Vermilion Co., IL; m. JANE VOORHEES, March 21, 1854, Washington Co., PA?; b. March 24, 1832, Washington Co., PA; d. June 10, 1904, near Jamaica, Vermilion Co., IL.
WILLIAM CARTER, b. April 14, 1832, Washington Co., PA; d. February 23, 1910, Jamaica, Vermilion Co., IL; m. MARGARET VOORHEES, August 27, 1858, Kansas, IL; b. October 16, 1835, Washington Co., PA; d. September 17, 1919, Jamaica, Vermilion Co., IL.
HARVEY CARTER, JR., b. November 05, 1833, Amwell twp., Washington Co., PA; d. October 13, 1910, Parsons, Labette Co., KS; m. MATILDA HUNT, September 08, 1858, Paris, Edgar Co., IL; b. December 03, 1836, Knox Co., OH; d. June 04, 1887, Montana Twp., Labette Co., KS.
CHARLOTTE 'LOTTIE' CARTER, b. January 30, 1837, Washington Co., PA; d. August 07, 1845, Washington Co., PA.
REBECCA CARTER, b. December 22, 1839, Washington Co., PA; d. February 23, 1896, Rossville, Vermilion Co., IL; m. JOHN M. ROSS, Abt. March 22, 1860; b. June 19, 1834, Illinois; d. August 14, 1887, Jamaica twp., Vermilion Co., IL.
---
Time at the Top
Peter Clinton Chenoweth, Chairman
The following was written by E.F.G. Gerard in 1949 and given out as a motivational pamphlet.
Millions of words have been written about SUCCESS. If these millions of words could be squeezed into one, short, meaningful word, that word would be GUMPTION! Anyone can wish for success. But it takes real GUMPTION to DO the things that make success possible.
Yet, making a success of one's self is not as hard as it seems. For it is a matter of record that every person has considerably more talent and ability than he tries to get out of himself. Ambition, real AMBITION – not "off-again on-again" Ambition – is the first requirement.
But just being ambitious is not enough! It must be seriously, earnestly and enthusiastically backed up by continuous, driving DETERMINATION and stick-to-it-iveness.
"From exactly the same materials one man builds palaces while another builds hovels."
Why is this so? For the answer, we need only lend an attentive ear to the time-tested advice and wisdom of men who worked their way to success through the ranks – men of GUMPTION – men who know what they are talking about.
Let's start with the revealing words of a man who rose from the humblest beginnings to amass one of the greatest fortunes of our times. Says he:
"I have succeeded not because I had any more ability than people who have not succeeded, but because I applied myself harder and stuck to it longer. I know plenty of people who have failed to succeed in anything, who have more brains than I, but they lacked application and determination."
A noted empire builder, who started from scratch, and had to hurdle many obstacles an disappointments on the way up, flatly asserts: "The man who reaches the top is the one who is not content with doing just what is required of him – he does more! He should make up his mind that if he expects to succeed, he must give an honest return for the other man's dollar!" You cannot get around this inexorable law of success.
"Give me the choice between a man of tremendous brains but without tenacity, and one of ordinary brains but with a great deal of tenacity, and I will select the tenacious one every time!" So says a famed Captain of Industry.
And right to the point is this thought-jogging classic: "A determined man can do more with a rusty wrench that a loafer can with all the tools in a machine shop."
"Have confidence that if you have done a little thing well, you can do a bigger thing well, too!"
A man who emerged from obscurity, at the age of 40, to become a veritable miracle-worker in industry, reminds us that nothing is particularly hard if you divide it into small jobs.
Another , who made an outstanding success of his life, forthrightly admits that his chief starting assets were nothing more than a friendly smile, a cooperative spirit and an unselfish eagerness to pitch in and get things done!
A wise man makes this challenging statement: There are no limitations to what YOU can do, except the limitations in YOUR mind. . . . Don't think you cannot! Think you CAN! And you WILL!
CAN you help the Family Association? Many positions are available for your talents. Make yourself known.
---
A History of Texas Chenoweths
By Jon Egge
The Chenoweth's involvement with Texas began while it was still part of Mexico. Three joined the fight for succession, one losing his life. These were Hardin Thomas Chenoweth, John M. Chenoweth and Amon Butler King. Stories of John M. Chenoweth and Amon Butler King are found in other articles included in this newsletter . Early accounts also mention a Gabriel Chenoweth, who has never been identified. Records show that Thomas and his wife Nancy entered thru passage to Galveston. Most of the family undoubtedly took the slower, arduous journey by wagon train.
By 1850 we have 6 families, a total of 19 people from 4 different branches residing in Texas. Point taken, they came from all over and by many routes. Two families were the two widows of Hardin Thomas Chenoweth, both remarried, both living in Milan Co. Nancy Hart who had divorced Hardin and remarried to James Eden Williams had a daughter Lavinia with Hardin who married John R. Beck and died leaving a grandchild, Nancy Ann Beck. Nancy would end up in California by 1860. Elizabeth, the 2nd wife of Hardin, had remarried to John Bates. Her daughter Elizabeth would marry Howell Lewis Jeffries. Though some of this family remains in Texas, most of it relocated to Oklahoma. This line is from the adventuresome William of Nelson Co., KY, a grandson of John(2). More of this family would find its way to the Lone Star state as the years wore on.
The family of Arthur(2) was represented by John M. Chenoweth, recently placed in the family as a son of Joshua from Pennsylvania. John had come to Texas helping to finance a company of men from his personal wealth. We find him in Williamson Co., TX with 2 sons in 1850, in the same general area that the families of Hardin Thomas lived. These families would remain in Texas, some of them using the name Chaneyworth. In Dallas we find two sons of Benjamin Franklin Chenoweth, a Thomas(2) line that had migrated to Taney Co., MO. In future years many of their siblings would be attracted into the Dallas Co. area. The 4th branch was from Ruth(2) in the form of Margaret Peteet who had married Willis Ivey Roan in Georgia. They had settled in Grimes Co. The march of the Peteets from Georgia had begun.
Ten years later, 6 families had become 32, and 19 people 154. Ruth Chenoweth Forman from Kentucky with families of 5 of her children had settled in Collin Co. and helped found the city of Plano. The family of Martin Herbert Martindale from Indiana had made their way to Fayette Co. Another Indiana family in the lines of John(2), Joseph Chenoweth Wilson set down roots in Ellis Co. Thomas B. Buckingham, a minister, and his wife had come from Botetourt Co., VA to a church in Brazoria Co. Two Lamon families from Illinois had settled respectively in Burnet and Victoria Counties. Also from Illinois, two Ingram families from Phoebe Ashbrook Tucker had settled in Bastrop Co. Even a Kentucky family from Rachel Chenoweth Seaton's family had found their way to Johnson Co. in the form of Margaret Rose who married John Vaughn. That was all just in the families of John(2), lines diversely representing 6 of John's 9 children.
John M.'s wife Elizabeth, now a widow, was still found raising her two sons in Williamson Co., John having died in his 50s. Another of Arthur(2)'s line could be found in the form of Benjamin Davenport Chenoweth, a lawyer, was residing in Waco, McLennan Co. The Tennessee family of Anna Mariah Chenoweth and her 2nd husband, from Arthur's youngest son Richard, had put down Roots in Smith Co. In the Thomas Line, the Taney Co., Missouri families of Benjamin Franklin had swelled to 6. Besides Sarah Derryberry mentioned in Collin Co., there was James Foster Chenoweth in Denton Co., while families of his brother, Thomas Lewis, widowed mother Fanny, and two sisters, Cassandra Mitchell and Susan Ann Cox all lived in Dallas Co. From Pike Co., OH had come two sons of George, John Wesley found in Hopkins Co. and Edward on Galveston Island. John Wesley would soon move west to New Mexico. Ruth's Peteets now numbered 7 families in 3 counties. Margaret's son John Peteet Roan still lived in Grimes Co. Caltha Clementine Peteet who had married William Burwell Appling appears in Guadalupe Co., TX with two additional families of her children. Simeon Peteet and his wife have come to Upshur Co., Simeon dying there two months before the Census. The listing gives us his widow Matilda and families of two sons settled in Upshur.
The aftermath of the Civil War brought more of those with Southern leanings to Texas. By 1870, 32 families had become 45 and 220 people spread out to 20 counties. Hardin's daughter Elizabeth was now married to Howell Lewis Jeffries and living in Collin Co. which also found 7 families from Ruth Forman in Plano and 2 Derryberry families of Sarah and Elizabeth from Benjamin Franklin of Taney Co., MO. The Formans were William, Jr, Joseph, James and Clint as well as Ruth's grandson Phil D. Crume and daughters Letitia who had married George Washington Barnett and Josephine who had married Bailey Butler Fowler. Five other families of the Thomas(2) line of Benjamin Franklin were still in Dallas Co and James Foster Chenoweth, still in Denton Co. Another of William of Nelson Co., KY in the form of Abraham Birkhead Chenoweth had found his way to Hays Co. from Illinois. Joseph Chenoweth Wilson was still in Ellis Co and the preacher Thomas B. Buckingham moved to Huntsville, Walker Co., now with a growing family. Dr. John W. Chenoweth, the brother to my great great grandfather, had moved from Missouri to Kentucky town in Grayson Co. The story of this move can be found in the digital History of Missouri regarding a group of Confederate women that journey to Texas in the waning days of the war.
With John W. and his wife Frances in Grayson Co. were families of two daughters, 'Hattie' who married James Paxton and Mattie who married James Whitsitt Blakey, Jr. John Chenoweth Hall, a single man, was a beekeeper in Robertson. His grandfather was James Chenoweth, the son of Richard of Louisville. Absolom's grandson George Washington Lamon was still in Burnet Co. located in Oatmeal. George's brother John had died and his widow Mary Ellen Greer was now in Wood Co. John had been run out of Texas earlier for his pro-northern editorials in The Quitman Texas Free Press and joining the Union Army had died in Andersonville Prison, GA. There were 5 Ingram families Bastrop Co., grandsons of Phoebe Ashbrook Tucker: George, Rufus, Harvey, William and Wilson. A Seaton presence in Texas was now in the form of Samuel Levi Tyler, newly married and living in Brazos Co., a great grandson of Rachel Chenoweth, Levi would return to Missouri a few years later.
A line of Richard(2), Eldridge Sheets from Kentucky had found his way to Hill Co. More of the families of Richard would follow later from the lines of Dr. Joseph Chenoweth of Madison Co., AR. Descendants of Eldridge still reside in Texas. A line of Hannah's also had found their way to Texas. This would bring the Chenoweth presence in Texas to 6 of the 7 lines we have today, missing only the heavily Ohio based lines of William(2). Ruth Morgan, known as 'Anna May' had married William Lee Crenshaw who died in Navasota, 2 months prior to the Census. They had come from New Orleans, a family story says that during the Civil War, she had made herself a dress out of a Confederate flag and walked around the streets of New Orleans during the Union occupation. Anna had been born in Wayne Co., OH a granddaughter of Nancy 'Ann' Rees, whose Morgan family had moved earlier from Washington Co., PA to Ohio. There is no record of what happened to Anna and her son Willie. As for Arthur(2)'s, John's 2 sons were farming in Bell Co., their mother Elizabeth now remarried to H C Goodrich. Anna Mariah's Thompsons were still in Smith Co.
The Thomas lines were almost exclusively represented by the Benjamin Franklin lines as mentioned above. The Dallas Co. families now were the brothers Thomas Lewis and Joseph Chenoweth and the 3 married sisters: Susan Ann, widow of Jesse Cox, Rebecca and her husband Samuel H. Hardwicke and Missouri Independence and her husband Samuel David Smith, Jr. The sole other Thomas line was Edward still living in Galveston. He would move on to Nevada.
The Peteet presence in Texas had inched up to 8 families still in the same three counties that they are found in 1860: Grimes, Guadalupe and Upshur. The addition was the marriage of Simeon's daughter Kitturah Peteet to Benjamin A. Jones. There was one other Chenoweth presence now in Texas, Nancy Oliphant Chenoweth had brought her sons to Limestone Co from Louisiana. The widow of Edmond Chenoweth, he was the son of Thomas Chenoweth and Ann Quick. This line has never been placed within the family, but DNA testing has shown it to be an exact match to John Chenoweth, the family progenitor.
My research is not in a state where I can readily paint the picture of all the families in the 1880 or beyond. I can describe however the male Chenoweths of the line. In 1870 of the 45 families in Texas, 8 bore the Chenoweth name. The ratio of daughter lines would only grow larger over time. These 8 Chenoweth families had 16 males. In 1880 there were 27 Chenoweth males in Texas. By 1920 this number was 54, easily tripling the family size in 50 years. Of the number of cousins I have been contacted by in the last 14 years, Texas ranks second in number with 228. About half of these, 115, are from John, 39 from Thomas, 24 from Arthur, 13 from Richard and 11 from William. Hannah has 8 while Ruth 7. Another 11 are split between unknown lines and other immigrations. But these numbers are just tips of the iceberg. There are literally thousands of family descendants in Texas today, many of them from lines that stretch over 15 decades or more.
My database file was started by a seed file from Bob Derryberry of Dallas who began his Chenoweth research long before me, so there is more than a little bit of Texas in Chenoweth genealogy. Bob wrote a history of the Derryberrys in America.
Some Texas Families:
RUTH5 CHENOWETH (WILLIAM4, WILLIAM3, JOHN2, JOHN1) was born January 18, 1798 in Nelson Co., KY, and died October 23, 1868 in Plano, Collin Co., TX. She married WILLIAM FORMAN January 26, 1818 in Nelson Co., KY, son of JOSEPH FORMAN and REBECCA FRYE. He was born April 08, 1792 in Nelson Co., KY, and died September 20, 1856 in Plano, Collin Co., TX.

Children of RUTH CHENOWETH and WILLIAM FORMAN are:

MARY CHRISTAIN6 FORMAN, b. February 13, 1818, Bardstown, Nelson Co., KY; d. July 03, 1844, near Red River, TX; m. PHILIP W. CRUME, July 13, 1833, Nelson Co., KY; b. August 24, 1808, Nelson Co., KY; d. July 20, 1844, near Red River, TX.
WILLIAM FORMAN, JR., b. September 07, 1820, Nelson Co., KY; d. March 03, 1886, Plano, Collin Co., TX; m. LUCETTIE ABIGAIL THOMAS, November 05, 1857, Plano, Collin Co., TX; b. August 16, 1823, Monroe Co., KY; d. January 20, 1897, Plano, Collin Co., TX.
JOSEPH FOREMAN, b. October 23, 1822, Nelson Co., KY; d. June 24, 1897, Plano, Collin Co., TX; m. ELIZABETH HUGHES; b. October 18, 1824, Spencer, KY; d. Unknown.
MARY ELLEN FOREMAN, b. May 07, 1825.
JAMES C. FORMAN, b. June 25, 1826, Nelson Co., KY; d. February 27, 1898, Rockwood, Coleman Co., TX; m. (1) JENNIE DANIELS, February 26, 1860, Plano, Collin Co., TX; b. March 01, 1840, Missouri; d. June 05, 1864, Plano, Collin Co., TX; m. (2) PATTIE DANIELS, 1865; b. January 20, 1842, Plano, Collin Co., TX; d. August 15, 1877.
DEWITT CLINTON 'CLINT' FORMAN, b. August 25, 1829, Nelson Co., KY; d. May 19, 1879; m. (1) MARY ELLEN HOWARD, January 16, 1856, Plano, Collin Co., TX; b. September 09, 1841, Plano, Collin Co., TX; d. March 07, 1864; m. (2) LUCETTA HOWARD, Aft. 1864; b. March 05, 1852, Collin Co., TX; d. December 05, 1883, Weatherford, TX.
JOHN HENTON FORMAN, b. November 09, 1831; d. November 12, 1848.
MILES C. FORMAN, b. March 02, 1834; d. January 27, 1837.
LETITIA HAWKINS FORMAN, b. August 19, 1836, Nelson Co., KY; d. October 26, 1907, Plano, Collin Co., TX; m. GEORGE WASHINGTON BARNETT, May 10, 1853, Plano, Collin Co., TX; b. January 26, 1819, Kentucky; d. December 07, 1882, Plano, Collin Co., TX.



JOHN W.5 CHENOWETH (JAMES FRANCIS4, THOMAS3, JOHN2, JOHN1) was born December 25, 1807 in Botetourt Co., VA, and died October 05, 1874 in Grayson Co., TX. He married FRANCES JACKSON RANDLE September 01, 1831 in Madison Co., IL, daughter of MARION RANDLE and SARAH WASHINGTON. She was born November 20, 1811 in Illinois, and died April 24, 1894 in Texas.

Children of JOHN CHENOWETH and FRANCES RANDLE are:

MARIA REBECCA6 CHENOWETH, b. June 20, 1832, Madison Co., IL; d. August 18, 1847, Greenfield, Dade Co., MO.
LUCINDA FRANCES CHENOWETH, b. October 09, 1837, Arkansas; d. September 15, 1906, Whitewright, Grayson Co., TX; m. WILLIAM AIKIN GIBSON, July 24, 1855, Springfield, Greene Co., MO; b. September 02, 1831, Lincoln Co., TN; d. January 13, 1879, Springfield, Greene Co., MO.
THOMAS JAMES CHENOWETH, b. May 02, 1839, Arkansas; d. March 07, 1920, Whitewright, Grayson Co., TX; m. ELIZABETH M. 'BETTIE' PAXTON, September 22, 1870, Fannin Co., TX; b. April 27, 1849, Adair Co., KY; d. May 21, 1930, Fannin Co., TX.
JAMES F. CHENOWETH, b. 1840, Illinois.
LEVINA G. CHENOWETH, b. 1841, Illinois; d. Bef. 1925; m. JAMES S. LINDSEY, 1860; b. April 1842, Missouri; d. Bef. 1910, Rockwell Co., TX.
ELIZABETH A. CHENOWETH, b. 1843, Missouri; d. March 02, 1861, Cedar Co., MO; m. ROBERT W. WRENN, August 25, 1859, Cedar Co., MO; b. February 22, 1831, Tennessee; d. September 21, 1905.
HARRIETT ELVIRA 'HATTIE' CHENOWETH, b. January 24, 1846, Dade Co., MO; d. July 14, 1885, Fisher Co., TX; m. JAMES PAXTON, August 27, 1868, Grayson Co., TX; b. November 18, 1835, Adair Co., KY; d. Unknown.
MARTHA J. 'MATTIE' CHENOWETH, b. October 10, 1849, Greene Co., MO; d. June 10, 1910, Grayson Co., TX; m. JAMES WHITSITT BLAKEY, JR., November 09, 1865, Grayson Co., TX; b. January 31, 1838, Logan Co., KY; d. January 26, 1912, Grayson Co., TX.



AMELIA5 TUCKER (PHOEBE4 ASHBROOK, MARY3 CHENOWETH, JOHN2, JOHN1) was born Abt. 1816 in Ohio, and died December 04, 1849 in Pike Co., IL. She married SAMUEL INGRAM August 15, 1833 in Schuyler Co., IL, son of JOHN INGRAM and RACHEL BLANTON. He was born Abt. 1809 in Smith Co., TN, and died April 28, 1883 in Garfield, Travis Co., TX.

Children of AMELIA TUCKER and SAMUEL INGRAM are:

GEORGE WASHINGTON6 INGRAM, b. August 26, 1834, Illinois; d. June 28, 1893, Garfield, Travis Co., TX. m. ELIZA J. CASTLEBERRY April 18, 1868, Bastrop Co., TX; b. 1849 in Arkansas
AMANDA JANE INGRAM, b. July 07, 1836, Springfield, Sangamon Co., IL; d. January 11, 1912, Bastrop Co., TX. m. CHARLES McLANE PURCELL Oct 28 1856, August 15, 1830, Warrick Co., IN d. November 2, 1892, Bastrop Co., TX
RUFUS INGRAM, b. July 24, 1839, Illinois; d. July 30, 1917, Clareville, Bee Co., TX. m. LUCINDA SMITH January 3, 1867, Bastrop Co., TX; b. 1842, Warren Co., MO d. January 28, 1874, Bastrop Co., TX
HARVEY INGRAM, b. July 13, 1842, Illinois. m. MARTHA FRANCIS MEREDITH December 17, 1867, Bastrop Co., TX; b. November 1850, Georgia
WILLIAM HOUSTON INGRAM, b. April 19, 1845, Pike Co., IL; d. July 27, 1920, Cedar Creek, Bastrop Co., TX. m. MARY ELIZABETH FOWLER March 12, 1869, Bastrop Co., TX; b. December 4, 1850, Marshall Co., MI d. Oct 8, 1931, Bastrop Co., TX.
WILSON ASHBROOK INGRAM, b. June 17, 1849, Pike Co., IL. m. NANCY E. 'ANN' FOWLER December 17, 1867, Bastrop Co., TX; b. 1854, Texas d. bef 1895.



ELDRIDGE6 SHEETS (SARAH5 CHENOWETH, ARCHIBALD4, JOHN3, RICHARD2, JOHN1) was born November 11, 1831 in Kentucky. He married PALMIRA J. LEE, daughter of GEORGE LEE and FRANCES ESTES. She was born 1842 in Missouri, and died 1879 in Hill Co., TX.

Children of ELDRIDGE SHEETS and PALMIRA LEE are:

ELIZABETH F. 'LIZZIE'7 SHEETS, b. Abt. 1867, Texas; d. 1896; m. JOHN P. BIGGERS; b. April 1861, Tennessee.
JACOB L. SHEETS, b. 1868, Texas; d. 1886.
DANIEL SHEETS, b. 1872, Hill Co., TX; d. 1891.
CORA SHEETS, b. 1874, Hill Co., TX; d. 1911; m. WILLIAM M. KEEN, Abt. 1888; b. June 1874, Texas.
PARALEE SHEETS, b. November 1877, Hill Co., TX; d. 1947; m. GEORGE A. HUTCHINSON, 1891, Navarro Co., TX; b. April 1869, Arkansas.
ARCHIBALD ELDRIDGE 'ARCH' SHEETS, b. Abt. October 1879, Hill Co., TX.



EDMUND BEAN6 CHENOWETH (JOSEPH5, NICHOLAS4, JOHN3, RICHARD2, JOHN1) was born March 21, 1824 in Washington Co., TN, and died November 25, 1862 in Madison Co., AR. He married AGNES C. PICKETT February 22, 1846 in Arkansas. She was born January 18, 1829 in Tennessee, and died June 02, 1925 in Dallas Co., TX.

Children of EDMUND CHENOWETH and AGNES PICKETT are:

MARY7 CHENOWETH, b. January 16, 1847, Madison Co., AR; d. Bef. 1850.
LYDIA ANN CHENOWETH, b. November 17, 1848, Madison Co., AR; d. prob Texas; m. ANDREW JOHN BRADLEY, Abt. 1869, Madison Co., AR; b. December 1844, Tennessee; d. Aft. 1900.
NICHOLAS OSBORNE CHENOWETH, b. January 18, 1851, Madison Co., AR; d. May 28, 1931, Dallas, Dallas Co., TX; m. EVA ESTELLE DEEN, December 20, 1879, Grapevine, Tarrant Co., TX; b. November 1861, Texas; d. August 12, 1940, Dallas, Dallas Co., TX.
HENRIETTA JOSEPHINE CHENOWETH, b. March 19, 1853, Madison Co., AR; d. June 14, 1932; m. LARKIN HARRY MANES, July 09, 1868, Hindsville, Madison Co., AR; b. March 24, 1843, near Cleveland, Bradley Co., TN; d. November 01, 1930, Dallas, Dallas Co., TX.
WILLIAM WALLACE CHENOWETH, b. December 06, 1856, Madison Co., AR; d. Bef. 1870.
SWEPSON CROCKET CHENOWETH, b. July 08, 1857, Madison Co., AR; d. January 18, 1944, Dallas Co., TX; m. (1) R.E. BRADLEY, May 12, 1881, Tarrant Co., TX; b. Bet. 1852 - 1963; m. (2) DAISY M. HARPER, 1899; b. May 1874, Tennessee; d. June 08, 1935, Dallas Co., TX.
EDMUND VICTOR CHENOWETH, b. November 24, 1859, Madison Co., AR; d. February 1860.
JEFFERSON B. CHENOWETH, b. March 1863, Madison Co., AR; d. Unknown; m. MARY J. NETTIE HERRINGTON, October 22, 1885, Tarrant Co., TX; b. November 1866, Texas; d. Unknown.



JOHN M.5 CHENOWETH (JOSHUA4, JOHN3, ARTHUR2, JOHN1) was born Abt. 1801 in Pennsylvania. He married (1) ? ?. She was born Aft. 1800, and died 1837 in Louisiana. He married (2) ELIZABETH N. ? December 21, 1847 in Washington Co., TX. She was born Abt. 1817 in Kentucky.

Children of JOHN CHENOWETH and ELIZABETH ? are:

JOHN6 CHENOWETH, b. Abt. 1848, Texas; m. FLORENCE ABLES; b. March 1857, Texas.
VINCENT 'VINCE' CHENOWETH, b. Abt. 1849, Texas; m. FLORENCE 'FLORA' MAINES; b. May 1853, Texas.



BENJAMIN FRANKLIN4 CHENOWETH (THOMAS3, THOMAS2, JOHN1) was born March 16, 1795 in Mason Co., KY, and died 1856 in Forsyth, Taney Co., MO. He married FANNY MCKENZIE March 13, 1817 in Franklin Co., OH. She was born May 10, 1800 in Virginia, and died February 10, 1872 in Dallas, Dallas Co., TX.

Children of BENJAMIN CHENOWETH and FANNY MCKENZIE are:

RACHEL5 CHENOWETH, b. Abt. December 28, 1817, Franklin Co., OH; d. July 1886, Missouri; m. DAVID T. WOOD; b. Abt. 1815, Kentucky; d. Bef. 1871.
JAMES FOSTER CHENOWETH, b. July 11, 1819, Franklin Co., OH; d. January 29, 1886, Texas; m. MATILDA MOSS; b. January 06, 1825, Tennessee; d. January 31, 1887, Dallas Co., TX.
THOMAS LEWIS CHENOWETH, b. July 05, 1821, Franklin Co., OH; d. May 19, 1900, Wise Co., TX; m. HANNAH KEENAN, November 07, 1847, Dallas Co., TX; b. April 12, 1833, Ohio; d. February 15, 1924, Taylor Co., TX.
MARY B. CHENOWETH, b. September 08, 1823, Franklin Co., OH; d. March 26, 1899, Texas.
CASSANDRA A. CHENOWETH, b. December 09, 1825, Vermillion Co., IN; d. February 12, 1892, Texas; m. ISAAC FORGEY MITCHELL, January 15, 1851, Missouri; b. September 15, 1829, Indiana; d. Bef. 1860.
ELIZABETH 'BETSEY' CHENOWETH, b. April 15, 1828, Indiana; d. Unknown; m. JOHN A. DERRYBERRY, August 06, 1847, Polk Co., MO; b. 1821, Tennessee; d. Unknown.
SARAH CHENOWETH, b. March 26, 1830, Indiana; d. August 05, 1906, Boyd, Wise Co., TX; m. HENRY ALEXANDER DERRYBERRY, February 22, 1849, Forsythe, Taney Co., MO; b. October 13, 1826, Maury Co., TN; d. March 19, 1901, Boyd, Wise Co., TX.
SUSAN ANN CHENOWETH, b. January 31, 1832, Indiana; d. December 31, 1905; m. JESSE COX, June 12, 1859, Dallas Co., TX; b. December 18, 1826, prob Missouri; d. January 16, 1865, Dallas, Dallas Co., TX.
REBECCA CHENOWETH, b. November 19, 1835, Indiana; d. December 17, 1915; m. SAMUEL H. HARDWICKE, November 17, 1868, Collin Co., Texas; b. August 1837, Tennessee; d. Unknown.
JOSEPH CHENOWETH, b. January 21, 1837, Vermilion Co., IL; d. November 20, 1919, Hampton, VA; m. REBECCA ANN CRAWFORD, January 18, 1866, Denton Co., TX; b. August 13, 1849, Missouri; d. May 25, 1932, Dallas Co., TX.
MISSOURI INDEPENDENCE 'AUNT PUSS' CHENOWETH, b. July 04, 1840, Forsyth, Taney Co., MO; d. October 13, 1924, Texas; m. SAMUEL DAVID SMITH, JR., August 18, 1864, Dallas Co., TX; b. April 16, 1832, Virginia; d. June 11, 1875, Texas.



SIMEON4 PETEET (RICHARD3, RUTH2 CHENOWETH, JOHN1) was born April 16, 1790 in Wilkes Co., GA, and died April 16, 1860 in Upshur Co., TX. He married MATILDA JONES 1823 in Meriwether Co., GA, daughter of WILLIS JONES and FRANCES FLORENCE. She was born 1807 in Lincoln Co., GA, and died 1901 in Upshur Co., TX.

Children of SIMEON PETEET and MATILDA JONES are:

RICHARD5 PETEET, b. August 27, 1824, Georgia; d. May 15, 1906, Upshur Co., TX.
FRANCES J. PETEET, b. March 23, 1826, Georgia; d. January 20, 1880, Upshur Co., TX. 60. iii. JOHN C. PETEET, b. April 19, 1835, Marion, Cherokee Co., GA; d. January 18, 1886, Ellis Co., TX.
LUCY ANN PETEET, b. Abt. 1837, Georgia; d. Unknown; m. WILLIAM R. SKINNER; b. Bet. 1822 - 1842; d. Unknown.
VETTA ANN PETEET, b. Abt. 1839, Georgia; d. February 1850, Meriwether Co., GA.
SIMEON DARIUS PETEET, b. Abt. 1841, Meriwether Co., GA; d. Bef. 1863.
KITTURAH PETEET, b. Abt. 1846, Meriwether Co., GA.
ARTEMISSA PETEET, b. September 03, 1850, Meriwether Co., GA; d. February 25, 1906, Upshur Co., TX.



CALTHA CLEMENTINE5 PETEET (JOHN4, RICHARD3, RUTH2 CHENOWETH, JOHN1) was born January 09, 1812 in Georgia, and died August 03, 1881 in Texas. She married WILLIAM BURWELL APPLING May 24, 1827 in Wilkes Co., GA, son of JOEL APPLING and MARY STRANGE. He was born August 02, 1802 in North Carolina or Georgia, and died April 11, 1861 in Highsmith, Guadalupe Co., TX.

Children of CALTHA PETEET and WILLIAM APPLING are:

FRANCIS MARION6 APPLING, b. September 13, 1828, Wilkes Co., GA; d. July 31, 1869, Guadalupe Co., TX; m. FRANCES USSERY; b. Abt. 1846, Tennessee.
MARY ELIZABETH APPLING, b. December 21, 1830, Wilkes Co., GA; d. August 09, 1834, Wilkes Co., GA.
WILLIAM MERCER APPLING, b. September 28, 1832, Wilkes Co., GA; d. February 17, 1917, Guadalupe Co., TX; m. EMMALINE SALENA ALLEN; b. July 27, 1837, North Carolina; d. January 1925.
SARAH FRANCES APPLING, b. July 31, 1834, Wilkes Co., GA; d. June 07, 1884, Guadalupe Co., TX.
MARY ELIZABETH APPLING, b. November 24, 1836, Wilkes Co., GA; d. August 02, 1898, Guadalupe Co., TX; m. WILLIAM G. SHERRELL; b. Abt. 1833, North Carolina.
CORDELIA CORINTHA APPLING, b. August 13, 1838, Wilkes Co., GA; d. January 31, 1870, Staples, Guadalupe Co., TX; m. JOHN DOUGLAS STAPLES, August 12, 1856, Guadalupe Co., TX; b. January 09, 1828, White Co., TN; d. November 08, 1907, Staples, Guadalupe Co., TX.
NANCY LOUISE APPLING, b. October 12, 1840, Wilkes Co., GA; d. December 31, 1928, Guadalupe Co., TX.
JOHN RABON APPLING, b. June 15, 1844, Georgia; d. March 30, 1895, Guadalupe Co., TX.
AMERICUS COLUMBUS APPLING, b. September 29, 1847, Tuscaloosa Co., AL; d. September 01, 1930, Hays Co., TX; m. CORNELIA ANN STANFIELD, November 24, 1872, Guadalupe Co., TX; b. November 22, 1848, Madison Co., TN; d. August 20, 1890, Guadalupe Co., TX.
OSCAR CICERO APPLING, b. April 24, 1849, Tuscaloosa Co., AL; d. January 22, 1863, Guadalupe Co., TX.
ALETHA DEMARIOUS APPLING, b. February 01, 1850, Tuscaloosa Co., AL; d. August 14, 1928, Jasper Co., TX.
CALTHA CLEMENTINE APPLING, b. November 23, 1852, Tuscaloosa Co., AL; d. October 18, 1946, Travis Co., TX; m. J.T. WALKER; b. Abt. 1850, Missouri.
---
History of the Reunion
By Jon Egge - (reprint)
Joyce Wiegand of Lafayette, IN first suggested a national reunion to me in 1998. Through the website we were able to assemble a committee of Joyce, Bill Chinworth of Tucson, and Mike Chenoweth of Gas City, IN. They not only organized the first reunion in Bowling Green, KY but became the backbone that has helped local organizers put together the Elkins, WV reunion in 2002; the Beaverton, OR reunion in 2004; the Baltimore, MD reunion in 2006; the Ft Wayne, IN reunion in 2008 and the present reunion in Dallas TX. At each reunion some 80 to 200 Chenoweth descendants have come together to celebrate their heritage and enjoy shared activities.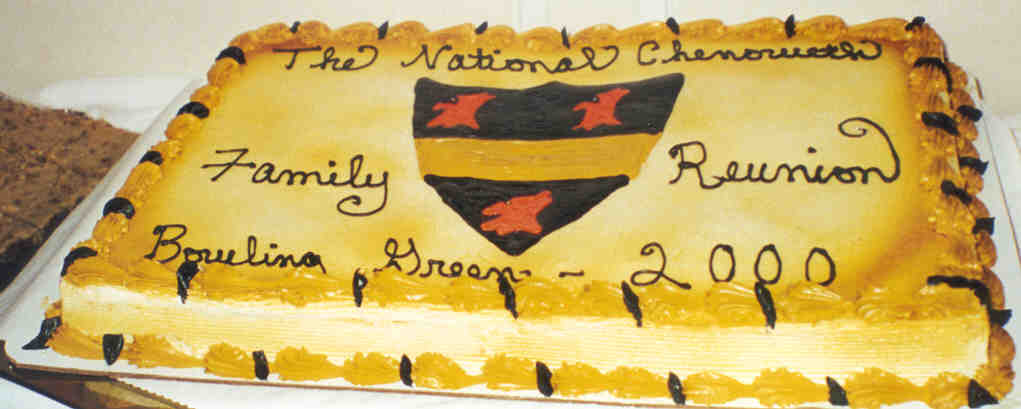 The first Reunion in Bowling Green, KY featured Richard Harris, author of the 1994 book, "The Chenoweth Family in America" based on research he shared with his wife Shirley. Richard had donated the notes and research upon which the book was based to the Kentucky Museum located in Bowling Green.
The second Reunion tagged onto the annual family picnic that has been held in Elkins, WV since 1915. There are literally hundreds of descendants that still live in this area of Appalachia. A highlight to the reunion was an evening with Virginia Bird Johnson, age 93. Virginia was the main resource for the extensive West Virginia genealogy found in the Harris book and had attended all 89 picnics. She passed away on February 5, 2004.
The third reunion in Beaverton, OR was a chance for West Coast Chenoweths to more easily participate. Albert Heller Chenoweth and his wife, Delores, were the local coordinators and again were helped by Bill, Joyce and Mike. A significant attendee was Elmer Rathbun Haile, Jr., age 94, from Maryland. Elmer has contributed significant knowledge of the early family in Baltimore helping to correct imbedded misalignments found in both Chenoweth books. Music was provided by Daniel Fred Chenoweth of Sonora, Mexico. The "reunion picnic" was held at Mount Hood.
The fourth reunion in Baltimore, MD was a chance for Maryland Chenoweths to get together. A trip to Ft McHenry and the Baltimore Harbor area was enjoyed by many. Lois Akehurst and family were our hosts for this memorable get together. Elmer Haile was once again able to attend the reunion. Music at the banquet was provided by Bill Chinworth's Sorocco Wind Quintet, The Kidd family and Mexico's Daniel Fred Chenoweth and his new wife. An anniversary cake was enjoyed on the celebration of John and Mary (Calvert) Chenoweth's 300th Anniversary.
The fifth reunion in Ft Wayne, IN was a chance for Indiana Chenoweths to get together. A trip to Shipshewana, an Amish town was enjoyed by many. Joyce Wiegand and Mike Chenoweth were co-hosts for this memorable time together. Music at the banquet was provided by The Mossburg Strings, the oldest 5 of 9 children in the Mossburg family. The inaugural recipient of the Eugene Victor Chenoweth award was Bill Chinworth.
---
AMON BUTLER KING (1807-1836)
From the Handbook of Texas Online, Hobart Huson and Craig H. Roell:
Amon Butler King (sometimes mistakenly called Aaron B. King), to whom Col. James W. Fannin, Jr.,qv entrusted the disastrous evacuation of Refugio during the Goliad Campaign of 1836,was born in Baltimore, Maryland, in 1807, the son of John and Mary Ann (Butler) King. After his father's death, his mother married Dr. Joseph Camp. King left home in 1827 to deal in furs. By 1833 he had become town marshal of Paducah, Kentucky. He was serving in that capacity in late October 1835, when Capt. Peyton S. Wyatt's Huntsville (Alabama) Company stopped off at Paducah en route to join the Texas Revolution. King and about eighteen other Paducans enlisted. Either before leaving Paducah or while on the way to Texas he decided to organize his own company. He detached himself and some eighteen men from Wyatt's company to form the Paducah Volunteers, of which he was captain.
The King and Wyatt companies traveled to Texas together, arriving at Nacogdoches on December 8, 1835. They marched on to Washington-on-the-Brazos and reported to Gen. Sam Houston on December 25. As a result of disagreements over the Matamoros expedition of 1835-36, King and his company were sent to Refugio the first week in January 1836 to garrison the old Nuestra Señora del Refugio Mission, where they remained until ordered to Goliad. In Goliad on March 1 they were mustered as "auxiliary volunteers" in Fannin's command at Fort Defiance. After Francis W. Johnson's defeat in the battle of San Patricio and King's removal to Goliad, most Refugio-area families fled their homes; but some remained stranded and asked Fannin for assistance, especially since the deserted homes were being plundered by Karankawa and Mexican marauders. On March 10 Fannin ordered King back to Refugio to extricate these stranded families and bring back supplies. At nine o'clock on March 11 King set out with twenty-eight or thirty men and the garrison's carts and teams. They arrived at Refugio late in the evening to find most of the families in the mission, though others, including the family of Lewis T. Ayers, were at Esteban López's ranch nearby.
The next day King proceeded to the ranch to escort Mrs. Ayers and others. They found and arrested some Mexicans, from whom King learned that the marauding bands of Mexicans and Indians plundering the countryside were encamped about eight miles below on López's lower ranch. Despite his orders to return to Goliad immediately, the former marshal marched to the lower ranch with about sixteen men to punish the marauders. His party was ambushed by Capt. Carlos de la Garza's rancheros and, it is claimed, Karankawa Indians. King succeeded in getting the families back into Refugio Mission on March 12 but was surrounded and held there by Garza's men and those of Capt. Guadalupe de los Santos, who were acting as advance cavalry for Gen. José de Urrea's Mexican army. Many Mexican rancheros from the San Patricio, Refugio, and Goliad areas had been incensed at their treatment by the Americans in Fannin's command and therefore remained loyal to Mexico and served as independent scouts and advance units for Urrea. The Mexican general also sent a picket of regulars under Capt. Rafael Pretalia to help Garza and Santos detain King at Refugio. King now had twenty-six men; six had become separated during the retreat. The Mexican forces probably numbered about 200, most being local rancheros.
King sent to Colonel Fannin for aid. Col. William Ward, with the Georgia Battalion and part of Wyatt's company sent to his relief, raised the siege on the afternoon of March 13 (see REFUGIO, BATTLE OF). King, however, refused to return to Goliad with Ward until he had first punished some rancheros who lived down the river. His insubordination was one of a number of events that led to Fannin's ultimate disaster, the Goliad Massacre. Apparently, both Ward's and King's men were eager to fight the Mexicans, but a disagreement erupted between the two commanders about who should carry out the mission; King wanted the task, but Ward preferred his second in command, Warren J. Mitchell. Taking his own company and eighteen of Wyatt's men, King sallied forth on his own punitive expedition to López's lower ranch, while Ward sent Mitchell to reconnoiter the enemy and waited at the mission for their return. Meanwhile, Urrea's army approached. Mitchell saw the Mexicans and returned to the mission, which was promptly assaulted by Urrea's main body of troops.
On March 14, after ambushing and killing eight Mexicans sitting around a campfire, King found that his way back to the mission was barred by Urrea's army. The Mexicans forced him to defend himself in a motte on the south bank of the Mission River against Col. Gabriel Núñez's cavalry and Col. Francisco Garay's infantry. King and his party put up a brave fight that lasted from late morning until dark. King's arm was shattered by a musketball; one of his men was killed and four were wounded. Mexican casualties were apparently heavier, but sources are unreliable. Ayers's account, published in the Quarterly of the Texas State Historical Association (now the Southwestern Historical Quarterly) in 1906, is the only firsthand account of King's attempt to escape. During the night the Texans crossed the river, intending to make their way back to Goliad. Their powder got wet in the crossing, however, so they were defenseless. At dawn on March 15 they were at the John Malone ranch, where they were captured by Garza's men, who tied them with a single rope and marched them the eight miles back to the mission.
Although Ward was also defeated in this battle, the battle of Refugio, he managed to escape with most of his command. But he was later captured in the Victoria area and ultimately executed in the Goliad Massacre in obedience to the Mexican congressional decree of December 30, 1835. King's men, along with stragglers from Ward's command, thirty-three in number, were marched out of the mission on March 15 to be shot, again in obedience to the decree of December 30. En route to the execution site, Col. Juan José Holzinger of the Mexican army heard some of the prisoners talking in German. He stopped the execution party and returned it to the mission, where the two Germans and also six Refugio colonists, including Francis Dieterich, Benjamin D. Odlum, and Ayers, were liberated. On the next day the victims again were led out. At a spot on a draw about a mile north of the mission, Captain King and the other prisoners were shot. Their bodies were left unburied on the prairie. Sometime after the battle of San Jacinto a party of Refugio citizens headed by John Haynes gathered the bones and relics of King's men and buried them. The place of sepulture was forgotten until May 9, 1934, when a grave containing sixteen skeletons was discovered by accident in Mount Calvary Catholic Cemetery near Refugio. The bones were identified as those of King's men, and on June 17, 1934, they were reinterred in the cemetery with appropriate religious and military ceremonies. For the Texas Centennial in 1936 the state of Texas erected two memorials to King and his men-one in Refugio and another at Mount Calvary Cemetery. Tradition has it that another grave in the vicinity of the cemetery contains the bones of the other victims.
---
Military Myths Quiz
The Chenoweth family has always been well represented in the military. The first Chenoweth to Texas was John M. in 1835, while serving in the military. Test your military knowledge with this Military Myths Quiz. All questions are True/False.
The phrase "son of a gun" originated during the Civil War when a woman was struck by a bullet that had passed through the scrotum of a soldier. The sperm on the bullet penetrated her ovaries and impregnated her.
Fred Rogers, host of the children's TV show "Mr Rogers' Neighborhood," served as a sniper in Vietnam. His long-sleeved sweaters hid his military tattoos.
You can tell how the military leader memorialized in an equestrian statue died by the way the horse is standing.
Rifles used by American soldiers in Vietnam were made by the Mattel toy company.
Soldiers marching in step across a bridge can cause it to collapse if they match the natural resonance frequency of the bridge.
Before being presented to the next of kin at a military funeral, the American flag is traditionally folded 13 times because each fold bears a special meaning.
A captured American soldier pictured on an Iraqi militant web site turned out to be a toy action figure.
During wartime, the presidential seal is modified so that the eagle faces the other way.
Being an only child exempts you from military service in the United States.
In the mid-1980s, it was disclosed that the Pentagon spent $640 each for toilet seats.
(Answers can be found later in this issue.)
---
THE FINAL HOUR OF THE FRONTIER MARSHALS
by James H. Chenoweth
former Chief Deputy US Marshal (Territory of Alaska)
The frontier Marshals were a special breed of law enforcement officers and this is how they came into being. The eastern seaboard had become crowded and America headed toward the open spaces in the west. Riding the westward wave were people looking for a new place to settle. Their settlements became villages that grew into towns. Growth required rules and regulations and a desire to create their own laws by which they were willing to be governed. They petitioned to become a Territory.
The Governor and Legislators in a Territory are elected by those who live there. The Federal government supplies a Judge, a U.S. Attorney and a U.S. Marshal. In addition to their federal responsibilities, these officials had to enforce the territorial laws. It was this extra burden that distinguishes them. In later years, they would become known as "frontier Marshals."
The label was probably created by Stuart Lake for the title of his book, "WYATT EARP; Frontier Marshal." A very popular book, Hollywood picked up on the phrase. Several movies were made with "Frontier Marshal" in the title. I think one of them starred Ronald Reagan. The legends grew but the cast began to dwindle.
Territories quickly moved toward statehood. State courts and law enforcement agencies took over the territorial duties of the frontier Marshals. Their ranks grew smaller. Arizona, the last Territory in the west, became a State in 1912, and most people assumed the history of the frontier Marshals had come to an end.
After all, there were only two more American Territories. Hawaii had already created its own territorial police agency. No one gave much thought to Alaska. For 47 years after Arizona became a State, the last of the frontier Marshals continued to enforce the laws in Alaska, but in the official history of the U.S. Marshals from 1789 to 1989, Alaska is not even in the index. Edging toward statehood, Alaska created its own Territorial Police which began sharing the responsibilities of the frontier Marshals. Alaska became a State as the New Year arrived in January, 1959. At last the legendary frontier Marshals had reached the end of their trail. Well, not quite.
In July of 1958 a man was murdered in The Pink Garter, a sleazy saloon outside the Anchorage city limits. There were no witnesses but the suspect's identity was known. Two things had to be done right away, locating and arresting the suspect, Frank Marrone, and conducting the crime scene investigation for evidence. Still too understaffed to handle both, the Territorial officers asked the Marshals to investigate the crime scene. As the Chief Deputy it would be my responsibility. We had custody of the crime scene for about twenty hours after which we turned our findings over to the Territorial Police for processing.
Frank Marrone was arrested, indicted and bound over for trial. Defense counsel asked that the future trial be held outside the Anchorage area. The judge decided the trial would take place in Juneau, Alaska. There were legal problems: Should a trial for a territorial crime be held in a State court or in a Federal court? Schedules had to be considered, travel arrangements made. However, the sound of the gavel opened Frank Marrone's murder trial on April 22, 1959.
As anticipated, the crime scene investigation was the focal point of the trial. I was the only Marshal called to testify about what we did and how we did it. There was much discussion about our photographs and about fingerprints, during which I testified as an expert witness. At last the case went to the jury for their deliberations. They returned a verdict of Guilty. Marrone was remanded to my custody.
During the earlier investigation and the trial, I had been carrying out my duties as a frontier Marshal. When the gavel came down, ending the trial, it also ended my frontier role.
I had become the last remaining member of the legendary frontier Marshals.
---
FACES YOU'LL SEE
Reunion Hostess
Lawra Rose (Joseph) Duy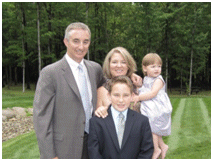 Lawra was born on June 27, 1967 in Santa Clara, CA, daughter of Edith Chenoweth. She graduated from William Woods College, Fulton, MO in 1989 and attended graduate school at San Jose State University.
After many years as a "professional" swim instructor, Lawra's husband, Franz, encouraged her to get out of the pool and get a "real" job. Taking this advice, Lawra found herself in the career of a lifetime, planning and implementing technical events worldwide for a major computer graphics company in the Silicon Valley. After several years of traveling the world, both for her profession and pleasure, Lawra and Franz started their family and with the birth of their son, Ashlyn, she decided to "retire" and take on a new challenge of being a stay at home mom.
After a lifetime in California, Franz's career brought their family to Dallas 5 years ago. Texas has enriched their lives with the addition of 2 dogs, 2 cats, a number of fish, 1 crawdad and most recently a daughter, Abigael (1).
Currently Lawra is a stay at home mom and stays busy planning and implementing travel, social and learning activities, and sporting events. A 6th generation Chenoweth, Lawra's Chenoweth line is John1 (b: 1811, Camelford, Cornwall, England), Frederick2, Edwin3, Percy Hudson4, Edith Pearl5.
Association Secretary
Joyce Aileen (Corns) Wiegand
Joyce was born on January 9, 1941 in Lafayette, IN, a very small community where everyone knew everyone. As a youngster in grade school, she was sick quite often, and spent the greater part of three years in bed with heart problems.
Joyce went to work in the office of a gear manufacturing company before graduating from high school and was married a year later to Richard Wiegand. Within six months Uncle Sam came knocking on the door. After her husband completed basic training she joined him at Ft Bliss in El, Paso, TX. During the two years in El Paso she worked in a bank. After the military obligation was complete, she returned to her former place of employment until 1970 when they adopted their son, Gregory. A requirement of adoption at that time from the agency was she quit work for a year. After staying home for three and a half years, the company asked if she would like to return to work. She retired in 2001.
Not being interested in history as a student in school, she however, became interested in her family history in 1970 when she read an earlier article in her local paper stating that the county court house, running out of storage space, would be destroying all old county records. The Curator of the local historical association, a DAR member, volunteered to house the records. The volume of records collected in over 150 years of record keeping for the county was extensive.
Knowing for several years she was eligible to join the DAR she never did. Early in 1998, she was contacted by a member of the SAR about being a descendent of Richard Chenoweth who was to be honored by the SAR/DAR in May and could she speak on behalf of the family. She told him that she was not sure he served in the Revolutionary War, well, he said, it would be nice if you talked about his migration, and we will tell of his war history. Her migration story did not go through Louisville, KY like their story did. Later she learned that no one had gone into the DAR under her ancestor Richard Chenoweth, and since he is buried in her county and all generations between them are here, it was an easy lineage to do. The hard part for her was pulling the right Richard from the Chenoweth straw pile. In 1999 she joined the DAR under Richard Chenoweth. Subsequently the local SAR/DAR corrected their records to agree with her research. She has since submitted applications for two other of her four grandparents, a goal she set for herself several years ago. She still lacks some documentation for the last grandparent, but is still looking.
Her Chenoweth line is: John1, Thomas2, Richard3, Thomas4, Ira5, Thomas6, Charles7, Anna Marguerite8, Joyce9.
Born May 1, 1943 in Washington, Jon lives on Cottage Lake in Woodinville, WA with his wife of 35 years Deanna (Sundvick). His mother was Edna Louise Chenoweth, born to Harry Edward Chenoweth and Minnie Jane Holt. Harry came out to the Seattle area from Pineville, MO about 1912. This is in the line of the 3rd generation Thomas, son of John. Jon has been doing Chenoweth genealogy and hosting the Chenoweth website for the past 14 years during his retirement from construction.
He has attended all 5 national reunions and made presentations at each of them. He graduated in 1966 from the University of Washington and is an avid Husky fan. Jon spent the next three years in Vietnam, working for RMK-BRJ on military construction. On his return he worked for Morrison Knudson in Boise, ID and Aleutian Constructors in Alaska, before joining his brother in their own construction firm. Jon and Deanna have three daughters.
Jon's Chenoweth line is John1, John2, Thomas3, James Francis4, Henry S.5, Albert White6, Harry Edward7, Harry Holt8, Edna Louise9.
Born October 14, 1948 in Newark, NJ, Pete now makes his home just outside of Augusta, GA in Hephzibah with his wife of 38 years, Janet (Hearndon). Due to his brother's health, the family moved to St Cloud, FL when Pete was a young boy. A small community of 1500, this would be where he grew up and met his wife.
Upon graduating from high school in 1966, he enlisted in the US Air Force serving in Turkey and VietNam. Taking a break from the military, he attended Columbia College, MO, married his high school sweetheart and earned a Master Printers Certificate from the state of Florida. He re-entered the military in 1979 and completed a lengthy career with the US Army in 2003. He is currently employed as a Deputy Sheriff in Richmond Co., GA. Pete and his wife have 2 sons, Christopher Allen, St. Cloud, FL and Michael Harold, Beaverton, OR. They are also the proud grandparents of a grandson, Austin David.
Pete has been involved in genealogy since the early 1980s when he used to check telephone directories during his military travels to see just how many Chenoweths he could find. He is currently the editor of the Chenoweth Family Newsletter, Project Coordinator of the DNA Project, Chairman of the Board of Directors, and Chenoweth website senior researcher.
Pete's Chenoweth line is one of the other lines (though DNA comparison indicates that he may be descended from an ancestor as close as a brother to John1): Edward1, John2, William3, William4, Edward5, John6, Edward7, John8, William E.9, William Clawson10, Frank Larkin11, Harold Richard12.

Military Myths Quiz answers
(False) This story traces its origins back to an article printed in the Nov 7, 1874 issue of the American Medical Weekly. Although the article was printed as a joke, it was cited as fact in several subsequent books and articles, including a 1982 "Dear Abby" column. It's a great story, but it never actually happened. Incidentally, the phrase "son of a gun" initially referred to the illegitimate child of a sailor or soldier.
(False) Fred Rogers clean-cut TV image inspired all sorts of insidious rumors about his past, but he never served in the armed forces, and would have been too old to enlist during the Vietnam War. He had no tattoos anywhere on his body. The sweaters merely served to present an air of casual authority to the millions of children who watched his show over more than 30 years on the air. Incidentally, another TV personality does have unexpected military experience in her past. Sex therapist Dr Ruth Westheimer served as a sniper in Israel in the 1940s. As a teenager, she was a member of the Israeli underground, and was an expert marksman and grenade thrower . . . but never killed anyone. After being injured by mortar fire at age 20, she moved to France and then to the United States.
(False) Conventional wisdom is that the number of hooves in the air reveals how the rider died. Two hooves means he died in battle; one hoof means he was wounded in battle and died later; and all four hooves on the ground signifies that the rider expired in peacetime. While some equestrian statues do seem to follow this convention – particularly those commemorating the Battle of Gettysburg – it is by no means universally true. A survey of statues in the Washington, DC, area revealed that less than one-third of the horses' poses accurately reflected the way its rider died.
(False) The M-16 assault rifle, used by thousands of soldiers in Vietnam, was designed to be small and lightweight. Manufactured by the Colt Firearms Corporation, of plastics and alloys, it developed a reputation for being unreliable and inaccurate, and was often compared to a cheap child's toy. This led to rumors that it was, indeed, a toy, manufactured by the most popular toy company at that time, Mattel. It didn't help that Mattel did make a remarkably similar toy version of the M-16 in the mid 1960s.
(True) In 1831, soldiers marching in step across a suspension bridge near Manchester, England, caused it to collapse. A similar incident occurred on a bridge in France in 1850, killing more than 220 men. As a result, soldiers were instructed to "break step" when crossing bridges, and engineers have taken pains to design bridges so that their natural vibration frequency does not match that of a human footstep.
(False) Flag etiquette requires that before a flag is stored or formally presented, it must be folded into a triangular shape with only the white stars on the blue background showing. This ceremonial process requires a series of 13 folds to achieve, but any meaning associated with the number of folds was invented after the fact.
(True) In February 2005, a statement was posted on a Web site that frequently carried messages from Iraqi militants. It claimed that they had taken an American soldier hostage and that he would be beheaded in 72 hours if the United States did not agree to release Iraqi prisoners. The accompanying photo showed what appeared to be an African-American man in desert fatigues sitting on a concrete floor with his hands tied behind his back. On closer examination, the "soldier" bore a remarkable resemblance to the "Cody" Special Ops Action figure manufactured by Dragon Models, USA. Sure enough, the next day a message was circulated confessing the whole thing was a hoax and the captured soldier was just a toy.
(False) The Seal of the President of the United States, which depicts an eagle carrying an olive branch in its right talon and 13 arrows in its left, does not change when the country is at war. Although the seal has been modified several times since it was created in 1880, the eagle has faced the olive branch, representing peace, since 1945.
(False) This erroneous belief is based on a series of Selective Service rules enacted after World War II to prevent entire families from being wiped out by war. According to the current rules, you are exempt only if one of your siblings or parents was killed while serving in the military. This provision is only applicable during peacetime, however.
(True) The country was in an uproar when it was revealed that the Pentagon had authorized the purchase of $640 toilet seats from military contractor Lockheed. What got lost in the fracas was that these were not the same toilet seats you can pick up a t a home-improvement store for $12, but custom-made fiberglass toilet casings for military aircraft that had to meet strict specifications for vibration resistance, weight and durability.
---
"Lost" Texas Death Certificates
By James Pylant
More than 30 million vital records are stored in row after row of mobile bookshelves at the Texas Department of Health, in Austin, with births and marriages in blue binders and deaths and divorces in red binders. The State of Texas required its county offices to begin registering deaths on 1 January 1903, filing the record at the county courthouse and submitting a duplicate to the State.
"Penalty for Failure to Report Within Ten Days" was "$5.00 to $50.00." Curiously, other certificates from that same year required physicians and undertakers to complete a death certificate within twenty-four hours or pay a fine of up to $100.00. Despite warnings, the law was not strictly enforced and registrations were grossly incomplete for several years. In fact, registration did not reach 90% completeness until 1933.
A statewide sampling of early death records reveals poor record-keeping by clerks, apparently apathetic to an added responsibility. In spite of the convenience of uncomplicated, preprinted forms and ledgers, clerks were guilty of filing incomplete forms — often failing to include the death date or even the name of the deceased. Physicians and morticians were to blame as well, by filing the record in the wrong county. If the deceased lived near the county line and closer to the neighboring courthouse, his or her death certificate is often found there. Another common error was recording the certificate in the county of the deceased's residence, rather than the county where the death occurred. This is most often found when someone died suddenly during a visit out of town or while traveling. Larger cities tended to keep better records, if anything because of more clerks on staff. Some early certificates never made it to the state office, so a copy not found at the Department of Health may exist in ledger form at the courthouse.
However, some death certificates exist but are still difficult to locate. An Index to Death Records: Texas (1903-1940) (Austin: Bureau of Vital Statistics, State Department of Health: 1964) shows a death record on file with the Texas Department of Health for Lota Crowe, certificate number 1786, who died in Navarro County, on 19 January 1914. Unfortunately, the Texas Department of Health has misplaced this certificate and the Navarro County Clerk was also unable to locate the record in its office.
Most genealogists are unaware that the Department of Health also has a small number of death certificates that predate the 1903 registration. These certificates, termed "Probate Obituary Deaths," are a few scattered over the 1890s and around the turn of the century, even as early as 1878. A preprinted "Certificate of Death" shows El Paso made an effort to record deaths by 1895. Other miscellaneous certificates are dateless, while yet another grouping are affidavits; certificates filed at a later date. Affidavits can even provide more clues than the standard death certificates. The affidavit death certificate of Douglas Eugene Thompson, number 1372, who died in Lamar, Paris County, Texas, on 1 October 1887, is an excellent example. Under "Medical Particulars," the certificate reports that the twenty-six year-old Thompson, died of pneumonia. His wife acted as nurse during his three or four-day illness, but death claimed him before the physician's arrival. This information was supplied sixty-three years later by Mrs. Tillie Weston of Aurora, Colorado. The sworn affidavit states that Mrs. Weston was "the wife of said Douglas Eugene Thompson at the time of his death." Mrs. Weston also stated that Thompson was born 6 February 1861 in Keokuky County, Iowa, to Iowa natives Thomas Thompson and Harriet (maiden name unknown). While this portion of the certificate cannot be considered a primary source, it provides valuable clues about her husband's family background. (Keokuky, for instance, is actually Keokuk.)
Besides probate obituary and affidavit deaths, the Texas Department of Health has other certificates, which are filed in volumes labeled "Dateless and Prior to 1903." Some three thousand "UNKNOWNS — 1903-1940" are arranged alphabetically by county, with a date and file number. Burial dates are recorded in place of death dates. Ambiguous descriptions given in place of a name, ranging from "White Female" to "Mexican," to "Negro" to "Infant." Some have a first name or nickname but none give a surname.
"Copyright 2005 by the author. Reprinted with permission of "GenealogyMagazine.com".
---