USING THE WEBSITE (by Jon Egge)
A time consuming process is explaining to cousins what is at the website and what exactly we are doing and looking for. I have set up an information page, also referred to as the site introduction page, that explains, among other things, how to contact me, what information to send, how to sign-in, where to find Bill Chinworth's site an descriptions of the various pages.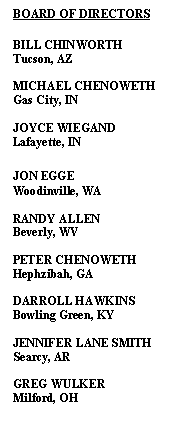 Yet much of the time I end up having to explain these things. I never know what a new cousin has looked at, and if they have read this page. The page, if read, would benefit most anyone. People reach the website in many ways and though I have tried to direct people where to look, often, because of the way they accessed the site, or perhaps, because they have not looked thoroughly at the main page and the introduction page, they miss the posted information.
We are trying to build a database for the future. One that will pass down information to future generations not yet born. The database in itself is remarkable. At this point in time, the 132,000 names are supported by over 915,000 data fields of information. Most all are sourced to the cousin contributors. We continue to document ancestors to individual censuses. For the Chenoweth name, this Census work is complete for each and every census for available indexes. This coverage ranges between 80% to 92% for the various Censuses between 1850 and 1930.
For a researcher, the site background page and various Census pages are valuable insights as to the structure and proofs of the family. Recent additions to the documentation of the family has been the posting of early wills of the family and the complete base of the entire family as found in the 1850 Census covering over 800 families spread out across an emerging country. Warren Montgomery recently enhanced this study page by supplying state county maps where these families are found. I have recently finished going back through the 1850 Census using the Enhanced indexing available at Ancestry.com which indexes every individual. This has added about 60 more families to what I had before this wonderful new tool was available.
Though some of the cousins contacting us are active in genealogy, many of the cousins naturally are unfamiliar with genealogy content and details. Common fields are full names, including maiden names and parents of spouses. Events are births, marriages and deaths. These dates should always be accompanied by the location of that event, and both the date and location should be in full. Other fields we commonly use are military service in wars, Social Security numbers from SSA death indexes, and cemetery locations, occupations and Census locations.
At this point, having worked on this project for nearly 10 years, and based upon the knowledge of the two Chenoweth books by Hiatt and Harris, as well as the many family studies and research of cousins, there are few families that are as well documented and detailed as the Chenoweth family of John Chenoweth and Mary Calvert. Peter Chenoweth continually adds enriching detail of Census work, vital statistic tables and social security index information. Dot Tucker-Houk has become a full partner in this effort ferreting out obituaries and internet data that constantly adds to our knowledge. A number of the cousins continue to work on select branches.
My current project is the preparation for the expansion into a full coverage of the 1860 Census. The DNA project continues to languish for lack of male Chenoweth volunteer contributors (see story this issue). At some point before the 2006 reunion in Baltimore, MD, I hope to attempt to undertake a general database update to include the many corrections and details since our September 2003 posting. At present this would add some 10,000 new names to the file.

---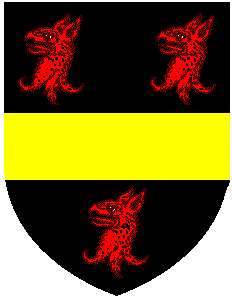 INSIDE THIS ISSUE
---
COMMENTS FROM THE CLAN
(The following e-mails have been received from members of the family with regards to the newsletter. Comments, articles, questions and other items for this newsletter are always appreciated.-editor)
**********************
We have not corresponded for some time. I have been engrossed in finding my Anderson line and the Chenoweth's have suffered. I did enjoy your newsletter. It is the first one I have seen. May I save to disk, the former ones? There is a Chenoweth family in Ross Co., OH that has two male Chenoweth's with children. I have been in contact with their mother (Father Roy Chenoweth deceased) and believe they are becoming interested in their roots. How can I help update and fill in Chenoweth info for Ross, Pickaway and Madison Co., OH? Will do what I can manage in this are. Thanks.

28 Jun 2005
Cinda Anderson Justice
Pete forwarded your e-mail to me. I did not realize that you two were old genealogy chums, but I am never surprised that there is a Chenoweth descendant that has known Pete. I am constantly amazed at how many Chenoweths he did contact and record. I can not count how many people have told me they still have a survey letter from him sitting in their drawer. The Roy you are speaking of appears to be the family of Roy Maynard, an Elijah line just like you. I am not sure that the Chenoweth name is still in the Pike Co. area from the 2 brothers that stayed there, Arthur and Abraham. Elijah and Thomas, Jr of course were up in Franklin Co., and the other two, John and Richard moved to Indiana. Rounding out the 7 brothers, William, toured and returned to stay in Mason Co., KY. I know that there are daughter lines there as I have run across a few.
Pete and I always could use any help we could get. You certainly are welcome to download and print any of the newsletters you want. That is what they are there for. The newsletters have become a very popular item out there in "Chenowethland". Pete could use help from people who want to contribute articles. I think it adds a lot of texture than just me pounding out a story, though I enjoy preserving some of the many stories of the last 10 years down on paper.
There are many other possible projects as well. William Charles, in Virginia, is trying to do our picture page. Dot Tucker-Houk, in Maryland, daily surfs the internet for us and has become a part of the "Chennie" team. Pete is constantly doing what he has always done, research in a highly organized way. Joyce Wiegand, Mike Chenoweth and Bill Chinworth have become the mainstays of our reunions. We can always use help especially in the research area. It is a big task tracking this family. It is a big family. – Jon Egge
**********************
Thanks for your letter. I am always interested in your findings and admire your tenacity in pursuing each lead. Good work! I wish I had time to research some of the intriguing things that have come up in Nebraska. I just stay too busy. Right now I am in Colorado on a working tour, giving Mission talks in three parishes in the Denver area. Will do the same at one in Philadelphia in July and two in New Hampshire in August.

13 June 2005
Sister Mary Alice
Sister Mary Alice is a descendant of Archibald Chineworth, a Missouri slave. We have never figured out who was the "owner" but she is a very nice lady. - editor


**********************
In reply to the last message you sent regarding our local Chenoweth reunion, it seems that our reunion is the Saturday following the 4th of July each year. I think they try to keep it in conjunction with a holiday for our out of state cousins. I am trying to stir up some interest in the national reunion, next summer. I sure would like to see a few of them there. The main problem is, the ones really interested are getting a little old for such a long trip. On a sad note we have laid to rest another 7th generation Chenoweth, George Ellis. This has not been a good year for our Oklahoma family.

30 Jul 2005
Leon Hays


**********************
Question – I am in the process of moving to Michigan and remarrying. Which means I'll be able to attend the reunion in MD. Now I am aware that the different branches wear different colors, but how do I find out what color I am? Please let me know how I do this and where do I get one? Totally to be part of this family.

9 June 2005
De Mine (soon to be "West")
Your line is Arthur (see the story in a recent newsletter). Arthur's line is ORANGE. The line goes to Arthur, Jr and his daughter Sarah who married Samuel Baxter and migrated to Muskingham Co., OH. – Jon Egge.


**********************
Here is the obituary of Mary Vanmeter Hinton Chenoweth, who married William Chenoweth. A real find since she is my gggg-grandmother. I copied it from microfilm.

9 June 2005
Carolyn Wimp
I am forwarding this to Pete so that he can include it in the next newsletter. There are so many descendants of William and Mary Chenoweth of Nelson Co., KY that should appreciate it. It is a real treasure. I have very few obits this early. They were always full of flowery statements back then and to my frustration omitted family details. - Jon Egge
Bardstown Herald July 21, 1832
Departed this life, the 20th day of June, at a very advanced age, at the residence of her youngest son, Mr James Chenoweth, on Wilson Creek in Nelson County, Mrs Mary Chenoweth, relict of the late Maj. William Chenoweth. In the death of the worthy subject of this obituary, society has sustained a deprivation of one of its most amiable and exemplary members. Emigrating to the state of Kentucky in early life, she had to encounter the dangers and difficulties peculiar to the situation of the country at that time. Those dangers, she sustained with a fortitude which seldom belongs to her sex. A narration of the incidents of a life so eventful, would be truly interesting, but the limits of this notice, precludes the recital. She would often, with fancy's eye, in the latter part of her life, look back on the hair-breath escapes of her younger days, as a mariner, safe in port, after encountering the dangers and hardships of a tempestuous voyage. In the evening of her life, she enjoyed a repose derived from the comforts and enjoyments of a competence, which she had by her industry and prudence, been greatly instrumental in procuring for the maintenance of a numerous and beloved family. She had been, for about 40 years, a zealous and pious member of the Baptist Church; in which belief she died, and her friends have every reason, that she is now enjoying the fruition of those blessings which this world cannot give, and which she, by her piety and virtue, strove to deserve, while a pilgrim in this vale of tears. -- A Friend


**********************
My name is Joshua Luke Chenoweth and I have always been interested in the history of the Chenoweth name. I have many questions conerning this unique name. When did this name first appear in Corwall? Where did the name Trevelesik originate from? (sounds eastern european). If so, what caused us to migrate west towards England? What is the religious history of the Chenoweths? What was the noble line of the Chenoweth name and where did it end? Please contact me and let me know where I can find answers to these tough questions.

1 Jul 2005
Joshua L. Chenoweth
Thank you for contacting me. You do ask tough questions, and though I will tell you what little I know, I have a few questions of my own… I am assuming you have looked at my attempt to explain the origins of the name on my webpage in the background section. As far as I know the name originated in the 1400s in Cornwall. It is a Cornish name and I suspect that Trevelesik is as well. Cornish people were Celts, that predates the English. John Chenoweth migrated west to America. England is east of Cornwall. I don't know his religion, but I do know that the Quakers advertised for people to come to the Burlington, NJ area from Cornwall a couple of decades before John Chenoweth shows up in this same area. It is believed that Mary Calvert, his traditional wife, was from the Pennsylvania family of John Calvert. This family was Quaker and then left the Church before the marriage occurred. Though there is no evidence that John Chenoweth was Quaker he certainly had many Quaker friends and attended Quaker marriages. Of course most of the population in those areas were Quakers so that would be natural. The early records of the Chenoweths births and marriages in the Maryland area were recorded at the Episcopal church, but at the time that was the official state religion and these events were required to be recorded in the Episcopal Church. The son, Arthur was a vestryman, however at the Episcopal Thomas Parish. The Virginia Chenoweths became Baptists, except for the lines of Thomas, who became Methodist-Episcopalians after they left Virginia. The descendants of Arthur, who stayed in Maryland became Methodist-Episcopalian as well. Both these religions, the Baptists and the Methodist-Episcopalians came into popularity in the late 1700s….I believe your line were Baptists…
The "noble Chenoweths" of Cornwall, are the source of the name, but what we know of the genealogy of that family, the male lines died out in the 1600s. Nevertheless that name appears to have been adopted by some local Cornish families and has spread from there into every major English colony (ie: The US, Canada, Australia and South Africa). The early name was often spelled Chinouth, a variation that is found in a very narrow part of the family of John Chenoweth and Mary Calvert that settled in Tennessee. It is my understanding that in early times only nobility had surnames as such and as the usage of surnames spread. They often would be picked up from a trade (like Smith or Miller) or a place or some other identifier. The name Chenoweth may have been picked up much like the freed slaves adopted the names of their masters.
This is my best sense of the matter, though I must profess that I have not taken the time to really master the exact details in a way that I could speak on this with authority. I have never really run across a comprehensive discourse on the early name or the family, but have formed this opinion from the various exposures and references I have run across. It is my best guess, for what it's worth. Perhaps Peter Chenoweth, who I have copied, has a better sense of the name itself. Pete is from a later immigration from Cornwall to the US about 1850.
The first usage of the name Joshua in the family of John Chenoweth and Mary Calvert was from Joshua (b: 1769), so John, s/o Arthur. This Joshua was a 2nd cousin to your ancestor John Chenoweth who settled in Randolph Co., IN - Jon Egge
**********************
Thank you so much for your latest Chenoweth newsletter. I was sorry to hear you had been ill and hope you're much better. I am very slow about pulling together my GOODE-CHENOWETH-BEATY branch that you asked for; I want to be sure of the dates for you, and, so I'm reluctant to pass on the research of others without some more verification on my own of birth and death dates. Again, I hope you're much better.

5 Jul 2005
Linda Huddleston
Thank you for the kind words. Glad you enjoyed the newsletter. I will enjoy seeing what you come up with. The line of Joseph Chenoweth, s/o William, is a singular sliver. - jegge


**********************
Thank you for the update. Hope you will soon feel better. AOL won't let me download the newsletter. Would it be possible for me to get it another way? Hope to get back to the genealogy research this coming winter. With many thanks.

13 June 2005
Marsha Devers
You can always go to the site and print one off. Or you can subscribe to Pete's snail mail listings but he appreciates a donation to cover costs. You are the 2nd person from AOL who I find blocked from attachments. The others, and there are many, seem to go through. I started sending the Newsletters as an attachment as too many people were including it in their replies and it was taking up too much space. – jegge
I was able to go to the website and read the newsletter. Thank you for the offer. I really appreciate it. What a wonderful website! I hope to get back into the genealogy this winter. Right now I am swamped with two jobs and keeping up with my family and friends from overseas here in Scotland. We are Baptist missionaries serving in Dunfermline. You don't need to send me anything snail mail. Hope to be able to buy the Chenowith book one of these days when we come home on furlough.
14 June 2005
Marsha Devers

I'm glad you were able to access the newsletters as well as the website. - editor.


**********************
Thanks for the information. This genealogy thing is getting pretty sophisticated, DNA testing and all. All I need is to fully retire and start digging in I guess.

13 June 2005
Ronald Coker
By mistake I replied to Ruth Coker. This followed: Ruth, Well I now have it straight. I had incorrectly assumed that Ron was you as the email address was similar and you are the only Coker I have in my cousin file (Ron is sort of a near cousin). As you were the only Coker receiving the newsletter, I jumped before I looked. Apparently someone had forwarded the newsletter to him.
Ron Coker contacted me some years ago. He also lives in Arlington, TX, which makes it weirder. He descends from the marriage of Margaret J. 'Meg' St. John and James William Coker (b 4 June 1849, d 16 Apr 1871). Margaret had 2 Coker sons, Felix Hardin Coker and Randolph Madison Coker and after James died she married John King Chenoweth and had several children with him. All this is Arkansas. I know nothing about your husband's Coker background, but you have to admit that two Cokers doing genealogy in Arlington, TX, both with some sort of Chenoweth distant ties is like a strange coincidence. – Jon Egge
**********************
I forgot to mention that I have a 10 year old son and would be interested in the DNA study. Let me know the details and if you need a male from our line.

1 Sep 2005
Cyndi Veras
Only males with the name of Chenoweth are of use for the DNA study. This would mean one of your brothers. The cost is about $200. I have sent this to Peter Chenoweth who could explain everything, but there is a DNA page at the site which pretty much explains most everything. This would be a good line to get a sample from.


**********************
About the DNA testing, although I am a Chenoweth descendant, I do not share the surname. I am however, part of a similar family DNA project for my surname (Trout). We are experiencing the same meager involvement so I wouldn't take it personal. I just think that DNA testing for genealogical purposes is something relatively new. The whole idea of DNA is kind of ominous for many people and I think people are naturally cautious. If you can think back to the popular advent of the Internet there was a time when most folks were very reticent to make purchases over the Internet. It was just too new, too "ominous", there was too much unknown. However, today we find that for the majority of folks, that reticence is gone. I believe the same thing will happen with DNA testing. It might take another year or two, but I do think it will explode in popularity and will revolutionize genealogical research. So you're set up perfectly right now – "if you build it, they will come." One last note, as I'm sure you're aware, within each generation it is estimated that perhaps up to 5% of the births are actually illegitimate. Right now you are dealing with a very small sample size of descendants who've tested their DNA. If a particular line (even the unknown lines) appear to have their relatedness disproven through a descendant's DNA test. I would just be cautious to declare that until more descendants of that same line can be tested as well. I've been enjoying your website for years now. Keep up the good work, Sincerely,

19 June 2005
Noel Trout
Noel, I do remember all the fine help you gave me in the line of Jane Sarah Chenoweth. I am sending this on to Pete. There seem to be lots of families trying to get a start on this DNA thing. I agree with you on what a variance in a test means. In this case it is weird because they say it is Chenoweth, but a much older line that the family, but the genealogy of the line looks pretty solid. I would hope that we get some other testing around it. – jegge


**********************
For those who have not visited the website I offer the following from the DNA page:
DNA REVIEW: A Brief Background
In 2000 Jon Egge became interested in the aspect of using DNA to "prove" the various lines, identified and unidentified within the Chenoweth family. In January of 2001, Pamela Woodward, a cousin contacted Bill Chinwoth, Michael Chenoweth, Joyce Wiegand, and Jon about a BYU project on a DNA genealogy that was underway. That summer, Bill, Peter Chenoweth and Jon met with the Molecular Genealogy Research Group at BYU headed by Dr. Ugo A. Perego. It was descided to include a presentation on the subject at our next Reunion in Elkins, which was received at the reunion with much general interest. Bill Chinworth continued to follow up on the possibility of using a DNA tool for Chenoweth genealogy and Peter Chenoweth, living in Utah at the time, was induced to head up this endeavor..
Wanted: Chenoweth Males Now: We are trying to get a sample of each of the 21 continuing lines of the 29 grandsons of the family of John Chenoweth and Mary Calvert, as well as one from any of our unknown lines. This would create a broad band test family identification. Can you help? Read on below for a listing of DNA samples that we require. So far we have a few volunteers. We had originally set June 2004 as the tentative date to analyze the results. This has been extended as interest in the project continues. Interesting enough, Pete's sample for his 1850 immigration has been found to have a common ancestor with the line of Our John 8 generations back. Though this is a lengthy reach, it is the first positive tie we have of John Chenoweth to Cornwall.
John(2):

William(3) - needed
John(3) - needed
Richard(3) - needed
Thomas(3) - needed
Absolom(3) - needed
Arthur(3) - needed

Richard(2):
Arthur(2):

Arthur, Jr.(3) [Have one sample: Arthur(3) Arthur(4), would also like to get a Arthur(3) William(4)] and Arthur(3) Richard(4)]]
John(3) - needed
Thomas(3) - needed
Samuel(3) - needed
Richard(3) - needed

William(2):

William, Jr.(3) - needed
Joseph(3) - needed
Isaac(3) - have Issac(3) Issac J(4)

Thomas(2):

John(3) - needed
Richard(3) - needed
Arthur(3) - anomaly found need second sample
Thomas, Jr.(3) - needed
Elijah(3) - have Elijah(3) Thomas(4)
Abraham(3) - pending volunteer Abraham(3) William(4)

Unknown Lines:

Charles m: Anne Doll of Baltimore Co: - needed
George of Baltimore Co: - needed
Dr. Henry S of Springfield, MO - needed
Isaac N(ewton) of Logan Co., AR - needed
James Garrison Chenowith, Arkansas - needed
John m: Ann Perine of Baltimore Co: - needed
John M. m: Mrs. Elizabeth Reed, Texas - needed
Dr. John W of Grayson Co., TX - needed
John Wesley of Piatt Co., IL - needed
John m: Christina Hall - needed
Richard m: Keziah Coe of Baltimore Co: - needed
Richard C. m: Anne of Baltimore Co: - needed
Thomas m: Ann Quirk, Louisana - sample indicate line to be part of the family of John & Mary
Thomas J. of Baltimore Co: - needed
Thomas m: Rachel Ann Swane - needed
William, Jr. m: Sarah M. McClelland, Ohio - needed
William R. m: Mary Ann 'Maria' McKinney, Oregon - needed

Projected matches needed for tying in unknown lines:

male descendant of Arthur(2) John(3) Joshua(4) Alexander Holmes(5) Henry Owen (6) William H(7) if existing - needed
John(2) Thomas(3) Nicholas Ruxton(4)- needed
all the sons of Thomas(2) Arthur(3): Jospeh, Abraham, Luke (George, Hiram not available) - 3 needed
William(2) Isaac (3) Edward (4) Ison (5) George W (6) - needed
Thomas(2) Thomas, Jr.(3) Joseph(4) - needed
Thomas(2) Abraham(3) John(4) - needed
four sons of Thomas: John, Arthur, Richard, Thomas, Jr. 4 needed
---
How the "project" works:".
This is a Y chromosome Genetic Study, which is strictly paternal.
Only males with a last name of Chenoweth (or it's variation) can participate, since a "Y" is only based from male to male. Sorry Jon but you can't do it.
The following is a list of procedures that need to be followed for this to work.
All individuals wishing to participate need to contact me first in order that I establish them in the website. They can either provide me with a password they wish to use or I can give them one. (would prefer they provide it). This password, along with their e-mail address) will allow them to view their results.
When they are established a genealogical line is posted. Since some individuals are unclear as to their lineage maybe we should post this information based on what we have. I wouldn't want someone listing themselves as a Thomas2 descendant when recent information has indicated that they are an Arthur2 line.
It is important that they understand what to expect from this test. Each individual will receive personal genetic information in the form of a Personal Genetic Identification Report. A sample of this report is found on pg 13 of our portfolios. Individually this report does not help them identify where they fit in to the family, but is a key ingredient to the whole picture.
After they have been established as a member of the project, I will notify Relative Genetics and they will send them a sample kit (as we received in the packet). After this kit has been returned, along with payment of $195, a tracking number will be assigned. It will take between 4-6 weeks for the sample to be analyzed and posted on the website. If the kit has not been returned in a 3-4 week period this tracking procedure would show me that and allow me to contact the individual for follow-up.
Along with the sample is a consent form that needs to be filled out. There are three options available, though only 2 appear on the form.

Results to be provided to only the Family Group project
"all close matches" – If this is selected anyone who is a close match to you (24/27 chromosome locations) will be notified, as you will be if they also select this option. This would be of value if it is someone in another group study.
"everyone" – If this is selected anyone who comes close to matching you (21/27 locations) will be notified, as you will be if they also select this option. This would be of value if it is someone in another group study, but keep in mind that this is for remote matches. It should be noted that I selected everyone.
As discussed in the past, I feel that it is important that we find individuals within each male line that would be willing to volunteer for this so as to establish a base line. If we have anyone in our HU (Unknown) database that would like to participate, this might be a good way to see if we can figure out where they fit in. I had originally indicated that I would like the project to last until 1 Jun 04. We would then be looking at a final project report in time for the '04 Reunion in Portland. Diahan Southard, of Relative Genetics, visited us in Portland and provided us with an update to the project. As of this time no closing date has been set.
---
TILL DEATH DO US PART
I received an e-mail from Jon with a link to your newsletter. A lot of years have gone by since we first corresponded. As I remember you were in the military in Springfield, MA area and had posted a query in "Yankee" magazine. You and Jon have come along way since that time!!!!!!!!!! I want to congratulate the two of you on a job well done, and to offer my prayers that the damage caused by your stroke (Jon) will heal itself. Marie and I have been married 62 years and are finishing out our lives in a Methodist continuing care community in Charlotte, NC. I am now 83yrs old and doing little genealogy research. I have a family tree on the Ancestry website, but it has just occurred to me that I better check my Chenoweth entries against your data. I think I corrected it when you first put the website on line, but am not sure when I last updated it. Once more, I have nothing but admiration for your dedication to this very worthwhile task, even when you get snubbed or ignored when you are searching for info.

9 June 2005
Jack Springston
It has indeed been a long time since we last talked. I have found through the years that you use what ever means is available to get peoples attention and "Yankee" magazine was one of those means. Several individuals responded to my post. Thanks for the update and congratulations on your lengthy married life. – editor


**********************
Just read newsletter. Thanks for giving all the credit on my past research. Now to the update. Our children (Stephen, Karen and John M.) gave us a reception for 50 years of marriage (May 7, 1955) on June 5, 2005. We have one grandchild (son of Stephen) who was married on April 16, 2005, in Wildlife Prairie State Park, Hanna City, IL (Jacob Stephen Vohs and Janette Denise Cowling). I said I waited 27 years to get a granddaughter. Now I'm hoping for great grandchildren.

9 June 2005
Rosella Vohs
I have another article on you and your work in this issue. My best to you. Amen that growing old is not easy on some of us. –Jon Egge.


**********************
Just wanted to let you know the Reginald Foch "Red" and Hazel Lenora (Baldwin) Chenoweth will be celebrating their 62nd wedding anniversary on December 25th. They were married on December 25, 1943 by Rev Aaron Napier in the Friends Church parsonage in Winchester, IN. Mr Chenoweth, a graduate of Spartanburg High School, is a World War II veteran. He was a farmer and worked for Aid Ambulance in Richmond.

7 Feb 2005
Dorothy Keesling
---