COMMENTS FROM THE CLAN
(The following e-mails have been received from members of the family with regards to the newsletter. Comments, articles, questions and other items for this newsletter are always appreciated.-editor)
**********************
Just received the e-mail about the newsletter today, THANKS! Good to see that others are as passionate about family history. And I was very interested in the information about my line (well, it's my husband's, but I'm more into history than he is!). He's descended through William Chenoweth-Elizabeth Schuler. I would be interested in any information you could provide about the missing cousins outlined in the newsletter (William Harding Chenoweth, Halford Chenoweth, etc). I'm having trouble piecing together what's in the article with what I've found in the Census for 1920 and 1930 as well as the California Death Index and SSDI. William Harding Chenoweth's parents were a Shuler and Chenoweth, according to the CA Death Index. And since I haven't found him with William and Elizabeth (Shuler) Chenoweth, then I assume he belongs to Samuel and Fannie (Shuler) Chenoweth. I found Vern living with his mother, Nellie (Person) Chenoweth in 1930 along with Nellie's granddaughter, Billie N. Chenoweth. I assume she belongs to Vern. Now, I found an Allen G. Chenoweth in 1920 Census, living around the corner from William in Des Moines (interesting little side note….they lived on what is now the Principal Financial Group campus). Listed with him are his daughter, Juanita, divorced, and his son, Halford F. Where does Allen fit in? Is he another son of Samuel and Fannie Chenoweth? Allen was born about 1879, so the date would be about right. I found it interesting, too , that William and Vern were interior decorators and Allen, Juanita, and Nellie were dance instructors. Just those odd little tidbits that make the dates and names real people.
When you have time (and it looks like you don't have much of that!), please let me know how these people fit together. I would appreciate any help in fleshing out this information. And way to go on the newsletter and all of your other Chenoweth projects. It's so important for all of us to know the people who went before us to make our existence possible!
19 May 2003
Jennifer LeMar
(Jennifer's e-mail was forwarded to our Webmaster who provided her with the guidance she requested. - editor)

**********************
Hi Joe Szczesniak, Jr here. My ancestor, Jacob Martin also served in the Civil War, he died in a Soldier's Home in Kokomo, IN in 1906. His wife, Mary Ann Waggamon, a Chenowith descendant, lies next to him in the Crown Point Cemetary, in Kokomo, IN. Am still researching, but thought you might find this of interest enough to list with the Civil War Combatant's list.
May 2003
Joe Szczesniak, Jr

**********************
Peter, Do you have Matthew Thornburg Dimond and Sidney B. Dimond as veterans of the Civil War? Matthew is my grandfather on my mother's side. Sidney is Matthew's son who was killed October 19, 1864 at Cedar Creek, outside of Winchester, Virginia. Both served in Company K, 24th Iowa. I served during the Korean War, my Brother, Brian served during Viet Nam, and his son Travis served during Desert Storm.
19 May 2003
Dan J. McGuire
(Thanks for the information and I have updated the Combat Site as provided. – editor)

**********************
I have not received prior newsletters. Can I get them – I would love to see them.
19 May 2003
Michelle Chenoweth
(Previous editions of the newsletter can be found at the Chenoweth Family Website – chenowethsite.com – editor)

**********************
Check this Url for Roy Chenoweth. This name may fit the one in the list of names in the newsletter. It shows a Roy Chenoweth age 37, and also names his father as Cornelius. This image is from Ancestry.com census images.
19 May 2003
John McCall
(John is referring to RAY7 CHENOWETH (CORNELIUS BATTY6, JOHN WESLEY5, JOHN4, JOHN3, ARTHUR2, JOHN1) was born January 03, 1881 in Indiana, and died February 1972. He married WILLANETTE MANN. She was born 1879 in Illinois, and died May 31, 1944 in Robinson, Crawford Co., IL. In 1900 and 1920 census he is Ray… In 1910 census he is Roy….This is cursive interpretation. Everything fits, will use …and change to Roy. - Thanks John for the quick response. – Jon Egge)

**********************
We just received the latest newsletter which is the first one we've seen. Is it possible to get copies of the previous ones? We reslly enjoy all the information but it is almost overwhelming. Thanks for all your work on this.
19 May 2003
Francis (Frank) Clay Chenoweth
(We apologize if these newsletters seem to be lengthy, including this one, but we find that there is so much information we want to convey to people that we tend to get carried away. If people would rather have shorter newsletters please let us know. – editor)

**********************
Thanks for the latest copy of the newsletter. It has prompted me to open the "files" and have a look for some details and photos that my link the Australian lines with the American lines. The note on the 2004 reunion got me looking at the calendar as well, I think I will be due for a Holiday around that time. Is there any plan to include the non-American lines in the DNA project? If so, count me in as a volunteer.
21 May 2003
Darryl Chenoweth (Australia)
(We were so glad to hear that we might be able to generate DNA interest in a Chenoweth line outside of the USA. However, a closer look by Darryl at his lineage indicated that it was not a pure Chenoweth line and thus had to decline his offer to volunteer. – editor)

**********************
Hello, Pete! I'm from Kenner Seaton and Rachel Chenoweth, daughter of John Chenoweth and Mary Calvert. Is there anything new on the Calvert connect? Was Mary from the Calverts of Baltimore?
21 May 2003
Ed Troutman
(I think it is fairly certain that Mary Calvert was not part of the Lord of Baltimore line. You might look at these links at the site: Mary and Eberle Jon Egge)

**********************
Dear Pete: I got an e-mail from Jon Egge on May 19 which says that you are producing a Chenoweth newsletter. I would very much like to be on the subscriber list. The rich html version would be find.
My g-g grandmother was Clarinda Chenoweth, born 5/22/1815 in Pike County, Ohio and died 5/7/1860. Clarinda, who was the first wife of Godfrey Creamer, Jr., and his second wife, Rebecca, are both buried in Gilboa Cemetery near New Petersburg, Paint Township, Highland County, Ohio according to "Cemetery Inscriptions of Highland County, Ohio" and according to records of Harsha Monument in Hillsboro. I hope to get to Gilboa Cemetery this summer.
23 May 2003
Carlon Kramer
(Welcome aboard and we are only to glad to add you to our subscriber listing. Good luck in your research. – editor)

**********************
Christopher M. Covahey served with the 3rd Battalion, 1st Marines, India Company. Stationed out of Camp Pendleton, California and fought in Operation Iraqi Freedom. I have returned to the states as a combat vet. Please list me on the Combat Chenoweth site. Thanks.
23 May 2003
Christopher M. Covahey
(Welcome home and thank you for a job well done. I fully understand the sacrifices that you made as my last unit is still station in Iraq. I am due to retire from the US Army after 36yrs of service this October. You are my first listing for this new page. – editor)

**********************
Please send a list of chenoweths in combat ..as far back as Civil War if you have that…
21 May 2003
Ron Chenoweth
(A copy was forwarded and can be found at Chenowethsite.com – editor: War service, Revolutionary War)and Civil War)

**********************
I saw this in the Az Republic Newspaper…or can be viewed from: www.azcentral.com then Obituaries:
WINSTON ERCEL CHENOWETH 83, passed away Monday May 19, 2003, Phoenix, AZ. A native of Missouri, he served in the US Army during WWII from Dec 1941 to July 1945. He is survived by his daughters, Lucinda Ann Baker and Patricia Ruth Adams; and 2 grandch…Arrangements have been made by Green Acres Mortu. In Scottsdale. Services will be held Sat. May 24 at 10:00 am…Green Acres Chapel of Light, 401 N. Hayden Rd., Scottsdale, AZ 85257.
I have no idea who he is but having just received my Chenoweth History book and newsletter, thought you might be interest in having this name on record.
Sorry to clog up your e-mail, but checked the Missouri 1930 census and found this man' family…Linn Co…Clark Chenoweth and family…he is one in your history book page 579.
23 May 2003
Betty Gregory Kelly
(The final sentence indicates that you solved your own question. We appreciate the information contained within the obituary, especially his military service. – editor)

**********************
I noticed in your most recent newsletter that you were asking if people had more information on Chenoweths that served in combat. I have more info on the following Chenoweth (my great-uncle):
This is what you have on the website: James E. Chenoweth b: April 06, 1924 in Randolph Co., WV – No service information is known other than he was assigned to the 11th airborne Division and was killed in action on 16 Dec 1944.
Here is more information:
PFC James Edward Chenoweth b: 06 April 1924 in Randolph Co., WV – (known to his family as Edward and to his military buddies as "Jimmie") served in the US Army, 11th Airborne Division, 511th Parachute Infantry, Company B. He was killed in action on 16 December 1944 at Mahong on the island of Leyte in the Philippines, while his company was engaged in battle with the Japanese. According to a letter, dated 6 January 1945, from his commanding officer, Capt Philip Ulrich, "he was shot in the head by enemy machine gun fire and though medical aid was available, he died instantly." Edward's remains were interred temporarily at the American Cemetery in the Philippines, but his mother and father, Ella and Clay Chenoweth, had his remains brought home to be buried in West Virginia. He was awarded the Purple Heart, posthumously.
As a side note, the Purple Heart, his jump wings, the US flag sent home with his remains, and other assorted documents were passed down to me, his great-niece. My father, Robert L. Chenoweth, served in the 82nd Airborne in the 1980s because he had been inspired by the unclde he never got to meet.
Please update your website with whatever information you find useful.. Cheers! And keep up the good work!
28 May 2003
Amy Chenoweth Woltman
(Many thanks for all this wonderful information. Our deepest sympathies for an Uncle that you never got to know. Our combat site has been updated with information for both him and your father. – editor)

---
RAMBLINGS ON CORA'S CONTRIBUTORS AND A DISCUSSION OF BIBLES
Cora Hiatt's 1925 History, despite its mistakes, remains a valuable resource for the preservation of the family tree. Though we now have the Harris book, there are things in Cora's book that were not carried over into the Harris book in terms of daughter lines and descriptive detail. [I have 1024 descendent names in my file from Cora's book not included in the later Harris book. Any researcher would do well to have both books.] It is tragic that the basis for this wonderful asset of Cora's was lost in a fire at the Lake Erie home of Joyce Carol Chenoweth in 1976. This basically leaves Cora's book unsourced, and we are left to ponder where her information came from.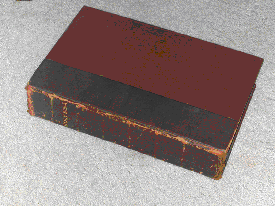 Every once in a while something of value comes to light in this regard. Recently Carolyn Buschbacher of Ohio contacted me, stating her uncle, Richard Laurence Chenoweth, had a two-hundred year old Chenoweth Bible (the cover gives a publishing date of 1792) and sent me copies of the family pages. It turns out to be the probable bible of Richard Beasman, the son of Arthur Chenoweth and Ann Beasman.
Cora had misplaced this line, probably because of the misplacement of Arthur, Jr., as the Arthur who died in Bartholomew Co., IN. We will probably never know exactly how this gross error evolved. This Arthur line also involved a Bible, and the information was transmitted to Cora as well [more on this later]. However the key date, that of the birth of Arthur, was not used. I do not think this was an omission on the part of Cora, I believe rather it was deliberately left out of the transmitted information and the claim made that this was Arthur, Jr. The intent may have been either to match into a line that served in the American Revolution or to position the family close to the Baltimore lands and the bogus land claims. This omission and the subsequent placement of Arthur, Jr into Kentucky and Indiana left Cora with only one choice when placing Arthur Chenoweth and Ann Beasman in Baltimore, the only slot available was that of Richard(2)'s son. It is probable that this unfortunate event became the chain reaction that nudged Cora into misplacing her own ancestor, William of Hampstead, and Arthur's brother, Thomas of Frederick Co., into Richard's line as well. Cora tells us, when she started out, she did not know where William belonged, but she may have been aware of "near" relatives. In her mind, the placement of one may have forced the placement of the others.
There were (and still are) lots of Chenoweths in Baltimore, but Cora unfortunately missed most of them. She missed the exodus of the family of Richard's son, John, to Washington Co., TN. She missed the exodus of Arthur's son, Richard, to Knox Co., TN [One of the great achievements of the research of Shirley Harris was to restore the Tennessee Chenoweth lines.] Cora also missed Richard's first family in Baltimore before he absconded to Tennessee. Today this line is the largest grouping of Chenoweths in Baltimore. Alas, though it is a major part of the early family, Baltimore is where the biggest gap of family information exists today. Cora's 1925 "History", a key to the early family knowledge, both missed and misplaced major parts of the lines there from Arthur and Richard, the two original sons who had remained behind when the rest of the family moved to Virginia. The Harris book left these errors intact and misplaced the added Baltimore lines of Richard [in reality Arthur's son] as the son of Richard(2)'s son John.
Back to Carolyn Buschbacher's information, the bible pages listed the children of Arthur, Jr. and Richard Beasman, giving full dates for each. These indeed are in Cora's book with a typo of the date for Charlotte Chenoweth, one of the daughters of Richard Beasman Chenoweth. Her birth was February 27, 1811 not the 1819 printed in Cora's book. This makes Benjamin Thomas Chenoweth, who received the bible, the youngest child of Richard Beasman Chenoweth and Sarah Belt. In the listing of Arthur, Jr's children was Walter Bosley Chenoweth. [Note neither Arthur himself nor his wife Ann Beasman are included.] Also included in what Carolyn sent was a notation by Louisa B. Chenoweth stating "that Ann Beasman must have died in 1774 or 1775" and giving the marriage of Delilah (Helm) Bosley to Arthur Chenoweth on July 29, 1778. [We know that this is not quite right, as Ann Beasman was at least alive on October 31, 1777 from Baltimore land documents as researched by Jane Ryan.] Though this is not part of the original bible, it tells us that it was Louisa Bell Chenoweth who was in contact with Cora Hiatt.
LOUISA BELL7 CHENOWETH (WILLIAM HALL6, HENRY5, RICHARD BEASMAN4, ARTHUR3, ARTHUR2, JOHN1) was born March 1857 in Cook Co., IL and died February 22, 1943 in River Forest, Cook Co., IL.
Indeed if you look at Cora's book you will find the detail of the family of Henry Chenoweth and his Chicago descendants, just as Louisa must have sent them in. The family of Richard Belt Chenoweth was added by a contact somehow with the family of his son Ferdinand. Not included was the Baltimore family of Benjamin Thomas Chenoweth, whose family was actually in possession of the bible. Richard Belt's family and Henry's family are not in the bible itself, though the family of Benjamin Thomas is there.
I am thankful to Carolyn for the information. It always helps to be able to pierce the veil and realize whom Cora was in contact with and, if possible, the sense of what that information was. If only we had access to the treasure of the letters she received.
SPEAKING OF BIBLES, Cora Hiatt specially mentions several various early diaries and Bibles in her book, none of which have ever shown up. On page 37 she states "…the fact remains, that two diaries and one Bible record gives, that John Chenoweth, gent., of Cornwall County, England, married a daughter of Charles Calvert, third Lord of Baltimore, while another says he married Mary Calvert, the daughter of the same. The diaries belong to the families of Arthur and Thomas, while the Bible record belonged to his eldest son John, whose birth is given as 1706."
I find these statements to be most curious. What could she possibly be talking about? Outside of this statement I have never run across any other references to these materials. Nonsense of this nature are found in many of the writings and letters of the Chenoweth Heirs Association such as the one run by C.C. Taggart of Ash Grove, MO. (An interesting account of this association is given at the site: [See Heirs Association Article]). Since it is certain that John's wife, in theory, Mary Calvert, was not in the line of the Baltimores, it is awkward that these missing sources seem to purport to this fact. Since, the dates given for John(2)'s children in Cora's book are just years, and we know with some mistakes, it is unlikely that they came from his Bible. Bible records are usually date specific and not prone to errors unless recorded well after the fact. Yet no trace of this Bible of John(2) is known today.
Nor is a diary record known for Arthur. The dates of his children were recorded at St. Thomas Parish, and since the last two, Richard and Ruth, were not so recorded, and Cora got Richard's year wrong, it is unlikely that any family genealogy material came from such a source. Where the year given for Ruth came from is unknown. [Incidentally, Arthur is the only one of the original children whose age we are certain of as he stated his age in a recorded deposition. The exact date is not given in either Cora's book or the earlier account of Alexander Crawford Chenoweth, but Cora got the year right. It is given in the Harris book, though I am uncertain as to its source.] There is a bible listing of the children of Thomas, but it was done well after the fact, and is not from a bible belonging to Thomas himself. More likely it is from the families of his sons in Franklin Co., OH, Elijah and Thomas, Jr. Elijah, Jr [see last paragraph] did have a daybook that has brought thitherto unknown dates to light.
Mention is made later on in Cora's book (page 84) of the Bible of Arthur, Jr. by a descendant, which turns out to be instead the Bible of Arthur, the son of John, who died in Bartholomew Co., IN. The impact of this was discussed above. I have seen a photocopy of the page of this Bible (which gives the dates of Arthur, his wife Elspa and their children) in a descendant study by Mathias Rose "Cy" Chenoweth, II. It was his father, William Lewis Chenoweth, that wrote to Cora. The Bible of Richard Beasman as described by Carolyn Buschbacher is the oldest Chenoweth Bible I know of. Another Bible record I know of is that of a sixth generation George Thomas in the mid 1850s in Baltimore that is in the possession of Alfred Paul Chenoweth of Baltimore. The study of Bartley Russell McBath mentions a Bible belonging to Richard the son of Arthur(2) from which the dates and names of his children are known.
Sometimes though things that are offered are not correct. In the first year of my research I was sent an affidavit of bible information that was from Joseph, the son of Arthur of Pike Co. This Bible was in the possession of Samuel Chenoweth of Pike Co. [grandson of Joseph]. Samuel died without children and where the Bible went next is undetermined. It listed out the 2 wives, names of children and a division for them along with some dates. I was quite excited at the time. But over time, largely through the careful work of Glenda Lloyd of California with the estate records of Arthur, most of the affidavit information turned out to be impossible or incorrect.
While discussing things of value that occasionally come to light, a couple of years ago, Roberta Burnes came across the daybook of Elijah, Jr [Thomas(2) line]. This had added value, as Elijah's wife was Nancy Chenoweth, the daughter of Thomas Chenoweth and Elizabeth Watson of Clarke Co., OH. The line of Thomas was also misplaced in Cora's History. As she told us in her book it was a last minute insertion by a descendant of this Clarke Co. line. But the descendant had it wrong. [I have mused that this woman, in looking for a parent for Thomas, learned somehow that "a Thomas Chenoweth" was the son of a Richard. There are a couple of instances of this. The most noteworthy was Thomas who had been a captive of the Indians and son of Richard Chenoweth of Louisville. There was also Thomas who was the son of Richard Chenoweth of Pike Co., OH whom we are still trying to track down to find what became of him.] Back to the story, the daybook had dates of birth for both Thomas (May 10, 1777) and his wife Elizabeth (July 26, 1779). These dates helped in the proof and eventual placement of Thomas as the son of William, Jr of Berkeley Co., VA (now WV) and later Warren Co., OH. My hat is off to Roberta for this valued find.
Well that is enough ramblings for this newsletter, on to a couple of other tidbits of interest:
THE TWO 'OL'S
(This is a story I mentioned at the Bowling Green Reunion)
About 1998 I was calling Chenoweths in the state of Washington and contacted a Scott Chenoweth who lives in Snohomish and owns Chenoweth Construction. Snohomish is about 30 miles north of Woodinville (where I live). He didn't know about his Chenoweth ancestry but told me to call his father in Anacortes. His father was OL Chenoweth. No name, just the two letters, which was the only name he went by. We determined that his father was Oscar Long of Texas, and I had that Oscar in the database. Apparently this meant he was married twice, once in Texas and once in the Northwest.
In June 2000, I ran across the name of an Elizabeth Mackey Chenoweth, who married Jack Dearing Brownfield, in the records of Texas births by Chenoweth daughters. So I called her to find out who she was. Well surprise! She was a daughter of Oscar Long Chenoweth! Oscar had a son and a daughter in Texas (actually Kansas, I think she said) by his first marriage. He then deserted his family and left for the West Coast, when the children were quite young. Needless to say, Elizabeth did not have any great memories of Oscar Long. What is curious is that the Texan son was really Oscar Long, Jr. He lives in Midland and goes by the name "OL".
Later I re-contacted the "OL" in Anacortes, WA and it turns out his name is actually Oscar Long "OL" Chenoweth, Jr as well. So, there are two sons with exactly the same name and nickname, born 11 years apart, both still living. "OL" (in Anacortes or #2) didn't find his real name until he was 37 and got a copy of his birth certificate.
This is not the first instance of a Chenoweth father naming two sons the same name. There is the case of William S. of Warren Co., OH who had a son John by Catherine Rinker and another John by Ann McCool, but the 2nd John was born after the 1st one died. This is the "normal case" in such matters. But this is the first time I have run across two Chenoweth sons by the same father, both living, who have virtually the same name. Quite a story and I am glad to get it straight. I knew there was a first son, but I did not know he was alive and went by "OL" and that albeit his real name was Oscar Long, Jr. This would drive researchers NUTS if they didn't know the story.
These half siblings have never been in contact with each other….BY THE WAY: Albert Heller Chenoweth, a brother to the Pacific Northwest "OL", is heading up the organization of the Portland Reunion. (Thank you Albert)
OSCAR LONG7 CHENOWETH (JAMES WILLIAM6, THOMAS LEWIS5, BENJAMIN FRANKLIN4, THOMAS3, THOMAS2, JOHN1) was born May 27, 1888 in Texas and died September 15, 1971 in Seattle, King Co., WA. He married (1) MARY ELIZABETH MOORE in Decatur, Wise Co., TX, daughter of JOHN MOORE & MISSOURI ?. She was born November 09, 1886 in Texas, and died May 30, 1979 in Tarrant Co., TX. He married (2) MAYBELLE HELLER. She was born October 30, 1902 and died July 10, 1974.
Children of OSCAR CHENOWETH and MARY MOORE are:
OSCAR LONG "OL" CHENOWETH, JR., b. June 03, 1919, Texas
ELIZABETH MACKEY CHENOWETH, b. 1920, Texas

Children of OSCAR CHENOWETH and MAYBELLE HELLER are:

ALBERT HELLER CHENOWETH, b. December 25, 1927
OSCAR LONG "OL" CHENOWETH, JR., b. April 13, 1930, Seattle, King Co., WA
LILLIE MAY CHENOWETH, b. October 30, 1934
POOR RICHARD
Probably the biggest mystery in the Chenoweth family, outside of the origins of John Chenoweth, is what happened to the family of Richard, one of the five sons of the original family. He and his brother Arthur stayed in Baltimore Co., when the rest of the family moved to Virginia. Richard's family is not that as described in either Chenoweth book. Yes the names of the children are the same, but who they married and their descendants bears little resemblance to Cora's book. Of the 6 sons (Richard, Jr., John, Thomas, William, Joseph, and Arthur) Cora has not one grandson right! First, she completely missed the lines of John who died before his father. Shirley Harris picked these up and developed them as the Washington Co., TN lines, where they settled with their widowed mother's relatives (John married Francis Haile). The one son Cora ascribes to Richard, Jr is in reality the Virginia son Thomas of William, Jr. whose father, William, was a brother to Richard. The Thomas she describes as Richard's son was in reality the son of Arthur. The Arthur she describes was Arthur, Jr! The William was not the son of Richard, but the son of Arthur, Jr. It is a clean slate, the whole male family was wrong. She did have one described grandson, Benjamin Norris Chenoweth, but he was in the wrong place. Cora had switched the sons of Thomas.
Richard lived in the Back River Upper Hundred. This is where his father was found in the 1737 tax rolls. His brother, Arthur, settled in the Soldier's Delight Hundred some 11 miles to the west [JE 1/14,2004: I had corrected this in the Email version I sent out in August of 2003, but failed to correct it on the website version until now. It was incorrectly given as east. Sometimes I don't know my right from my left], near Reisterstown. Richard's land was near present day Towson. In 1773 his sons (Richard Chinworth, Jr., Arthur Chinworth, William Chinworth, and Thomas Chinworth) are living on Richard's property in the Back River Upper Hundred. Richard himself was at the Kingsbury Furnace in the Back River Lower Hundred. According to Elmer Haile, Jr., Kingsbury Furnace was one a number of blast furnaces in the area. The owner paid taxes on the managers and employees. So in this instance, though Richard was probably in residence on his own property, his own taxes and subsequent listing was at the furnace and not with his aforementioned sons.
Richard married a Kezia, her maiden name unknown. Despite the relative oddity of this name in present day naming practices, there were numerous families in Baltimore that used this name. Both Richard and his brother, Arthur, had six sons. Each named five for the original family names of the children of John Chenoweth and Mary Calvert. In the case of Arthur, the sixth name was Samuel (named for his father-in-law). In the case of Richard, the sixth name was Joseph. Was this the name of Kezia's father? Joseph was alive in 1781 when Richard wrote his will. He was to be the executor of the will, but in 1787, Richard, Jr. is cited as the executor. What happened to Joseph? Though Cora Hiatt gives names of sons, there is no trace of either Joseph or his sons today.
Today, we have three lines from Richard: The Washington Co., TN descendants of John; the lines of Benjamin Norris Chenoweth (note the Chenoweth name has died out in this line in the 20th century); then there are the lines of Hannah, a daughter, who married Joseph Ashton. The line of one of her sons, Thomas Ashton, has reconnected with the website. There are several lines of "Chenoweths" (most of these spell their name Chenowith or Chenworth) in various lines today in Baltimore that have never been connected to the family. Most probably, somehow, are descendants of Richard.
But let's look at the other possible lines. As discussed, we know those of John, Thomas, and Hannah. We know nothing of Joseph. There may be more to Thomas, as we only know what happened to one son. We also know that he and his sister, Hannah, moved to Hartford Co., MD. Like Thomas we only know lines from one son of Hannah, though there were many Ashton children. But what of the rest? In 1783 Francis, John's widow, is living with 8 children in the Delaware Upper Hundred (now Carroll County). Susanna and Hannah are married. Arthur and Thomas are living together separately from Richard, Jr in the Back River Hundreds. Richard, Jr. is living on his father's property [Merryman's Adventure and Henry's Delight] with 5 white inhabitants. This could be Kezia, his mother, Joseph, William, Kezia (the sister), and maybe a wife? Richard, Jr., Arthur and William remain puzzles.
ARTHUR: We believe Arthur married Cassandra Bosley and had at least one daughter named Elizabeth. He appears in the 1790 Census with three females in his family. In a 1790 lease from John Sutton, an Arthur is on a property called part of the Valley of Jehosphat that abuts Gunpowder Manor and extended to Gunpowder Falls, north of Towson. [This is undoubtedly Richard's son, Arthur]. That is the last we see of him. We do find a record in Mercer Co., KY of a Maryland born Elizabeth, who marries Elias Passmore and names a daughter Cassandra. This is an area where members of the Bosley family relocated.
WILLIAM: Glimpses are caught of William in the 1780s with his brother, Thomas. In 1790, there is a William with an adult male, a male child and two females, living in the general area of the Back River Hundreds. This could be William and Thomas living together. We know at this point that Thomas is married. Otherwise we are unsure of what happened to William. There are 3 Williams in Baltimore: Arthur's son, Arthur Jr's son and Richard's son. There are only two listings in the 1790 Census of a William. One seems to match what we know of the William who later settles in Hampstead and is Cora Hiatt's ancestor. The other is as discussed above. It may be that Arthur's son, William, is dead. Arthur's will would indicate that he died before Arthur's death in 1801. Cora Hiatt gives this William two marriages: Elizabeth Richardson and Harriet Norris. Maybe one of these belongs to Richard's son.
RICHARD, JR: Richard, Jr. is the likeliest candidate for the missing links in Baltimore Chenoweths. The last we see of him for certain is 1787. A record tells us that a Richard Chenoweth married an Elizabeth Burton and had at least one daughter in 1792. This Richard lived near the Back River Hundreds. Like William, there are three apparent Richards in Baltimore at these times: Arthur's son, Richard's son and the son of John and Frances. Actually there is a fourth Richard, Richard Beasman, the son of Arthur, Jr., who has just married in February of 1790. Arthur's son, Richard, was the executor of Arthur's will and inherited the lands his father lived on. By 1790, this Richard was married with 4 daughters. It is possible, as the youngest who inherited lands, he is living with his aged parents. We do not know what happened to Richard, the son of John and Frances. He does not go to Tennessee, but appears alive, not yet of age in Richard's will of 1781. We know that Richard, Jr. is alive in 1787 through his father's estate records. There are only two listings in the 1790 Census of a Richard. No listing appears to match the records we have. It is an endless circle that can be argued to seemingly fit in many ways. The records are not clear.
Richard and Arthur present contrasting stories. Arthur prospered, as did his sons who all seemed to marry well. Arthur gave lands to his sons to help them get a start and again upon his death. We know the name of his wife and her parents. We have marriages for each of the sons. And except for the case of William, we know their children and what happened to them. Richard's land's had debt. He did not disperse them until his death and a legal wrangle between the widow Frances and the heirs seem to result in their loss. We have only fragments of what happened and in no case a complete record. His family, for the most part, disappears into the mists. The contrast in knowledge between the families of these two Baltimore brothers is stark.
---
THOUGHTS FROM THE TOP
Third Biennial National Chenoweth Family Reunion
Hi, cousins. Bill Chinworth here. I'm supposed to write a note for the newsletter pertaining to the preparations for Portland - 2004. A short time ago, I sent an electronic letter to Pete and said I hadn't anything to say on the matter. Then it came to me, "If you've got nothing to say, make something up".
So, here's the made up news about Portland, 2004.
Last November, Barbara and I were way behind on getting things done in preparations for doing our Christmas letter and what was going to be the Thanksgiving week routine. There were a lot of more "important" things going on.
There were four concerts to practice for amongst the small and large music ensembles we perform with. Then, as part of the annual Veteran's Day holiday, we organized a judging panel to adjudicate the marching units and floats in the annual parade. Then we had to celebrate at the University of Arizona Homecoming because our college band was one-hundred years old in 2002. Normally, some of this stuff gets tweaked in October but something happened to October last year. Maybe it was discontinued for lack of interest. Something came up.
Never-the-less, on the weekend of November 16th, 2002, I was in Portland to meet with people there in hopes of setting up a committee to create the events and logistics parameters for Portland - 2004. While there, I shot up a roll of film while hoping something would come out that would be useable for pictures on the Chenoweth Family Reunion website. It was pretty rainy and not the type of weather at all that we will experience next August.
In May, 2003, I realized I was going to have to call folks and ask questions on the status of things in Portland. A couple of calls and a couple of e-mails told me we'd have to rework the problem. But then, it was June and we were on the road to a 100th birthday party in Nebraska; a horn player's beer bust and mouthpiece swap of the Unintentional Horn society; a stop in Indiana to fix a lawn mower engine; a stay in Chicago to celebrate being married for a long time (We were strap hangers on the Ell out to Addison and Wrigley Field for the last Cubs - Yankees baseball game.); a trip to Virginia to see the grandchildren and their dance recital at Chrysler Hall, Norfolk; a run past Arlington, Texas, for a Scrabble match (The scorekeeper won as usual.), and back home to Arizona.
We spent the month of July mowing the lawn. Really. Don't believe everything you hear. It's a wet heat. Really. Part of the July malaise is that the hot dogs and beer are just not the same when the Diamondbacks keep batting the ball into the dirt in front of home plate.
So now it's August and I have finally called folks in Portland and learned that they are a committee of four, they had met, jobs had been divvied up, and they would have the facts together by the end of August. At that point, I'll go up and Jon Egge will travel down and we'll flesh out a program for the first weekend of August, 2004, and the Third Biennial National Chenoweth Family Reunion. Look towards a venue at Lewis and Clark College, bus rides to the sights, and the annual picnic out at Chenoweth, Oregon. The weather should be just like Tucson in July.
The Portland committee understands our schedule of getting the advertising out and the registration papers formatted for mailing in October this year. We seem on track.....
And, as Lily Tomlin says, "And that's the truth! Pbpbpbpbpbpbpbpwwwt!"
Using DNA for Genealogy
Upon receiving an e-mail from a Chenoweth cousin, Linda, from southern California, I had the occasion to become an eager advocate of this search tool. In correspondence from Jon Egge, he mentioned the need to try to solve some of our problems using this medium of endeavor. Then PBS ran a documentary on the subject which featured a beginning episode set in Egypt to try to define the reason for the death of King Tut and two young children who were found in his grave when said grave was discovered in 1922. In the process of filming and research for the Tut's Family Curse. documentary, the project manager, Professor Robert Woodward, discovered a direct descendant of King Tut driving a taxi in Cairo. Instant genealogy after four-thousand years.

Jon Egge and I communicated on the matter some and we decided to make DNA testing a part of the program at the Elkins Family Reunion. Arrangements were made for a speaker from Relative Genetics to present DNA testing subject matter at Elkins, West Virginia, last year. Subsequent to that, Pete Chenoweth, the editor of the Chenoweth Family Newsletter, volunteered to serve as our family project manager and liaison with Relative Genetics, the off shoot company of Professor Woodward's Brigham Young University DNA genetics research, in our new Chenoweth Genetics Project.

While all this was transpiring, Jon Egge went through his data base and chose ninety-nine people who would be needed to give a DNA test so that all branches of the family would be documented. The number needed is somewhat less than this because Jon had chosen some women to be tested. Women can be tested but until more research is done, testing will provide little useable information for genealogy purposes.

So, in the future, if Jon or someone asks you to join in our DNA family tree project, please do contribute to the information base. A century from now, someone will be glad you did. You'll be glad you did.

The next time the Chenoweth Reunion web site is edited, there will be a whole new section devoted to DNA testing.

Bill Chinworth
Board of Directors, President
Tucson, AZ.

---
DO YOU KNOW THESE PEOPLE?

Due to the recent move of the editor from Utah to Georgia, source material for this column is unavailable. (Still in storage while we wait for the contractors to finish our house so that we can move in and get re-established). Information will be available in time for the next issue in December 2003.
---
Ain't This The Truth

I started out calmly, tracing my tree,
To find out if I could find the makings of me.
And all that I had was Great-grandfather's name,
Not knowing his wife or from where he came.

I chased him across a long line of states,
And came up with pages and pages of dates.
When all put together, it made me forlorn,
Proved poor Great-grandpa had never been born.

One day I was sure the truth I had found,
Determined to turn this whole thing upside-down.
I looked up the record of one Uncle John,
But then I found the old man to be younger than his son.

Then when my hopes were fast growing dim,
I came across records that must have been him.
The facts I collected made me quite sad,
Dear old Great-grandpa was never a dad.

I think someone is pulling my leg,
I am not sure I wasn't hatched from an egg.
After hundreds of dollars I've spent on my tree,
I can't help but wonder if I'm really me.

Author unknown

---
Peter Chenoweth, editor, Georgia.... Comments and Contributions Email: p.chenoweth@comcast.net
Copyright c 2003 by Peter Chenoweth and Jon D. Egge. All Rights Reserved. Any republication of this page material for personal use requires inclusion of this copyright. Any other republication of this page material requires the express consent of the editor.