ReUNION FUN

By Jon Egge
I don't believe anybody could have reviewed the 2006 Baltimore Family reunion better than Jon Egge has done in the following article - editor
Looking back now over four truly remarkable reunions, I am in wonder of each and every event. There has been a family bonding and sharing that is really quite remarkable. To attend a Chenoweth reunion is a joy indeed, and always "old cousins" renewed and new cousins found and greeted. We are flung across the country in diverse panoply of interests and experiences, yet sharing a common blood from ancestors who helped form us. There is wonderful warmth in meeting cousins and sharing a few days in various activities. The fact that a third or so of the reunion attendees are 4 time participants speaks volumes as to the benefits felt by attending these remarkable events. The Baltimore Reunion was well organized and there were many events to share: the day trip to Fort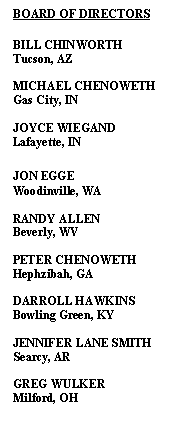 McHenry and the raising of the flag; the recital by Bill Chinworth and his musical trio; the walking tours of Baltimore homesteads; and singing of Daniel Fred and his new wife Marisela from Sonora. This time, Daniel and his uncle also brought Daniel's father, Rogelio ("Roy").
Finally Pete, freed of Army obligations, made it to a reunion. He was a marvel. Pete warmed us up to the Relative Genetics presentation by Diahan Southard. I never fail to learn something new of this technology which offers the family a new way to understand it's common blood line. Pete was there to be a closer and snared seven samples, doubling our 4-year results to date with the promise of a few others. The aspects of this effort need a separate presentation. Saturday evening, Elmer Haile, Jr., all 96 years, showed up to help us celebrate the 300 plus years of the family in this first permanent home of the American family of Chenoweths. Deanna and I enjoyed Ford Chinworth's invitation to attend an outing to the renowned Baltimore aquarium and a family lunch with the Chinworths. If there was a disappointment it was that more of the local Chenoweths did not join in. There are 94 listings of Chenoweths in the Baltimore phonebook. It is the largest number of Chenoweths to be found in any single urban area of this country. They are all related despite the spelling differences of Chinowiths, Chenworths and Chenoweths. There was much they could have gained and provided, but their lack of interest is their own loss and testament to the on going genealogy problems of the family knowledge in Baltimore. The Chenoweths of our hostess, Lois Akehurst, were there in droves however. This is the line of John Chenoweth who married Anne Perrine, one of the several "lost lines of Baltimore". What fine people and we can thank Lois and her family for their great organization and friendship at the reunion. And as always there was the remarkable family picture taken this time in front of Fort McHenry.
There were Chenoweths. Margaret Meyett and her brother Richard Pitchard led the family line from the Goddins of West Virginia by Robert's daughter Rachel. Margaret had helped me over the years with a Goddin family study and it was great to finally meet her. She nestled right in with the ladies and their afternoon gabfests. Another Robert presence was Peggy and Dale Fulton of Amanda's Reips. The Illinois Fultons are 4 time veterans and it is always like meeting old friends. Willliam Pugh was represented by Darlene Dolbey and Keats Hunt. Keats was a "newbie' and I hope to see him again. He had a real interest in hooking up with the Colorado branch of Isaac Newton's line at some future event. Edmund Willis was another veteran from Lemuel's line and introduced us to his new bride of 2 months, Loretta. In talking to Loretta I found she grew up in Bristow, VA not too far from Johnson City, TN where one of the early Chenoweth migrations ended and where we still find the Chinouth family. As you can see, the line of Revolutionary John of Randolph Co., WV was well presented as always. In the line of William married Catherine Rinker, one of the two Williams of Warren Co., OH, we had Jean Terberg and her husband John from California. I was glad to met Jean after all these years and she found a closer cousin in veteran Bev Buchanan who attended with her husband Richard from Barbara Chenoweth's Martindales. Barbara was a sister to Jean's line of Casper. Bev has done some good work with her Downeys and Guyers. Myra Cruise attended without her motorcycle and soul mate Butch, and we were glad to see her again from this line of John(3)'s son Elias who had finally settled in Jay Co., IN. Laura Bartlett shares this Indiana heritage with Myra. For the first time I was attending as a descendant of John's son Thomas and for the first time I met a cousin from Nicholas Ruxton, the brother to my James Francis, in the form of Dale Alan Chenoweth and his family from Virginia. That was a treat for me. Michael Frederic and his wife Pamela surprised us by showing up. They had been at Portland and I have always had a great interest in the Chenoweths of Morgan Co., IN. Mike is from Absolom Jr.,'s line and hails from the Florida Keys. Mike and Pamela are proof that blood is thicker than politics. With a father named Karl Marx Chenoweth, what else could one be but a liberal. Mike and I traded jabs, but found remarkable common ground in interest and family. So in all we had people from four of the six sons of John(2).
Robert Edmind Chinowth and his daughter Linda Kidd joined us again representing Richard's line returning to Baltimore. Bob comes from the Tennessee line of Nicholas Chenoweth but lives in Illinois from when John, a grandson of Nicholas settled there in the 1850s prior to the Civil War. The Baltimore area Richards were represented by Barry and Kay Bogart of Delaware and Elmer Haile, Jr. both from Richard's son Thomas. Kay, a recent cousin contact, gains me access with a promising Baltimore area researcher; and Kay was thrilled to meet Elmer who was her husband's third cousin twice removed. Kay was presented with a special recognition award for her generous help with Pete's SSA project. Kay also presented me with a new twist of the maddening enigmas of Baltimore. Barry's ancestor Washington Chenoweth, brother to Elmer's John Bradford Chenoweth, had married Sidney Noohan and I had known that she was the daughter of Michael and Lettitia Noohan. What I had missed was the record that Lettitia was a Chenoweth, born 1791 and presents a new puzzle in the murk of lost Chenoweths in Baltimore. Barry is also a distant cousin to Humphrey Bogart. This rounded out the Richard attendees. Richard's line is the smallest in the family, but could be bolstered by some of what I call the "lost lines of Baltimore". Not one Chenowith presumed to be from these lines however attended, and a opportunity was lost.
We don't often get Hannah's but Ann Lieberson attended Saturday from Potomac, MD. Ann has been so helpful with the Virginia based Carters. I wish I had had a better chance to sit down with her, but it is a real treat to have one of the oldest daughter lines at the reunion. Maybe someday we will get a Peteet from Ruth.
Of course we had Arthurs, returning like lemmings to Baltimore. Orange t-shirts abounded. The Chinworth family was there in droves thanks to Bill and Ford. This line is believed to be Arthur2, Arthur3 Arthur4 from Robert who settled in Wabash Co., IN. Bill is a fearless leader and the Chinworths are always fun even if they can't spell. Robert Bond, a Baltimore native and descendant of Charity Chenoweth from William of Hampstead, attended. I had first met Robert in Elkins. Carl Bochau attended from Virginia. Carl grew up in Baltimore and descends from Richard Beasman. Carl and I have been exchanging information for years and it was great to finally be able put a face with the name. With Carl was his daughter Karen Ann Burke. George Samuel Chenoweth and Mary Ann came, another of a strong showing from Illinois. Mary Ann has delighted us over the year with her poems and they are another of the 4 time veterans. George is the last living Chenoweth named male in the line of Samuel and Pete was like a bulldog securing a DNA sample of this fabled line of Arthur's son Samuel which was part of the Cromwell marriages and the 2nd Baltimore immigration to Virginia. Evelyn Watkins and her daughter Andrea rounded out the Arthur descendants, another of the Illini contingent, was the sole representative of Arthur's son Richard even though almost half of the Chenoweths in Baltimore come from the line from Richard's son William who married Amy Davis. Evelyn, nee Bonebrake, is the second Evelyn Bonebrake in my file. The other is Evelyn Estella Bonebrake, also a descendant, who married Leonard C. Briody in Oregon. I suspect there is some Bonebrake connection.
William(2) was represented by 3 families of the cousin marriages, yellow for William and blue for John. All are reunion veterans. There was of course Greg who has become an old friend. There was Mile and Kay Chenoweth from Gas City, IN and Deanna was delighted of course to see Kay. We still have to convince Mike to start wearing a Yellow T-shirt as his name does come from the male side of these 3 unions. There are always plenty of Johns at any reunion. And of course there were the Newbys of Harold and Carolyn from Florida. Carolyn has been a great resource over the years.
You can't have a reunion without a slug of Thomas the youngest son and their green t-shirts. Albert Heller and his wife Delores represented Thomas, Jr. from Oregon. Albert had hosted the Beaverton reunion for us in 2004. Darla Lou Evan from Utah, another Thomas Jr. attended but I somehow missed her. Joyce Wiegand and her husband Dick were represent Richard from Thomas. Joyce, one of the reunion founders and the best registrar ever, is a main force behind the next reunion in Fort Wayne. Joyce and her husband Dick hail from Tippecanoe Co., IN, where her ancestor Richard settled in the 1840s from Pike Co., OH. Daniel Fred and the Sonora Mexican descendants of Somerville represented Elijah. It was a pleasure to meet his new wife Marisela and his father Rogelio. This was third reunion for Daniel and his uncle Gilberto. There are always Abrahams representing the youngest male line of the family. It is sort of like bookends. Lots of the oldest line and lots of the youngest. Pauline Reyman and Terry Chenoweth are from Abraham's oldest son William. Terry helped me a lot with the family of Robert P Chenoweth and is a veteran reunion attendee. Terry delighted us with an account of their run-in with the self-important rock star of Poison. Darrel Lee Chenoweth took in his first reunion and liked what he saw. He and his family are from Paoli, IN. There are Paolis in Pennsylvania, Oklahoma, Colorado as well as Indiana. In the family there was Paoli Samuel Clymer, in the line of Jonathon. Another Abraham is Denise Chenoweth of Skidmore, TX, also a reunion veteran. Denise's father had the extraordinary name of Levert Voltair Chenoweth. My closer cousin Dale talked to her about getting information on his great grandmother Rebecca Ann Perry Chenoweth who died in Cameron Co., TX
The family doesn't end here. There are what I term the unknown lines, those which we believe are part of the family but the link has been lost. The many attendees of the Baltimore marriage of John and Ann Perrine were wonderful hosts with a well-organized agenda. It was a delight to see all the smiling children, one who asked me every morning without fail if I had solved the mystery of who they were. Well maybe we can get this done before he becomes a genealogist himself. Pete, "the bulldog" got his sought for DNA sample of this line. There was also Terry Carlson from William, Jr. of Adams Co., OH. Terry is a Baltimore area resident and it was great to find someone in this line coming to a reunion. Besides unknowns there are "others" which are a great added dimension to the family. There is of course Pete and his wife Janet in their inaugural foray to the reunion, but Pete, our editor in chief and genealogist extraordinaire, doesn't really need an introduction. It was great to have his help and leadership. Pete's own DNA test proves our Cornish roots and is a step along the way. And then there is Edith Chenoweth and the Duys. What would a reunion be without Edith and her Chenoweth Tartan. In jest Edith claimed that Chenoweths had extra large big toes, and her daughter Lawra duly recorded an assortment of "big- toed' cousins. Edith's line from Frederick Chenoweth came from Cornwall via Canada before landing in the US. Edith always adds character to the reunion.
What fun these reunions are. You always meet new people and they are all family. There are lots of things to learn from each other and many ways to enjoy the day. The trip to Baltimore for Deanna and I had the added highlight of spending a few days at the Smithsonian, seeing Antietam and Gettysburg and Deanna's pottery trip among the Amish of Lancaster. Ford and John have directed us to good eats for Chesapeake. Why would you not want to attend a Chenoweth reunion? Fort Wayne will be something special with a warm Hoosier welcome.

---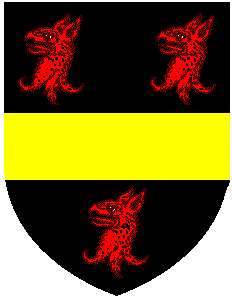 INSIDE THIS ISSUE
2006 Reunion Treasurers Report
---
2006 REUNION TREASURERS REPORT

Prepared by:


Michael Chenoweth, Treasurer
| | | |
| --- | --- | --- |
| INCOME | | |
| Registration, photographs, paperweight | $11,436.00 | |
| EXPENSES | | |
| Banquet, Ice Cream & Cake, Breakfast Buffet, meeting rooms, gratuity, etc | $4,421.94 | |
| t-shirts 138 shirts | $1,880.00 | |
| newsletters, registration, postage, paper | $1,632.44 | |
| Bus service + gratuity | $1,248.00 | |
| Portland Host travel & lodging | $923.14 | |
| Relative Genetics Diahan Southard Presentation fee, travel & lodging | $906.38 | |
| Francis Graham Foundation (in memory of William Akehurst) | $500.00 | |
| Photographer & 50 8X10 photographs | $390.00 | |
| recognition awards | $342.92 | |
| Ft McHenry admission 57 adults did not have passes | $285.00 | |
| candy, tablecloths hospitality room extras, flags, Ft. Wayne, IN presentation slides | $176.00 | |
| EXPENSE TOTAL: | $12,705.82 | |
| OVERALL TOTAL | $1,269.82 | (loss) |
Note: We have a few reunion shirts available for sale at $20, and very few reunion photos left at $10. Anyone interested can best contact Joyce Wiegand by email. <wiegandrj@aol.com>
---
COMMENTS FROM THE CLAN
(The following e-mails have been received from members of the family with regards to the newsletter. Comments, articles, questions and other items for this newsletter are always appreciated.-editor)
**********************
Jon, My sister Patricia Diane Chenoweth Conway had a new grandson recently. Our father was Edd P. Chenoweth, son of Clark Chenoweth, our Grandfather. I believe we go back to John.
The new member is Court Hunter Conway, born 7/17/06, son of Stephen and Stormy Conway in Texas. Sorry, I don't have the city with me right now. I can get it for you if you need it.
18 Jul 2006
Donna Chenoweth Beekman
P.S. Due to your doing the Memoriam list I have made a friend of a widow of a Chenoweth here in Tulsa. I had met them briefly while doing some political canvassing and told them I was so excited when I had seen the name Chenoweth on my list. I didn't even know they existed. James Chenoweth died this past November of MS, when I saw his name on your list I sent Cheryl a card and she called me. We have talked a couple times, once for over an hour. Another thing that was interesting was that we both trace back to John. She did mention she will be having another grandchild this year to add to our big family, so we'll be watching for that.
Thanks again for you and Peter's work on the Chenoweth ancestry.
**********************
I recently purchased an original copper etching by Mary Chenoweth at an estate sale here in Memphis, TN. It is an abstract of chickens numbered 3/7 and signed Chenoweth. On the back it states it was framed at the Colorado Springs Fine Art School. Can anyone give me information on the artist. I feel it is a valuable piece and can send a picture if you would like. Any info will be greatly appreciated.
31 May 2006
Debbie Ross
Dlross1@bellsouth.net
Any assistance in identifying Mary would be greatly appreciated. There have been a number of prints by Mary Chenoweth for sale on ebay and I have yet to identify her. - editor
**********************
I was reading your geneology newsletter and thought I should add our newest Chenoweth: Sarah Emily Chenoweth 5/26/05 (John) born at home in Antelope, CA. Thanks.
2 Apr 2006
Nicole Chenoweth
Nicole Allen is the wife of Blair Anthony Chenoweth and the information is greatly appreciated – jon egge
**********************
Was glad to receive your Chenoweth Newsletter. I would like permission to place a copy of your newsletter in the genealogy library of Pickaway Co., OH. I am a volunteer there and there is little about the Chenoweth's in our files. Would that be all right with you?
28 Mar 2006
Cinda Justice
Both Jon and I have no problem with copies of the newsletter being placed in the library and appreciate the effort. - editor
**********************
I received your Chenoweth Newsletter dated Mar 2006 through a cousin. In the newsletter it reads:
Age 77 - CHARLES H. THORNHILL, JR son of CHARLES THORNHILL and CARMEN DANIELS, was born February 19, 1928 in Elkins, Randolph Co., WV, and died January 04, 2006 in Morgantown, Monogalia Co., VA. He married WILLA JEAN10 MOYERS (MARTHA9 KYLE, EMILY8 CHENOWETH, MARSHALL7, JOHN KITTLE6, WILLIAM PUGH5, JOHN4, WILLIAM3, JOHN2, JOHN1)
The fact is Mr Thornhill died in Morgantown, Monongalia Co., WV.
In the "Do You Know These People" I have some info on the following:
Chenoweth, Joyce R. b:04 Dec 1948 in Randolph Co., WV – Joyce was a Royer. She was married to Gary Chenoweth whose father was known as "Buss" (possibly Clee) mother is Virginia. This was Gary's second wife and they are now divorced (First wife was Peggy Farris? They are divorced) Gary and Joyce had one son. All three of them still live in Randolph Co., WV.
25 Mar 2006
Faye Isenhart
Thank you for your assistance, the information is greatly appreciated – editor
**********************
Under the "Do You Know These People" list is the following:
Chenoweth, Jody I. B: 3 Jul 1972 in Tazewell Co., IL comment wife of Dale. That's my sister…the wife of Dale comment is incorrect. She is the daughter of Dale Chenoweth and she married Terry Eaton.
14 Mar 2006
Mike Chenoweth
Didn't know you had a sister, thanks for the information – jon egge
**********************
Dear Cousins,
Sad news, Cousin Margaret has passed away. Here is the information that I found on her:
Margaret Luella Shipp Henley (Oklahoman, The June 19, 2006)
Margaret Luella Shipp Henley was born September 2, 1922 at home in Oklahoma City, the only child of Edwin Turner and Luella Packer Shipp. She attended Shields Heights School, Capitol Hill Junior and Capitol Hill Senior High where she graduated in 1940. Following graduation she attended Oklahoma City Junior College where she received her Associate Arts Degree. She is a retired control bookkeeper having worked many years at John A. Brown Co. and Standard Drilling Co. Since retirement her life has been busy working on the Family Tree and in 1989 co-authored a book with Marie Eberle on the Carter Family. She belongs to Ebenezer Fletcher Capter DAR where she is a past Regent; Oklahoma Genealogical Society, Illinois Genealogical Society, and both Kentucky Genealogical and Historical Societies. She has no living relatives. Services will be held 2PM, Monday, June 19, 2006 at the Lambuth Memorial United Methodist Church. Interment to follow at Sunny Lane Cemetery.
22 Jun 2006
Karen Roberta Buffum-Knutson
Thank you for the information. Margaret was a major contributor to our database and her research expertise will be greatly missed. – jon egge
**********************
Hello Cousins,
The Baltimore cousins want to thank you for coming to the reunion. "WOW, our cousins across the country and Mexico are really nice people," replied a first timer. Of course, all the rest of us know that already. :))
7 Sep 2006
Lois Akehurst
2006 Reunion Hostess
On behalf of all the reunion attendees, we thank you for all the effort that you and your family put into hosting this event. - editor
**********************
---