Chenoweth History - Harris Unknowns
A listing of unplaced Chenoweths in the Harris book
(based on database cutoff date: September 22, 2003)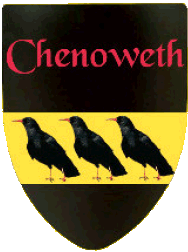 Quick Links
[Master Site Menu] [Main Page] [EMail]
[Unknown Marriages]
[Unknown SSA Listings]

Page sections
[Harris Listings] [Displaced Listings] [Included Unknowns] [Other Unknowns] [Details]

Major Unknown lines
[Charles - Maryland]
[George - Maryland]... [Richard C. - Maryland]
[James Garrison - Arkansas]... [Thomas - Louisiana]
[John - Maryland]... [Thomas J. - Maryland]

Assumed placements
[John E. - Ohio]...[John M. - Texas]
[John Wesley - Illinois]... [Sarah - The Suttons]
[William R. - Oregon]... [William, Jr. - Ohio]


---
General Disccussion
In the back of the Harris book, there are some 48 pages of Chenoweth lines that were unplaced at the time the book was published. Each of these sections is detailed on this page. In the intervening time, some have been placed within the main family tree. Others have been identified as not Chenoweth, belonging to other surnames. A few lines within the main family tree have been found to be in error and have been displaced. New unknown lines have been discovered. This page is an attempt to sort out the various statuses of these groups.
Part of the difficulty in genealogy is obtaining names of family members prior to the 1850 Census. For the Chenoweth family there are several gaps between some 3rd and 4th generation lines, that no continuation is known for, and the numerous new groupings that are picked up in the 1850 Census. Many of these unknown lines have developed from this phenomenon.
Ironically, one of the biggest areas of lost lines is in Baltimore Co., MD and its environs, where the Chenoweth family was founded. Not only are a large number of unconnected lines, but there is a dearth of known female lines. It should be noted that both major Chenoweth books have been written from outside this key area. Indeed, until recently there had been no comprehensive research source within Maryland, dealing specifically with this family. Perhaps because the family members there became "citified" and became many renters instead of landowners, making the trace documents found elsewhere non-existent. Perhaps in the clamor of a large city, family members became more easily separated from each other and the connecting ties loss. People in urban centers tend to move around more. The sheer density of the haystack makes more difficulty to find people. It does not help that the 1800 Census for Baltimore County, where the majority of the family lived, does not exist, only the Census for the City of Baltimore itself is preserved. Whatever the reason, Maryland remains an area of many questions.
In 2010, after 14 years of research 5 of the major unknown lines were placed with out a proof document as highly probable fits. These were John of Texas, John of Ohio, John Wesley of Piatt Co., IL, William R of Oregon and William, Jr. of Jaspar Co., IA . A more complete discussion can be found on the background page
Major unplaced Maryland groups are: [Charles - b: 1833], [George - b: Bet. 1760-1769], [Harry Jerome - b: 1874], [John - Abt. 1789], [Priscilla - b: 1792], [Richard - b: 1800-1815], [Richard - b: 1825], [Thomas J. - b: March 18, 1833]

It is most probable that a very high percentage of these unknown lines are indeed part of the Chenoweth family of John and Mary. These names, in the main, show up in areas where family members are known to have resided. No other major Chenoweth family immigration has been found until well after the turn of the 19th century. It is also probable that most of them are in the line of Richard(2) as we known very little of what happened to his six sons other than John. This appears especially true for those that use the spelling "Chenowith".
Please Note: most of the text in the detail section below is directly quoted from the Harris Book. A special thanks to Peter Chenoweth whose work has placed so many of these descendants and expanded the knowledge of their lines. This page is dedicated in hope that these 'unknowns' may be added to their proper place in the Chenoweth family.


Harris Listings [* = now placed]
* A(DOLPHUS) b: ca. 1850 m: Laura [page 589] has been placed in the database as the son of ABSOLOM B(5) WILLIAM(4) RICHARD(3) ARTHUR(2) based on information the 1860 OH Census. See the lines of William(4)
AARON b: ca. 1782 m [page 589]
- not part of the family of John and Mary - see Cheuvront