2006 REUNION JUST AROUND THE CORNER
I know quite a few of us are looking forward to the 2006 Baltimore Family reunion, cradle, so to speak, of the American family. Certainly Baltimore is the first permanent settlement. Many people have told me of their interest in attending, but Joyce tells us the registrations are just beginning to come in. So far she has 55 adults registered and another 15 attending for one-day events.
The Chinworth family will be there in droves, so the orange T-shirts of Arthur will be prominent. They should be joined by the many descendants of Arthur who still live in the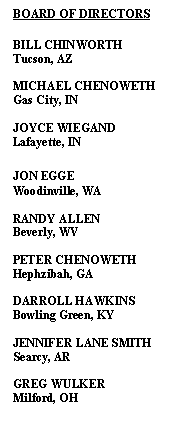 local area. In the 1920 Census 331 people named Chenoweth were living in Maryland (about 10% of the entire known family). Throw in a few daughter lines and 86 years and you have a sizable local population. Could this be the first reunion where the Johns are finally outnumbered?
This will be my 4th blue T-shirt but the first time that I know that it is my rightful place. Daniel from Sonora will be there with his new bride, Marisela. After a long military career, Peter Chenoweth and his wife, Janet, will be attending their first Reunion. Albert Heller Chenoweth, host of the Portland reunion is coming, as well as a number of reunion regulars.
It will be interesting to see how many of the hundreds of Chenoweths in the Baltimore area show up. Peter is planning a special Reunion newsletter for the event, that will list all the Attendees and their family lines.
The Holiday Inn in Timonium is not far from where Richard Chenoweth lived and that is the same area where John, the progenitor, is found in the 1737 Tax list in what was called the Back River Upper Hundred.
For those coming in from out of town, Baltimore presents the opportunity to visit many places:, Ft McHenry, Arlington National Cemetery, Washington, DC, The recently dedicated World War II Memorial, the VietNam Memorial, The Smithsonian Museum, Fords Theater, the Capitol, the White House, just to name a few. I know Deanna is looking forward to a special pottery shop in Pennsylvania and I am at last going to see Gettysburg. Pete and Jan, after a trip to Gettysburg, have planned a leisurely trip through the Shenandoah Valley visiting many Civil War Battle sites.
Jon Egge
SEE YOU IN
BALTIMORE, MD

---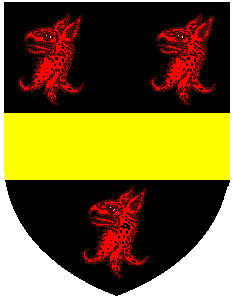 INSIDE THIS ISSUE
---
COMMENTS FROM THE CLAN
(The following e-mails have been received from members of the family with regards to the newsletter. Comments, articles, questions and other items for this newsletter are always appreciated.-editor)
**********************
Dear Cousin Jon, Once again I thank you for the newsletter. It is so nice that you do this for all us cousins, and I must say we do have a goodly number. I am getting to be in the "Old Group" as I will reach 85 in June, if the Good Lord is willing. I am still in my own home, but can no longer drive, which I miss very much. But have family here in town that take me any time I wish to go somewhere. Thank you for all the good work.
15 Mar 2006
Mary McNeese
**********************
I'm writing for my uncle which was in the 24th Infantry Division in Korea. He is looking for a gentleman by the name of John Chenowith, 24th Signal Company from 1950 to 1951, If you have any information on this gentleman could you e-mail myself as to how my uncle can get in touch with him.
Terry L. Hull
thull80861@aol.com
This e-mail was originally sent to me in Mar 1998. Even with all our military listings, I am not able to verify this gentleman and hope that someone can help. Periodically I reprint it with those hopes. - editor


**********************
---
(Printed in the July 1999 issue of Momentum, as one of a series under the pen name Macavity.
The Night Train to Scotland

(James Harvey Chenoweth)
(with grateful thanks to Winnie Crockett who took the train)
"I finally got you figured, Mac" announced the Creative Writer. She plunked herself down next to where I was busy helping out at our monthly R&R (rest & recreation) session. "You do a great job making sense out of clues in puzzles which usually have only one logical answer but how good are you at creating your own solutions?"
"Well, if someone is trying to solve a puzzle and places a premature perimeter around potential answers, I'd say he's headed in the wrong direction." Unfortunately my pomposity failed to distract her.
"For example, let me tell you a story I've just written," she plowed on. "It's about a woman who flies to London for a brief visit with her daughter, her son-in-law, and her two grandchildren. They decided to take a look at Scotland while she's there, and arrange to travel on a night sleeper train from London to Edinburgh. In addition to a porter, each car on the train contains several sleeping compartments for two. Her daughter and husband will occupy one compartment, the two children another, but our heroine will have to share her sleeping compartment with a total stranger. Having never met that person, she has no idea whether her roommate will be a man or a woman."
"When they board the train, she stashes her travel gear on one berth in her compartment, sees no sign of anyone else, and then goes to her grandchildrens' room where she enjoys a late snack with the rest of the family. Naturally, she gets a lot of joshing from them about the stranger she sleeps with. She makes arrangements with the porter to have an early breakfast with her grandchildren in their room. At a late hour, she returns to her own compartment. In the dimly lit room, she sees that the blankets in the other berth have been bulked up, completely hiding the unseen sleeper."
"Slipping quietly out of her compartment early the next morning to breakfast with her grandchildren, she glances at the other berth where its occupant still remains completely hidden. Oddly enough, she no knows nothing more about her overnight roommate than she did the night before. The train approaches Edinburgh. She returns to her compartment to get ready for their arrival. And to find out at last with whom she had shared sleeping arrangements."
At this point, the Creative Writer stood up, preparing to leave. "Hey, wait a minute," I said. "How does your story end?"
"Tell you next month, she grinned. "This isn't one of your logical puzzles, Macavity. There's more than one ending to any story. You have whole month to see if you can come up with a better one than mine. Ta-ta!"
A month later, she settled down beside me again. "How where were we when we talked last month?" asked the Creative Writer. "Oh, yes. that night train to Scotland. I promised to tell you how I ended the story. Well, this is my ending."
"As the train draws near to Edinburgh, our heroine returns to her sleeping compartment, hoping to learn at last whether the unseen companion with whom she had shared it all night was a man or a woman. She was astounded to find the compartment completely empty. Except for the rumpled berth, there was absolutely no sign that anyone other than she had spent the night there. Soap was dry in the soap dish by the sink. No tissues in the waste baskets. No hand luggage. Nothing at all to show anyone had been there except herself! Even the bathroom down the corridor was empty. How could two strangers pass the night in the same room and yet know so little about each other? It was really weird!"
"The arrival at the Edinburgh Train Station gives everyone a chance to stretch their legs. Our heroine pauses at a news stand to glance at the papers. One small paragraph on the front of a London paper catches her eye. She reads that paragraph:
When a police dragnet closed in around the house where he was thought to be living in London, Angus MacTavish had already disappeared. MacTavish is wanted for the brutal murder of two women, having murdered them both with a carving knife while they slept. Wary police are carefully watching all exits from London, but they now believe he has found some way to slip out of London, unseen by anyone.
"Well, that's my ending, Macavity." The Creative Writer nudged me with her elbow. "How about your imaginary ending? Any better than mine?"
"Afraid I'm way behind," I admitted, getting up from my chair. "Forget about my ending. It's not anything as good as yours." I started moving away.
"Macavity," she cried. "Come on! The least you can do is give me a hint about your ending!"
"Okay, but just one hint. My ending had a transvestite in it. Ta -ta!"
And I kept on going. Had I stayed, she'd have eventually gotten me to admit that I had no ending at all to her story. But I smiled at her puzzled frown as I left. Now she had something new to think about. And that's all it takes to keep a Creative Writer happy.
---
THOUGHTS FROM THE TOP


Bill Chinworth, Tucson, AZ
Apr 28, 2006

Hi, Everyone,

Not sure if I wrote about this before but about a month ago I was surfing the net and up came a picture of a chough (pronounced chuff). This is the bird that is mentioned as the earlier image for the family
crest. It is the one that was embroidered on a crest that hangs on the wall of our house. Pete has a crest with three birds in black but the birds have human eyes and are cartoon like. It should be noted that when artisans made items of heraldry it was with an artistic touch and not to be realistic. That is what originally got me going on this.
A further description of a chough can be found at www.rspb.org.unk/birds/guid/c/chough/index.asp
Anyway, Monday, I went over to the sign place and I'm working with Rudy to make an oil cloth family crest using the little black bird on the gold bar as noted in Cora's book. The signage will be the exact size as the one we have. It should be really cool.
Later, I plan to have Rudy make the crests into TIFF format. Then I'll put them on the Chenoweth Store and the forms page and people can choose a JPG, BMP or TIFF for personal use in making thank you cards, embroidered clothes, whatever.
Looking forward to seeing everyone in Baltimore in August.

Here's the "boid":
---